"Experience the future of laundry with Samsung's DV90T6240LH/FQ Heatpump Dryer - where AI control meets hygiene care, reversible door, wrinkle prevention, air wash, and optimal drying."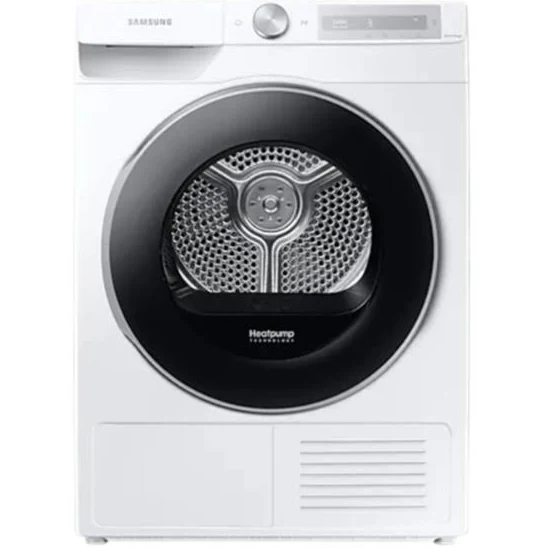 A+++ efficiency
A+++ Energy Efficiency with Heat Pump Technology
Save money and protect the environment by using less electricity*. Heatpump technology offers an energy-efficient, cost-effective and gentle way to dry clothes. It is A+++ energy rated as it uses 'refrigerant' instead of electricity to heat the air and recycles warm air to avoid wasting energy.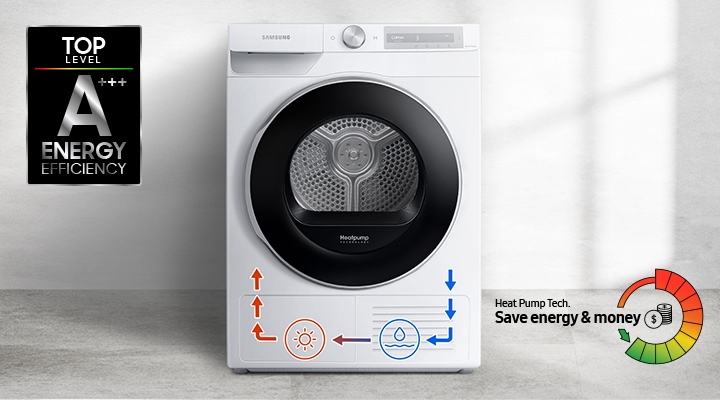 Eliminates bacteria
Hygiene Care
Prevent the build-up of bacteria on clothes and other items, like linen and soft toys. The Hygiene Care cycle sanitizes both dry and wet items* without affecting the drying performance. By infusing them with high temperature heat while drying it eliminates 99% of germs**.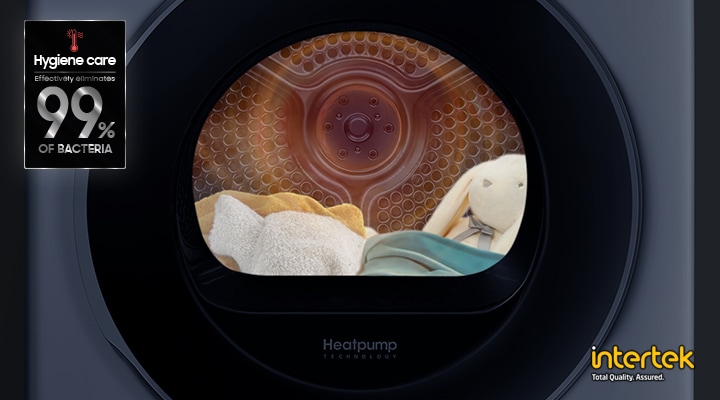 Opens how you want
Reversible Door
Choose the direction that the reversible door opens to suit the layout of your home. Simply change which side it opens to fit the location, what's around it and how you do things.It also means that walls won't get in the way! And it is transparent, so you can check what's inside with a glance.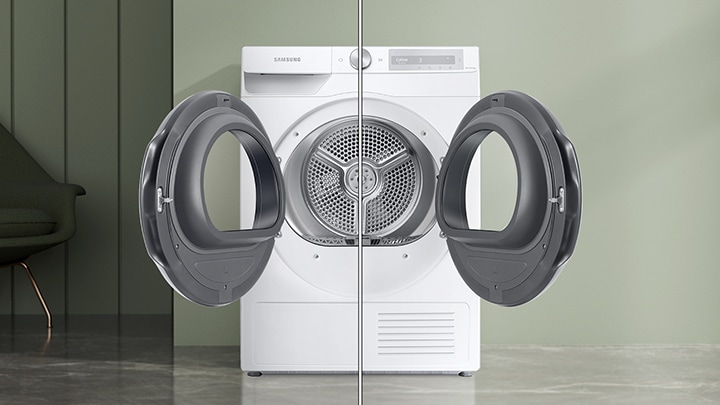 Wrinkle-free clothes
Wrinkle Prevent
Keep dried clothes wrinkle-free without ironing. Simply select Wrinkle Prevent and, once the drying cycle ends, it intermittently turns the drum with no heat for up to 180 minutes. It prevents clothes from resting in one place for too long while hot, so creases don't form in the fabric.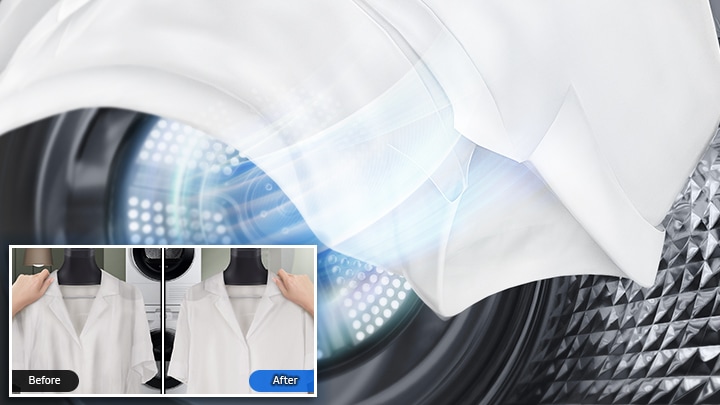 Intelligently dries
OptimalDry
Optimize your drying performance effortlessly! OptimalDry uses 3 sensors to achieve the best results. It monitors the humidity and adjusts the drying time, so laundry is ready quickly and using minimal energy. It also stops clothes from being damaged and reminds you to clean the Heat Exchanger.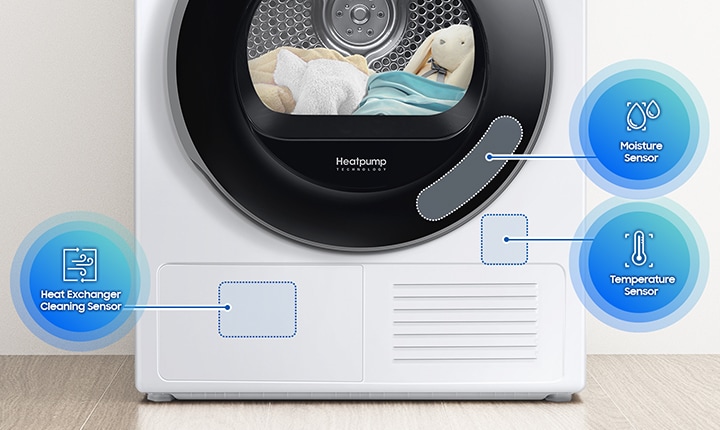 Easy maintenance
2-in-1 Filter
Maintain your dryer more easily and optimize the drying performance and safety. An innovative 2-in-1 Filter has a two-layered mesh filter. So there's no need for a Heat Exchanger filter, making it easier to maintain. Two alarms also remind you when the Filter and Heat Exchanger need cleaning.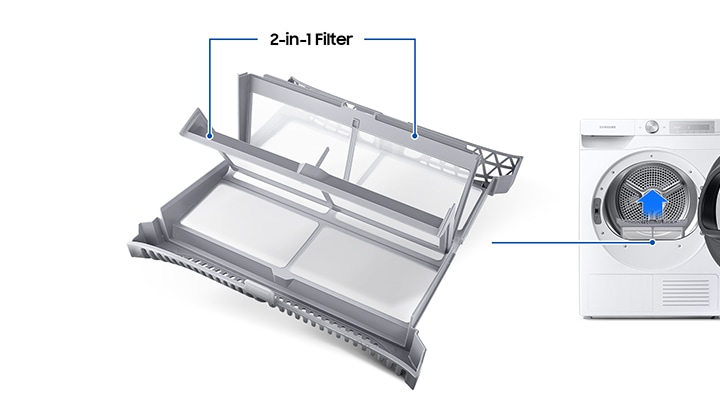 Deodorize with air
Air Wash
Refresh your clothes without washing, boiling, scrubbing or using detergent. Air Wash technology deodorizes your garments and bedding, so they always smell fresh. Unpleasant odors are removed using just super-hot air. So your clothes will seem like they've been dry-cleaned and will last longer.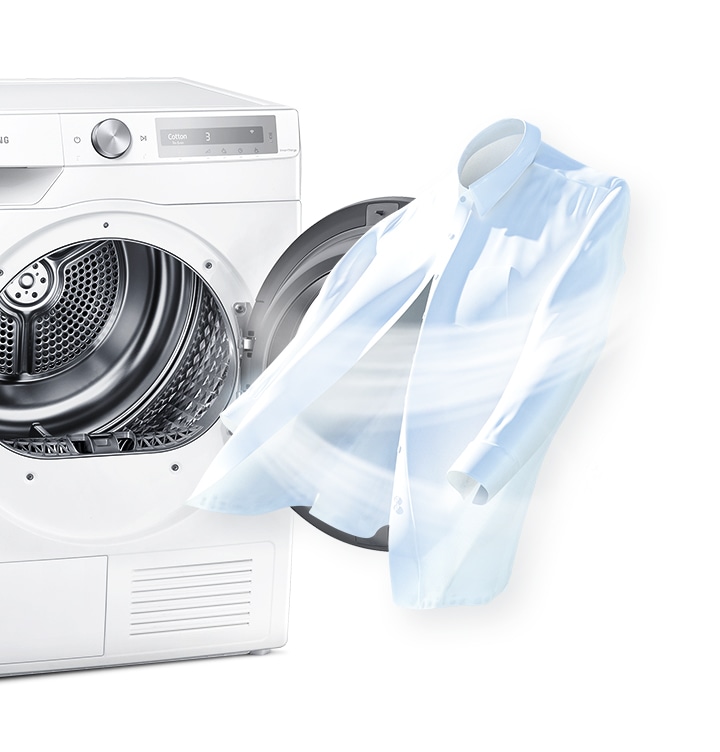 Fast dry small loads
Quick Dry 35'
Get any clothes you need dried fast, like a work shirt or school top. The Quick Dry 35' cycle gets a small 1kg load of clothing dry and ready to wear in 35 minutes*. Using high heat it can safely dry a few items, so there's much less waiting – just dry the clothes you need, when you need them.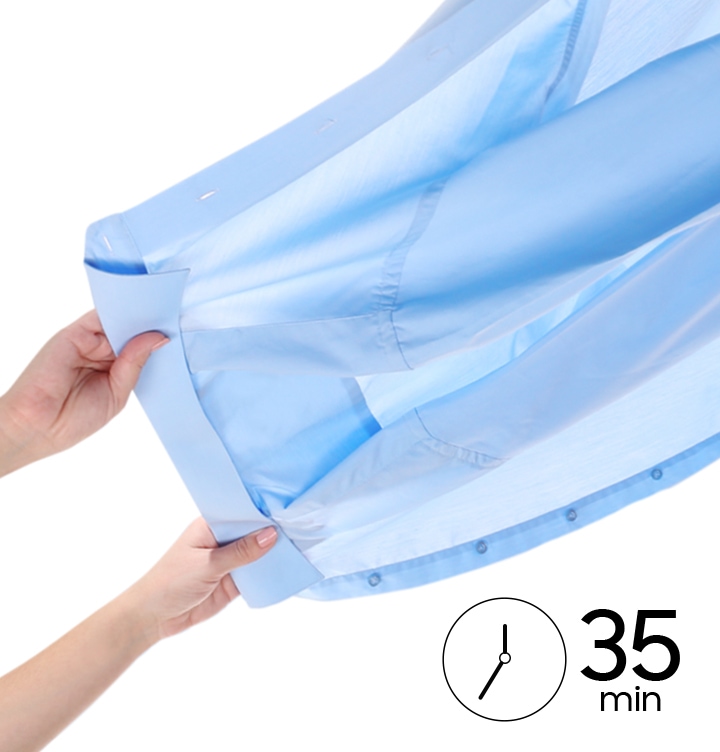 Specifications
Drying Capacity (kg)9.0 kg
Physical specification600 x 850 x 600 mm
Net Weight50 kg
Specifications Detail
Drying Capacity
Drying Capacity (kg)9.0 kg
Design
Body colorWhite
DoorTint Door + D.Silver Deco
Panel DisplayAI Control
Performance
Type of DryerHeatpump
Energy Consumption (annual)194
Feature
AI ControlYes
Interior Drum LightYes
Heatpump DryingYes
Smart ControlYes
Reversible DoorYes
Child LockYes
Drum typeDiamond
Dry Level3
Damp AlertYes
Language SettingYes
Drying RackYes
Drying Time selectorYes
Mixed Load BellYes
Progress IndicatorYes
Wrinkle PreventYes
OptimalDry SystemYes
Smart ThingsYes
Cycle
Cool AirYes
Iron DryYes
OutdoorYes
Time DryYes
TowelsYes
Warm AirYes
WoolYes
Air WashYes
BeddingYes
Quick Dry 35'Yes
CottonYes
DelicatesYes
Mixed LoadYes
ShirtsYes
SyntheticsYes
Hygiene CareYes
Physical specification
Net Dimension (WxHxD)600 x 850 x 600 mm
Net Weight50 kg
Gross Dimension (WxHxD)680 x 885 x 700 mm
Gross Weight55 kg
Smart
App Connectivity
SmartThings App SupportYes
Customer comments
| Author/Date | Rating | Comment |
| --- | --- | --- |