CEILING FAN - PROMOTION ITEM (CASH & CARRY)
A NEW, COOLING EXPERIENCE
The BAYU ceiling fan provides you with natural breeze and comfortable temperature management for your home. Suitable for any décor.
• 5-blade design
• Enhanced safety features
• 3-preset speed selection
• 1, 3, 6 Hour Off Timer
• 3, 6 Hour Sleep Timer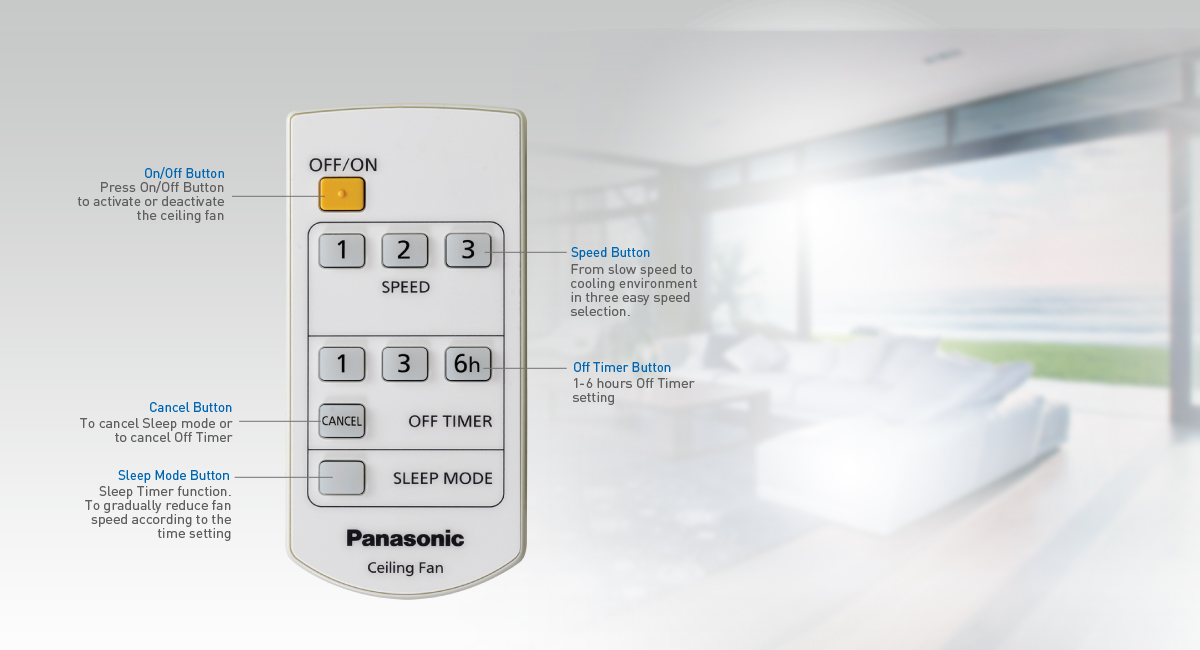 Convenient - Remote Controller
Ease of use
Control fan functions with a simple touch of your finger

Ease of flexibility
Preset your fan shut off after selected time range, regardless of selected speed.

On/Off Button
Press On/Off Button to activate or deactivate the ceiling fan.

Speed Button
From slow speed to cooling environment in three easy speeds selection.

Off Timer Button
1, 3, 6 hours Off Timer setting

Sleep Mode Button
1, 3, 6 Hour Sleep Timer function. To gradually reduce fan speed according to the time setting.

Cancel Button
To cancel Sleep mode or to cancel Off Timer
Caring - Sleep Mode
These fan are equipped with Sleep Mode, by which fan speed and timer will gradually reduce until the fan is off. This function not only creates an optimal sleeping environment but also enhances energy saving as well.

* Note:
- Sleep mode is disabled at speed 1 and 1 hour setting.
- Operation patter will be different subject to different model and setting, please refer to the operation instruction for details.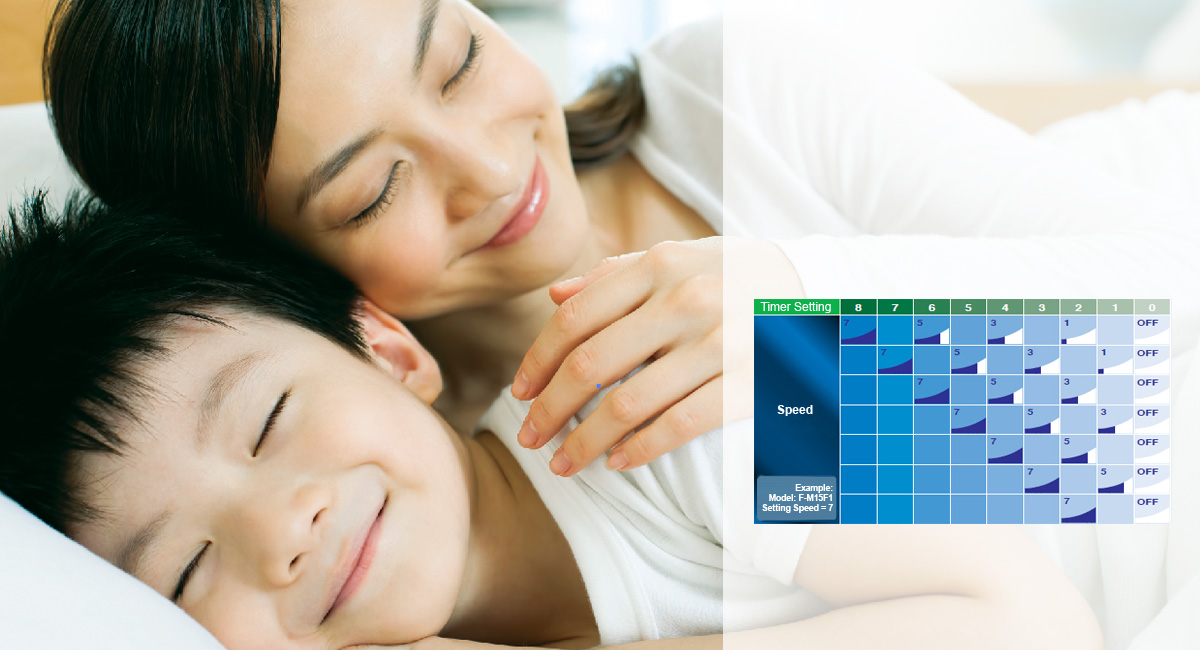 Reliable - Multi-Level Safety Protection
Thermal Safety Fuse
Against fire hazard, prevents electric shocks and protects motor from current surge.

Current Fuse
Prevent current leakage or abnormal current.
Safety wire
Safety wire secures the fan motor to the ceiling hook to prevent detachment of the fan motor from rod.

Cut-off Safety Switch
Cut off power supply while detecting dangerous wear and tear of the shaft or bolt.

Blade Safety Plate
A fall prevention plate is installed on the blade to prevent fan blade to detach and dropping from the ceiling in case it damages.

TECHNICAL SPECIFICATIONS
Remote Control

Yes

Speed Control

3

Model No

F-M14D5VBWH

Fan Size (inch/cm)

56"/140cm

Power Consumption (W)

(Low)

21

(High)

69

Fan Speed (RPM)

(Low)

95

(High)

183

Air Velocity (m/min) (Low)

155

Air Delivery (m³/min)

215
Dimensions & Weight
Width: 1400mm (56"), Height: 429 mm
Customer comments
| Author/Date | Rating | Comment |
| --- | --- | --- |