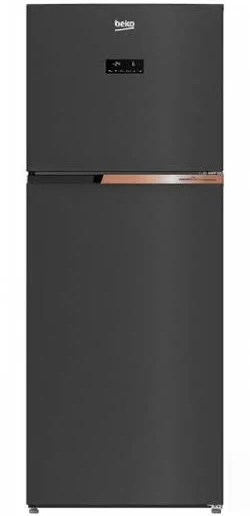 Features
HarvestFresh
Inspired by nature, powered by light
Vitamins in fruit and veg are no longer lost to refrigeration! HarvestFresh's 3-colour technology mimics the 24-hour sun-cycle inside the crisper, preserving vitamins for longer. This unique technology inside your crisper will allow you to enjoy nutritious meals and a healthier lifestyle.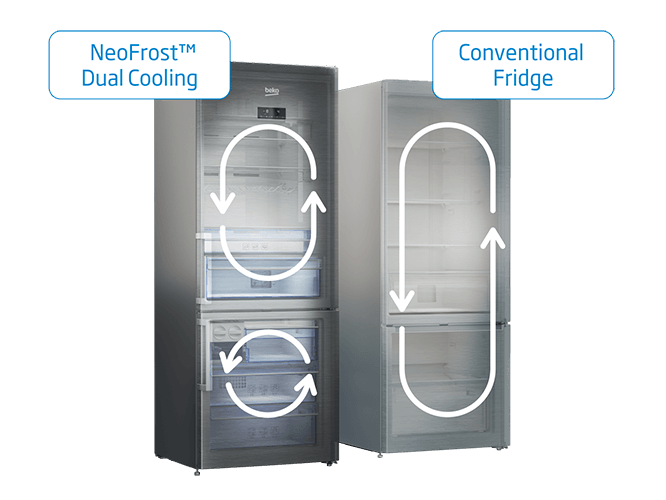 NeoFrost Dual Cooling
2 separate cooling systems, no odour transfer
It's difficult to keep the fish in the freezer together with a flavourful cake in the fridge without their odours mixing. NeoFrost Dual Cooling's separate cooling systems for each compartment maintain ideal air flow and optimal temperatures in both the freezer and the fridge. As a result, food stays fresh for longer with no frost build-up or odour transfer.
ProSmart Inverter Compressor
High efficiency, high durability, low noise
If your fridge is a humming, gurgling energy-hog, it's time to make the switch. Thanks to its innovative design, the ProSmart Inverter Compressor provides faster cooling with less energy and four times quieter operation than average refrigerator compressors. It adapts to temperature fluctuations quicker, keeps food fresh longer and saves on your energy bills, all at the same time.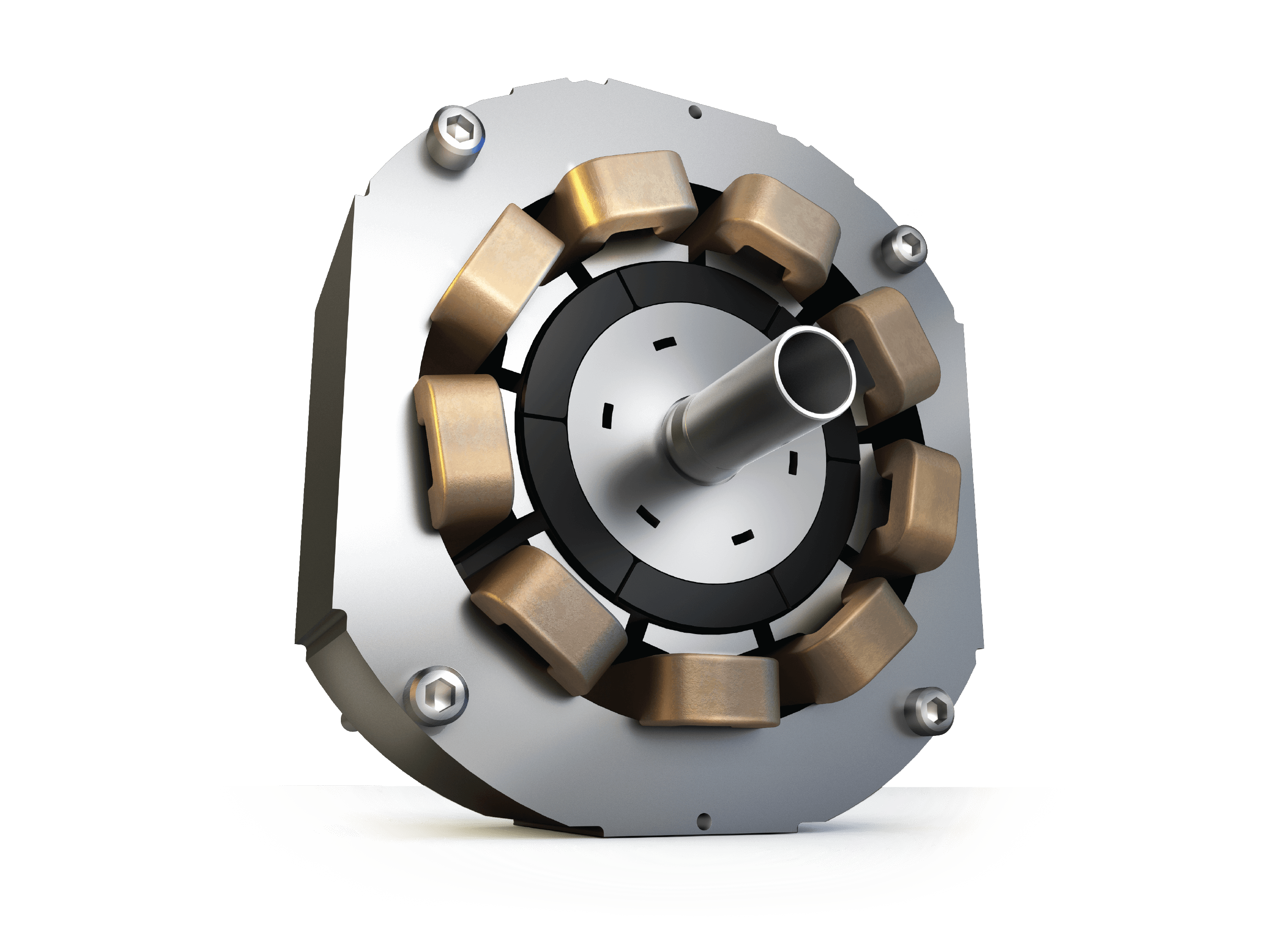 Active Odour Filter
Unwanted odours & bacteria reduced
There's nothing worse than opening the fridge door when something smells rotten inside. Thanks to a carbon filter, Active Odour Filter removes odours and bacteria from the cool air circulated in your fridge, keeping all your food nice and fresh. So no matter what you keep in your fridge, you won't have to hold your nose when you open it.
Other Features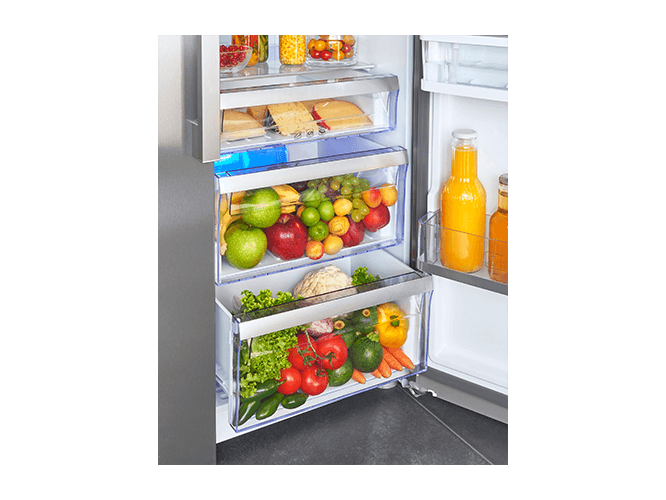 CoolRoom
Meat, fish & dairy fresher for longer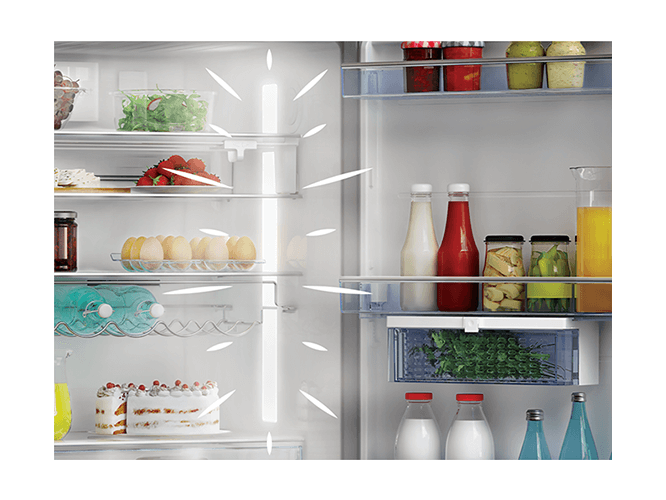 Led Illumination
Clear view of the inside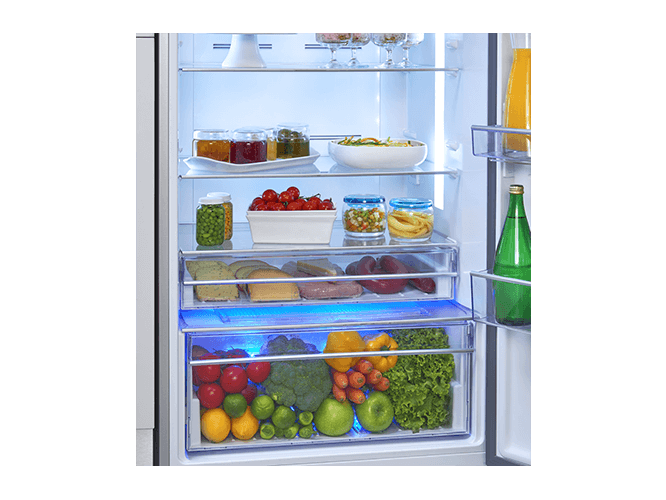 Safety Glass
High-durability glass shelves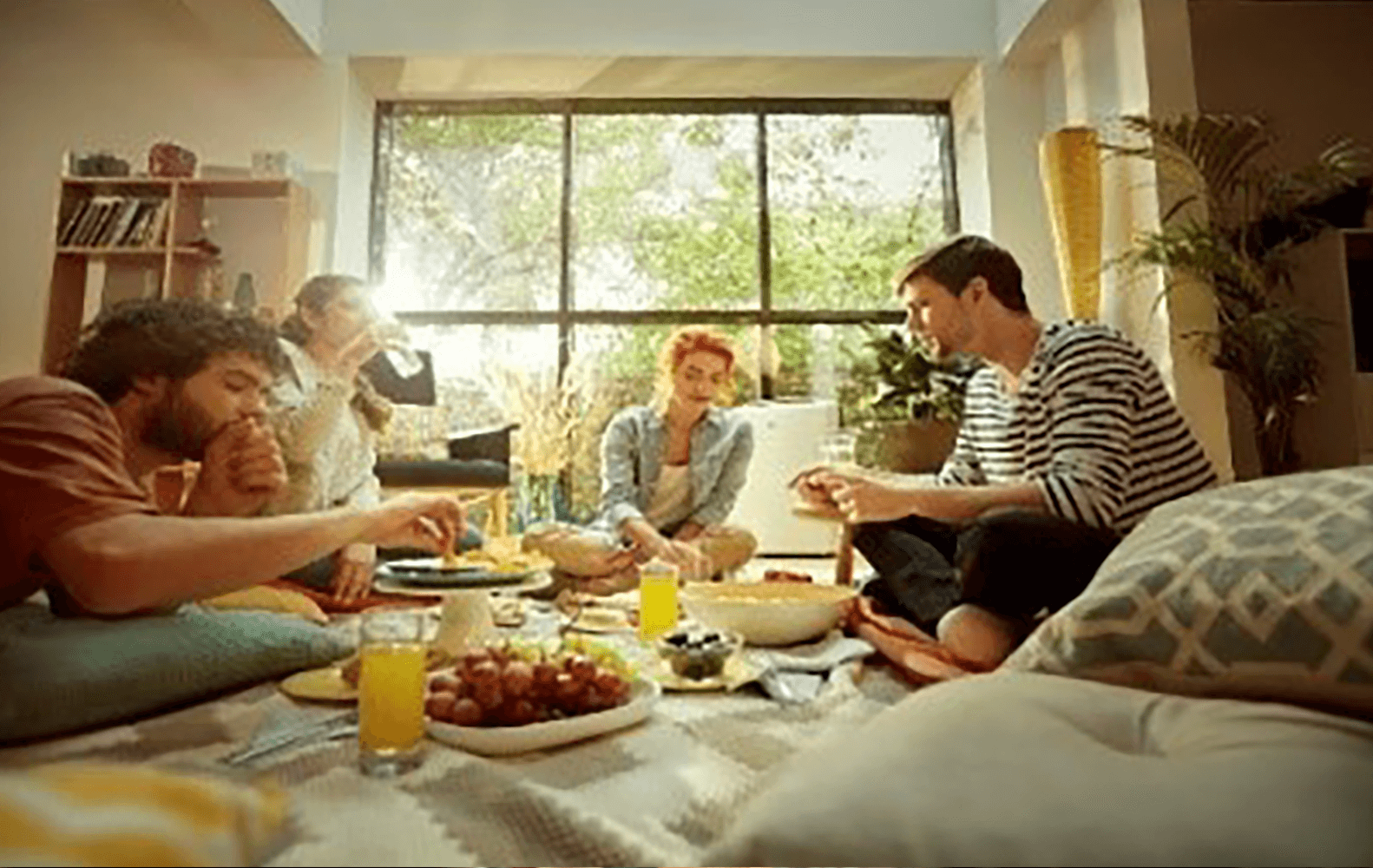 Twist & Serve Ice Cube Tray
Easy-access ice cubes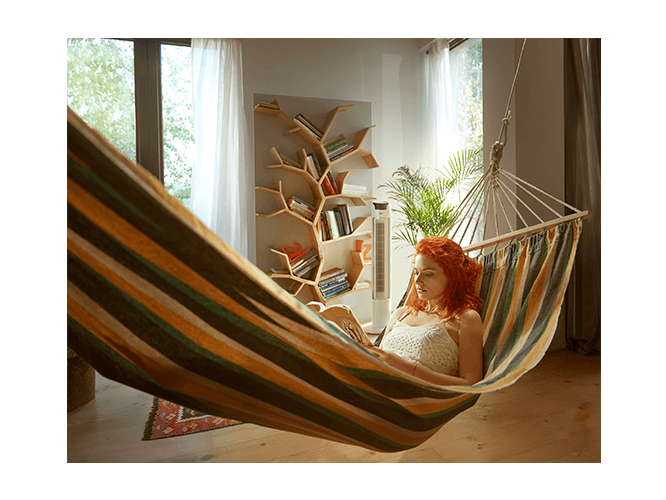 Vacation Mode
Extra energy saving
Tech Specs
Share
Key Features
Fitting Type
Freestanding
Product Type
Freezer Top
Height
172 cm
Width
66 cm
Depth
70 cm
Energy Efficiency Class
4
ProSmart Inverter Compressor
High efficiency, high durability, low noise
Cooling System Type
No-frost
Freezer Position
Freezer Top
Display Type
LED
Colour
Prepainted Dark Inox
Gross & Net Volume
Total Gross Volume
409 L
Total Net Volume
170 L
Fresh Food Storage Net Volume
277 L
Frozen Food Storage Net Volume
98 L
Technologies
ProSmart Inverter Compressor
High efficiency, high durability, low noise
Eco Function
Vacation Mode
Extra energy saving
Fridge Features
IonGuard
Fridge Shelf Type
High-durability glass shelves
Active Odour Filter
Unwanted odours & bacteria reduced
CoolRoom
Meat, fish & dairy fresher for longer
Quick Cool Option
Number of Crispers
1
Egg Tray Capacity
12
Freezer Features
Fast Freeze
Ice-maker Type
Easy-access ice cubes
Daily Freezing Capacity (kg/day)
4.5 kg
Design
LED Illumination
Clear view of the inside
Freezer Position
Freezer Top
Display Position
On Door
Display Type
LED
Control Type
Electronic
Fitting Type
Freestanding
Door Handle Type
Asean Flush Handle (Copper)
Colour
Prepainted Dark Inox
Performance & Consumption
Energy Efficiency Class
4
Noise Level
39 dBA
Climate Class
T
Voltage
220 - 240 V
Frequency
50 Hz
Dimensions & Weight
Height
172 cm
Width
66 cm
Depth
70 cm
Weight
61 kg
Packaged Height
181.3 cm
Packaged Width
70 cm
Packaged Depth
75.5 cm
Packaged Weight
67 kg
Safety
Open Door Alarm
Child Lock
Customer comments
| Author/Date | Rating | Comment |
| --- | --- | --- |