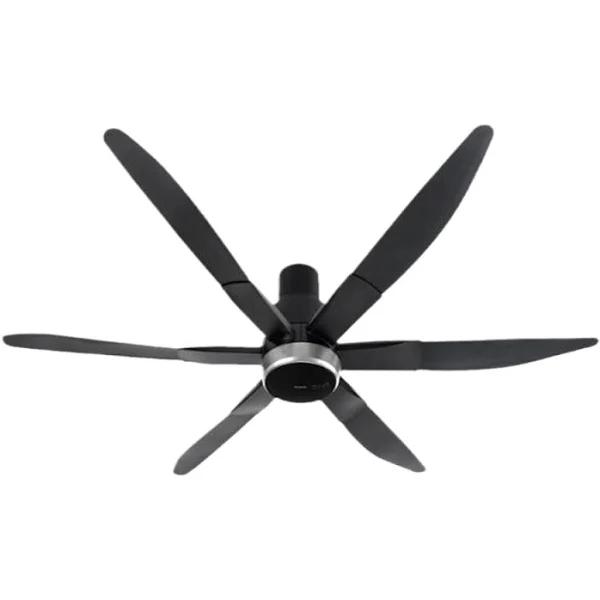 KEY FEATURES Motion Sensor
Motion sensor detects human movement and activity within its detection range. The sensor will respond according to intensity of activity by changing the fan speed.
Motion Sensor coverage
• Recommended fan installation height is 2.5m to 3m at detection range of 4m
• Motion sensor coverage may be affected by different fan installation height and room temperatureMotion Sensor coverage Example of Motion Sensor Mode Operation
Low Activity :
• Little movement such as reading, eating, talking, etc.
• Fan speed maintains as the user's set speed.
High Activity:
• Continuous or vigorous movement such as running on treadmill, mopping floor, etc.
• Fan will increase by two speed from the user's set speed after 5 minutes of detection (one time only).
No Activity :
• No movement.
• Fan will reduce three speed from user's setting speed after 5 minutes. If no movement occurs in next approximate twenty minutes, fan will reduce to user's minimum fan speed setting. How Motion Sensor Works?
This fan is equipped with Memory Function to restore user's last setting whenever fan is switched on. Whenever fan starts operating (by wall switch), motion sensor needs approximate one minute to initialize.
Performance and accuracy may vary depending on actual condition use where heat source is:
1) other than human being detected such as small animals, strong illuminating objects (e.g sunlight, fluorescent light, etc.), or temperature change (e.g air conditioner, heating unit, etc.).
2) difficult to be detected when there is no movement.
* Indicates the maximum speed and minimum speed after changing speed during High Activity and No Activity. Maximum fan speed is Speed 9. The speed will not increase more than Speed 9 during High Activity. Minimum fan speed is Speed 1 or OFF. The speed will not decrease lower than Speed 1 or OFF during No Activity.
New Twin DC Motor Technology
Twin DC motor with higher motor power and reduce power consumption up to 50% compared to AC motor. Also, it has bigger Blade Size (70") that provides higher air delivery compared to 60" models. Recommended Area
Residential (Indoor/Outdoor)
• Wide/High Ceiling Area
• Living Rooms/Dining Rooms
• Verandah/Balcony
• Garages Recommended Area
Commercial (Indoor/Outdoor)
• Cafes
• Restaurants
• Hotels/Resorts/Villas
• Garages Recommended Area
Public Ammenties (Indoor/Outdoor)
• R&R Stops
• Mosques
• Train Stations
• Amenities Halls Comfortable - 1/f Yuragi* (Natural Breeze)
These fans are equipped with 1/f Yuragi function which is a fluctuating pattern to generate a gentle breeze. By this sophisticated formula, in varying air velocity and controlling wind force, these new ceiling fans gives you a peaceful and comfortable feeling.
Current function : rhythm breeze
This regulator pattern decreases the body temperature after a period of time. Thereafter, you may feel anxious and uncomfortable when the wind velocity changes.
New Function : 1/f Yuragi
Incorporated with this human-concerned technology, this kind of rhythm maintains your external body temperature by giving you a feeling of natural wind when there is a change of wind velocity. Caring - Sleep Mode
These fan are equipped with Sleep Mode, by which fan speed and timer will gradually reduce until the fan is off. This function not only creates an optimal sleeping environment but also enhances energy saving as well.
* Note:
- Sleep mode is disabled at speed 1 and 1 hour setting.
- Operation patter will be different subject to different model and setting, please refer to the operation instruction for details. Ball Joint Hanging Structure
The new ball joint structure replaced the conventional hook for safety and easier installation purpose.
Benefits of Ball Joint vs Hook
For Safety:
• Support heavier weight
• Enhance mounting stability
• Embedded safety switch
Easier fan installation
Installer can easily secure the pipe to the ball joint using both hands
No hook required
Hanger plate will be provided Safety Policy by Panasonic
Preventive Measures For Safety
Panasonic aims to minimize and reduce accidents to occur. Thus, Panasonic practices safety policy to prevent any dangerous mishaps.
To pursue a higher quality of life, ceiling fans are expected to have more functions and value added features. However, it is also crucial to consider the safety and reliability features of the fan when you select a ceiling fan.
TECHNICAL SPECIFICATIONS
Fan Size (inch/cm)

70"/180cm

Power Consumption (W)

(Low)

6

(High)

55

Fan Speed (RPM)

(Low)

80

(High)

185

Air Velocity (m/min) (Low)

190

Air Delivery (m3/min)

325

Colour

Black

Twin DC Motor Technology

Yes

Motion Sensor

Yes

Yuragi

Yes

Remote Control

Yes

Enhance Safety Features

Yes

Blade Type

PPG & Metal

Dimension

Width: 1800mm (70")
Height: Canopy Type: 446mm, Pipe Type:702mm
DIMENSIONS & WEIGHT
Dimension
Width: 1800mm (70")
Height: Canopy Type 446mm , Pipe Type 702mm

Colour
Black
Customer comments
| Author/Date | Rating | Comment |
| --- | --- | --- |