KEY FEATURES
Energy Efficiency Class: B Energy Rating


This Beko appliance is up to 10% more energy efficient than standard 'C' rated models, saving you money on energy bills.
Auto Anti-Creasing
This function provides ready-to-go laundry since the gentle drum action separates the laundry and ensures that it remains crease-free.
OptiSense®
OptiSense® technology in your Beko tumble dryer optimises the drying cycle, so you don't need to guess how long your clothes will take to dry. 3 smart sensors let you choose how dry you want your clothes and stop the dryer when that level of dryness is achieved. Damp or dry, your wish is our command.
Aquawave™ Technology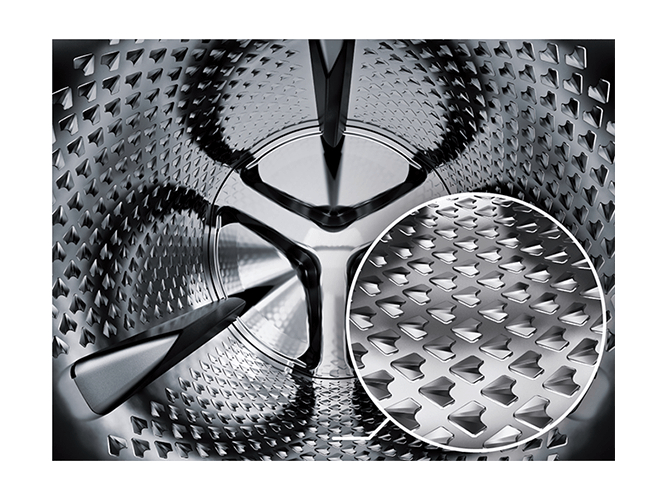 Wave-like drum action for gentler treatment

With Beko AquaWave® technology, there's no need to worry. Aided by a set of paddles and a specially designed drum pattern, a wave-like motion is created to gently move your laundry inside the machine, giving garments more exposure and increasing drying performance. You'll save on energy too. You and your favourite shirt will have a lot more nights-out to come.
Large load capacity
The large drum sizes allow you to dry more in one cycle, helping you save time and money. You can dry up to 22 hand towels in one cycle, ideal for larger families.
Stylish Digital Display with Electronic Knob
The easy to use stylish digital display shows the time remaining until the end of the programme as well as the time delay function, keeping you informed at all times. Moreover, the electronic knob with indicator lights makes programming the wash much easier.
Sensor drying programmes
The Sensor drying programmes identify the levels of moisture in the drum and automatically stop when the desired dryness level is achieved. Preventing over-drying, they help you save time and money on energy bills and provide a better protection for clothes.
Special care programmes
With a wide range of options to choose from, you are guaranteed that there is a programme to suit all your needs, whether drying delicates, shirts, baby clothing or jeans.
TECHNICAL SPECIFICATIONS
Drying Technology : Condenser
Sensor Drying : OptiSense
Colour : White
Direct Drain : Yes
Remain Time Display : Yes
Display Type : Digital Display
Water Tank Full Indicator : Yes
Drum Light : Yes
Capacity (kg) : 8
Filter Cleaning Indicator : Yes
Time Delay Indicator (led) : Yes
Energy Efficiency Class : B
Annual Energy Consumption (kWh/year) : 560.9 kWh
Noise Level : 66 dBA
Buzzer : Yes
Tank position : Up
Time Delay : Yes (Flexible Time Delay 0 h - 24 h)
---
PROGRAMMES
| | |
| --- | --- |
| Number of Programmes | 16 |
| Programme 1 | Cottons Iron Dry Programme |
| Programme 2 | Cottons Cupboard Dry Programme |
| Programme 3 | Cottons Cupboard Dry Plus Programme |
| Programme 4 | Cottons Extra Dry Programme |
| Programme 5 | Synthetics Iron Dry Programme |
| Programme 6 | Synthetics Cupboard Dry Programme |
| Programme 7 | GentleCare Programme |
| Programme 8 | Freshen-up Programme |
| Programme 9 | 60 min |
| | |
| --- | --- |
| Programme 10 | 40 min |
| Programme 11 | 20 min |
| Programme 12 | 10 min |
| Programme 13 | Sportswear Programme |
| Programme 14 | Shirts 15 min Programme |
| Programme 15 | BabyProtect Programme |
| Programme 16 | Jeans Programme |
DIMENSIONS & WEIGHT
Height : 84.6 cm
Width : 59.7 cm
Depth : 65.4 cm
Packaged Height : 88.5 cm

Packaged Width : 65 cm
Packaged Depth : 66.5 cm
Packaged Weight : 38 kg
Customer comments
| Author/Date | Rating | Comment |
| --- | --- | --- |