KEY FEATURES
SAVE UP TO 50% OF ELECTRICITY CONSUMPTION*
HEATPUMP TECHNOLOGY
Boasting 5 Ticks Energy Efficiency**, its special Heatpump technology harnesses the use of a "refrigerant" instead of electricity to heat the air. It also recycles the air to avoid energy wastage, offering an energy-efficient, cost-effective and gentle way to dry your clothes.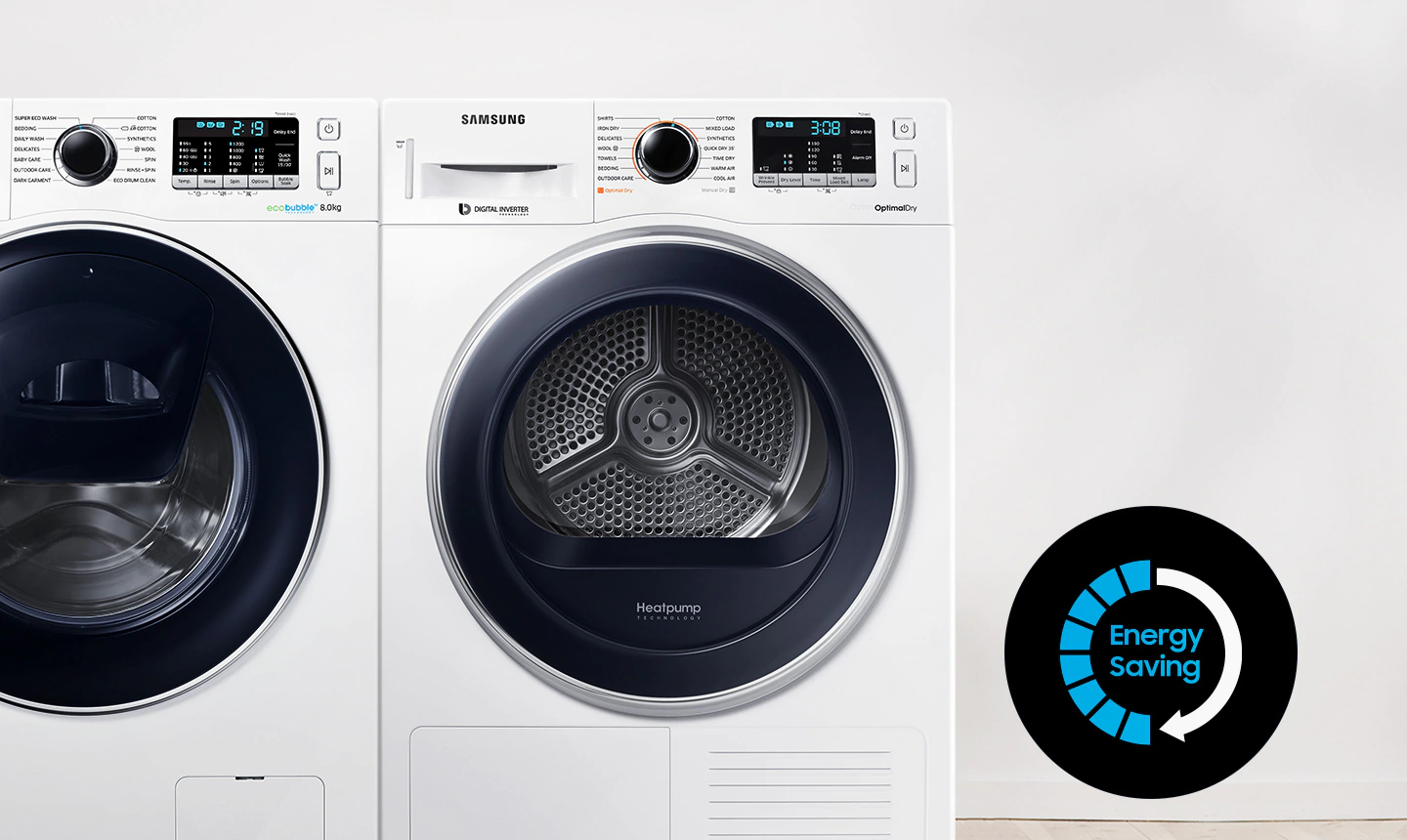 *Tested in accordance with EN 61121:2013/Cotton Cupboard comparing DV90M5200QW 9kg (with Heatpump technology) with DV80H4100CW 8kg
DRY INTELLIGENTLY
OPTIMAL DRY SYSTEM
Optimize your drying performance effortlessly! Optimal Dry System uses 3 sensors to achieve the best results. It monitors the humidity and adjusts the drying time, so laundry is ready quickly while using minimal energy. It also prevents your laundry from being damaged and reminds you to clean the Heat Exchanger.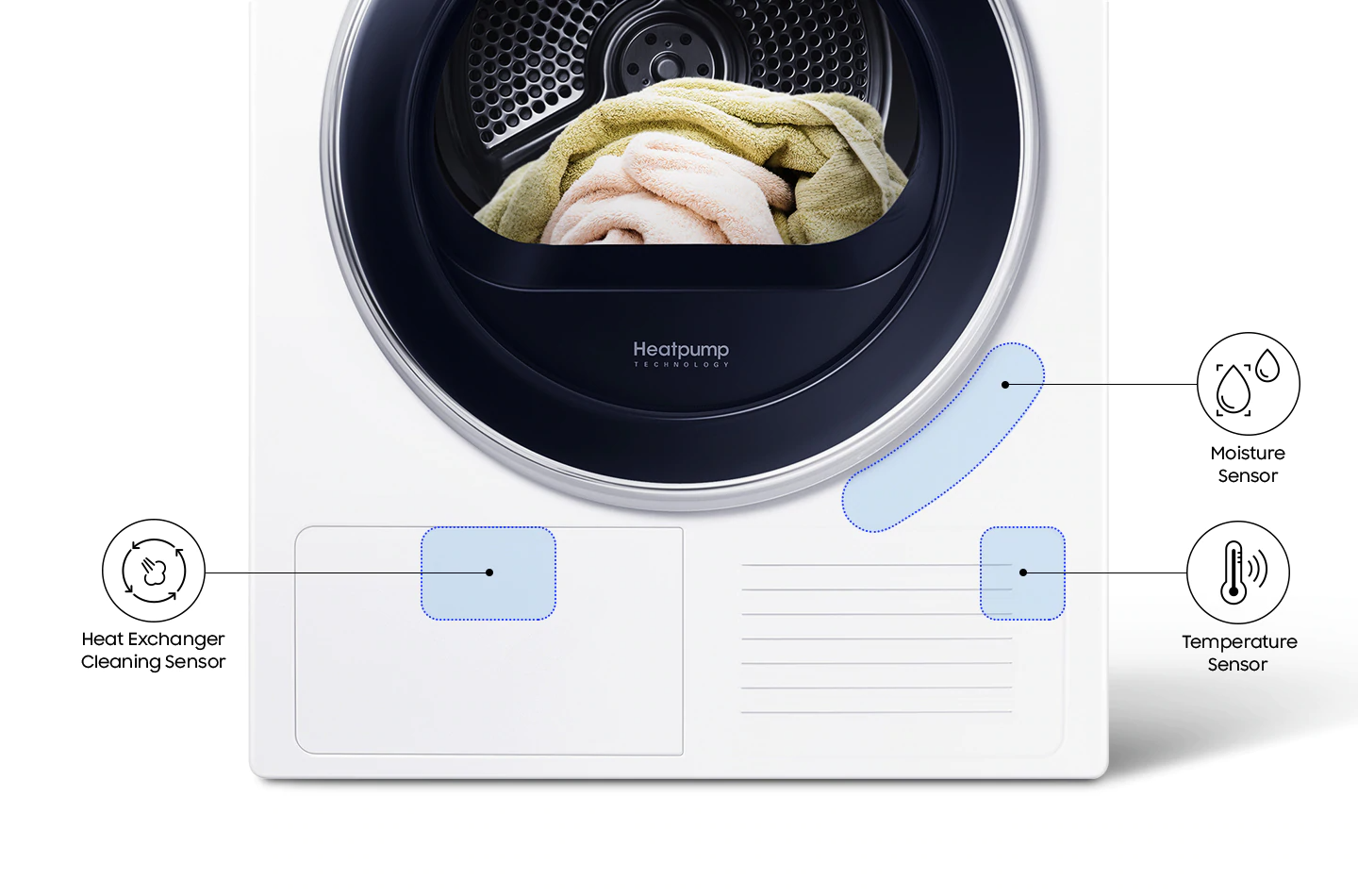 MAXIMUM CONVENIENCE
REVERSIBLE DOOR
Our 8kg Heatpump Dryer features a reversible door so you can choose to change the direction which the door opens to accommodate your laundry space layout*.
*Door reversal should be done by qualified technician. Any requirement to change the direction of door should be made prior to delivery. Additional charges may apply for subsequent door reversal request.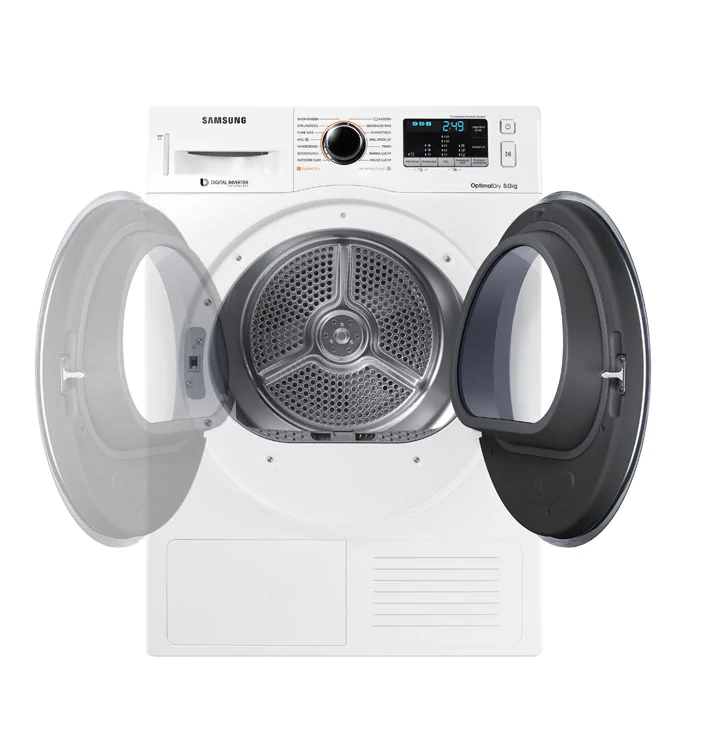 FUSS-FREE MAINTENANCE
2-IN-1 FILTER
Maintain your dryer more easily while optimizing its drying performance and safety. The innovative 2-in-1 Filter has a two-layered mesh filter, eliminating the need for a Heat Exchanger Filter and making it easier to maintain. There is also an alarm that reminds you when it needs cleaning.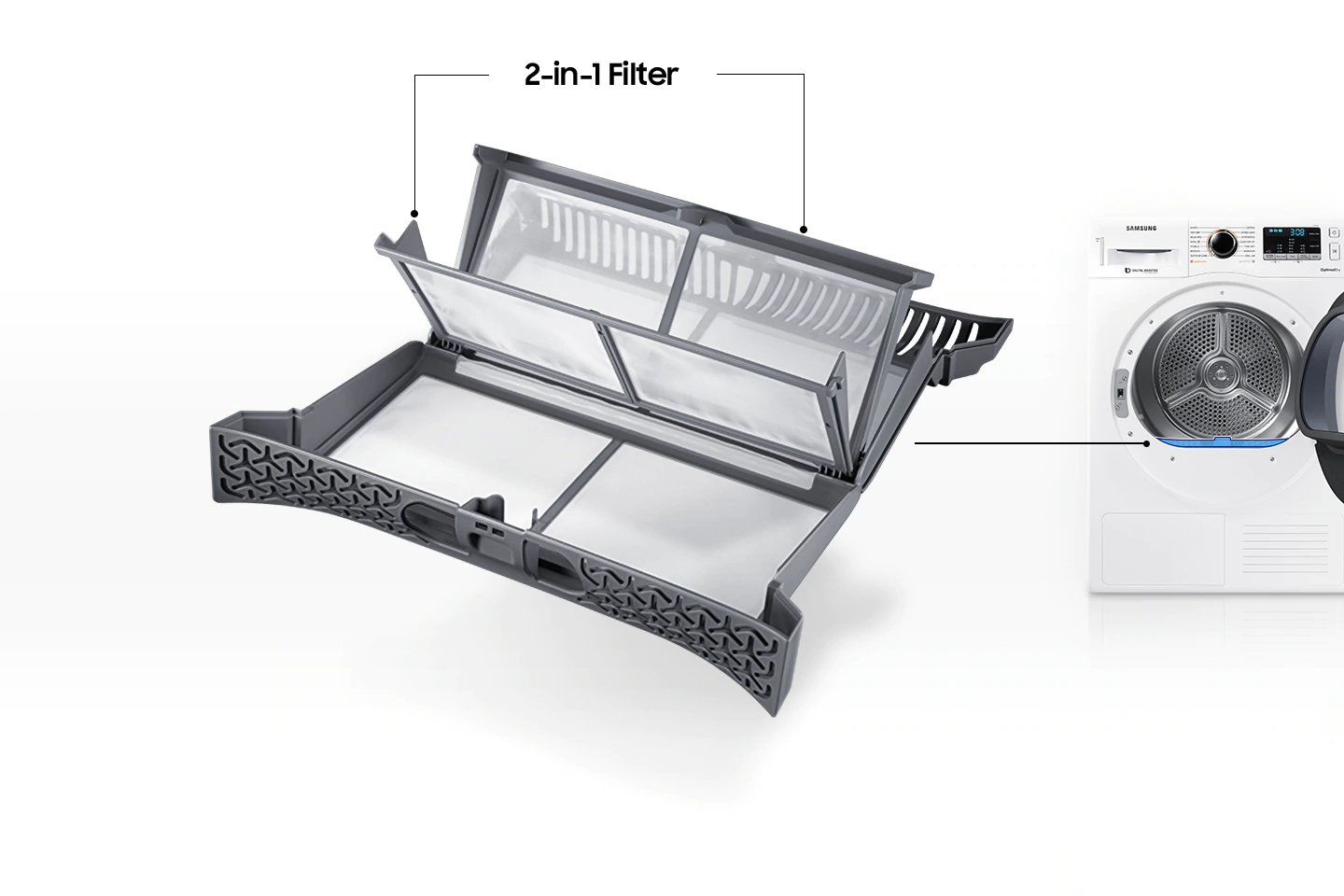 CHECK WATER LEVELS EASILY
WATER TANK INDICATOR
Check how much water has been collected with ease. The Water Tank Indicator shows the amount of condensed water that has been extracted from your clothes. This means you can quickly see if the water tank needs emptying before you start a load, ensuring that the dryer won't stop unexpectedly in the middle of one.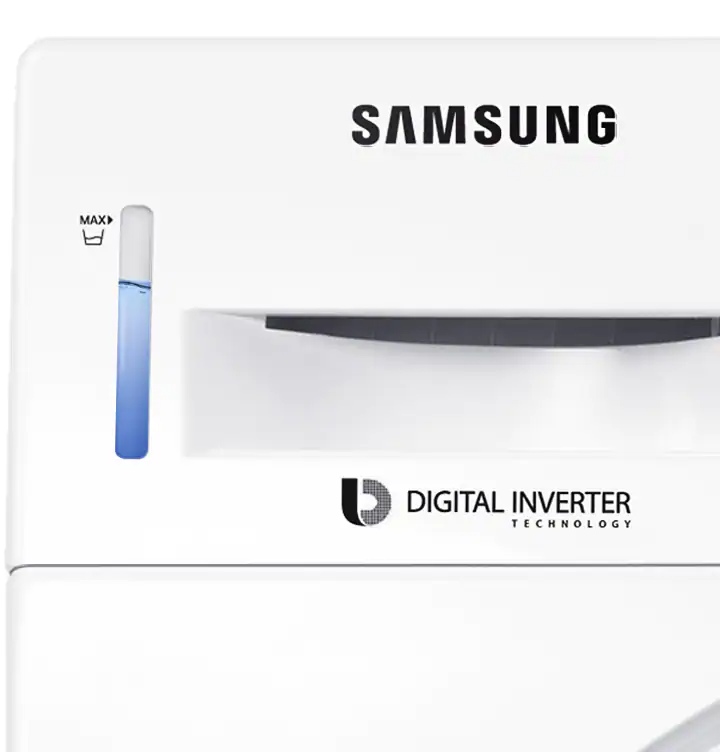 EASY TROUBLESHOOTING
SMART CHECK
Smart Check is an automatic error-monitoring system that detects and diagnoses problems at an early stage and provides quick and easy troubleshooting using the Samsung Smart Washer/Dryer app*. So it saves you time and avoids the cost and inconvenience of unnecessary service callouts! **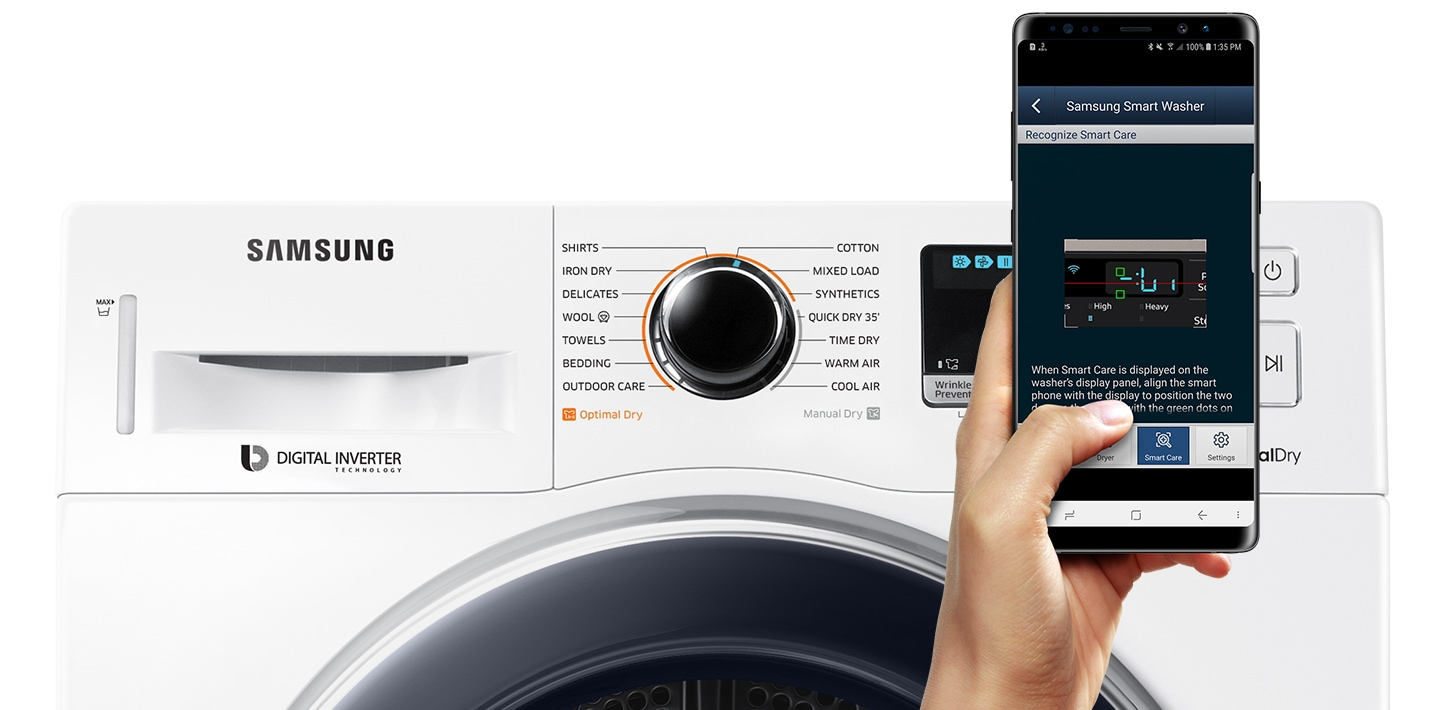 * Available on devices with iOS 8 or higher or Android 2.2 or higher. Internet connection is required.
** Service callouts may be required depending on the issue, and may extra repair costs may be incurred.
TECHNICAL SPECIFICATIONS
Drying Capacity

Drying Capacity (kg) : 8.0 kg

Design

Body color : White
Door : Crystal Gloss
Panel Display : LED

Performance

Type of Dryer : Heatpump
Energy Efficiency Class : 5 tick
Noise Level (Dry) : 65 dB

Feature

Interior Drum Light : Yes
Smart Check : Yes
Reversible Door : Yes
Child Lock : Yes
Delay End : Yes
Drum type : Diamond Drum
Dry Level : 3 Levels
Drying Rack : No
Drying Time selector : Yes
Mixed Load Bell : Yes
Progress Indicator : Yes
Water Container Full Indicator : Yes
Wrinkle Prevent : Yes
OptimalDry System : Yes

Cycle

Cool Air : Yes
Iron Dry : Yes
Time Dry : Yes
Towels : Yes
Warm Air : Yes
Wool : Yes
Option List : Delay End, Alarm Off, Wrinkle Prevent, Dry Level, Time, Mixed Load Bell, Lamp
Bedding : Yes
Quick Dry 35' : Yes
Cotton : Yes
Delicates : Yes
Mixed Load : Yes
Outdoor Care : Yes
Shirts : Yes
Synthetics : Yes

Physical specification

Net Dimension (WxHxD) : 600 x 850 x 640 mm
Net Weight : 50 kg
Drum Material : Stainless
DIMENSIONS & WEIGHT
Customer comments
| Author/Date | Rating | Comment |
| --- | --- | --- |