Sure, here are ten reasons to consider buying the SAMSUNG RT32K5052DX/ME refrigerator:
1. Large capacity: With a 410L capacity, you can store plenty of food and beverages for your household.
2. Twin Cooling Plus: The Twin Cooling Plus feature ensures that the refrigerator and freezer compartments are cooled separately, maintaining optimal humidity levels and preventing odor transfer between the two.
3. Digital Inverter: The Digital Inverter compressor adjusts its speed according to the cooling demands, reducing energy consumption and noise levels.
4. Smart Conversion: The Smart Conversion feature allows you to convert your freezer into a fridge or vice versa, giving you more flexibility in storage space.
5. Easy Slide Shelf: The Easy Slide Shelf makes it easy to access items at the back of the fridge, without having to move everything in front.
6. LED lighting: The LED lighting illuminates every corner of the fridge, making it easy to find what you need.
7. Deodorizing Filter: The Deodorizing Filter eliminates unpleasant odors, keeping your fridge smelling fresh.
8. Frost-free: The frost-free feature prevents ice buildup, eliminating the need for manual defrosting.
9. Energy-efficient: With its Digital Inverter compressor and LED lighting, the SAMSUNG RT32K5052DX/ME is energy-efficient and can help you save on electricity bills.
10. Stylish design: The sleek and modern design of the refrigerator can complement any kitchen décor.
KEY FEATURES
Moisture-Full Freshness all over the fridge
Only Twin Cooling Plus™ creates a favorable environment for preserving fresh food in the fridge with up to 70%* humidity, compared to 30% in a conventional TMF. So it keeps ingredients fresh for longer without drying out.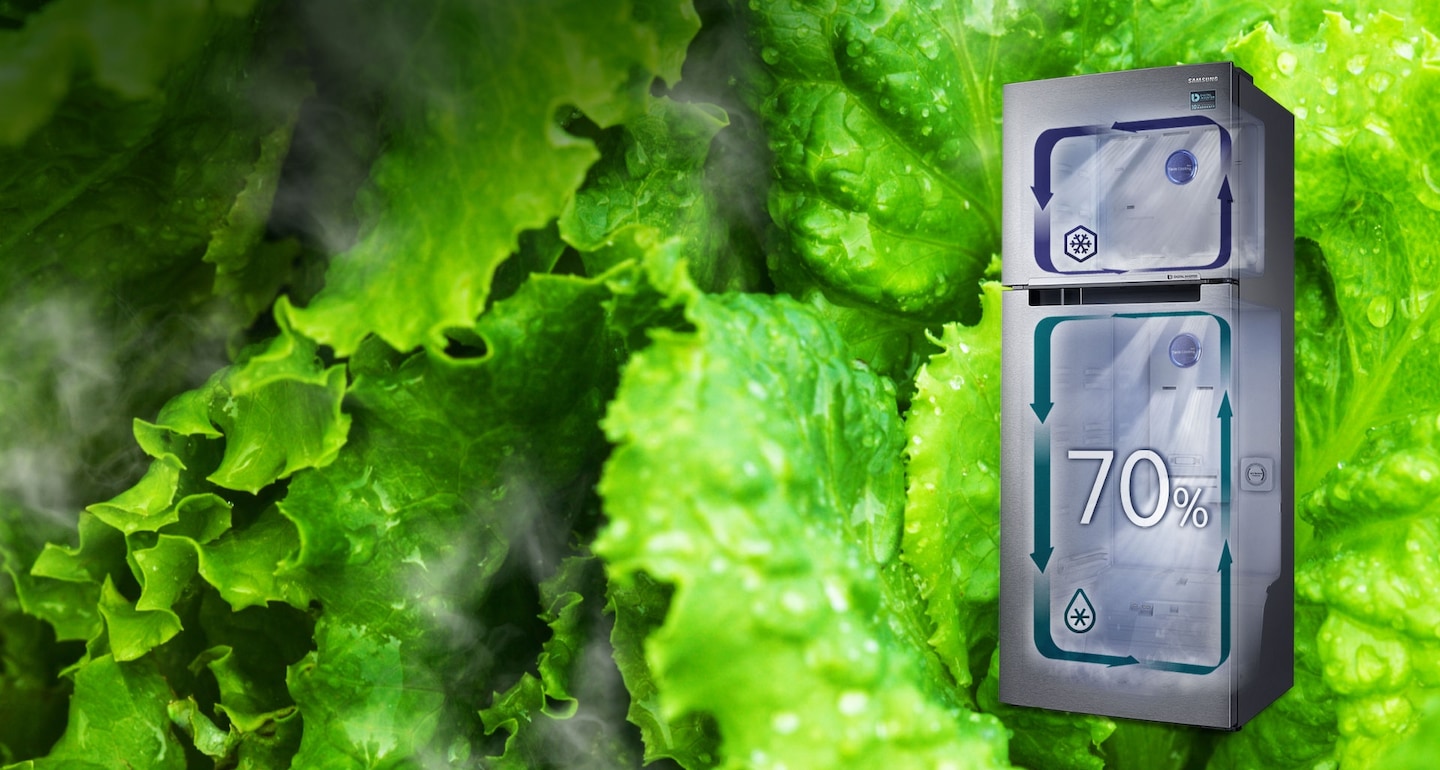 * Based on internal testing comparing Samsung models RT22SCSW2 and RT5000K.
Deliciously tasty, odor free frozen food
The Twin Cooling Plus™ system cools the compartments separately to stop unexpected odors spreading from fridge to freezer. So frozen food retains more of its original flavor.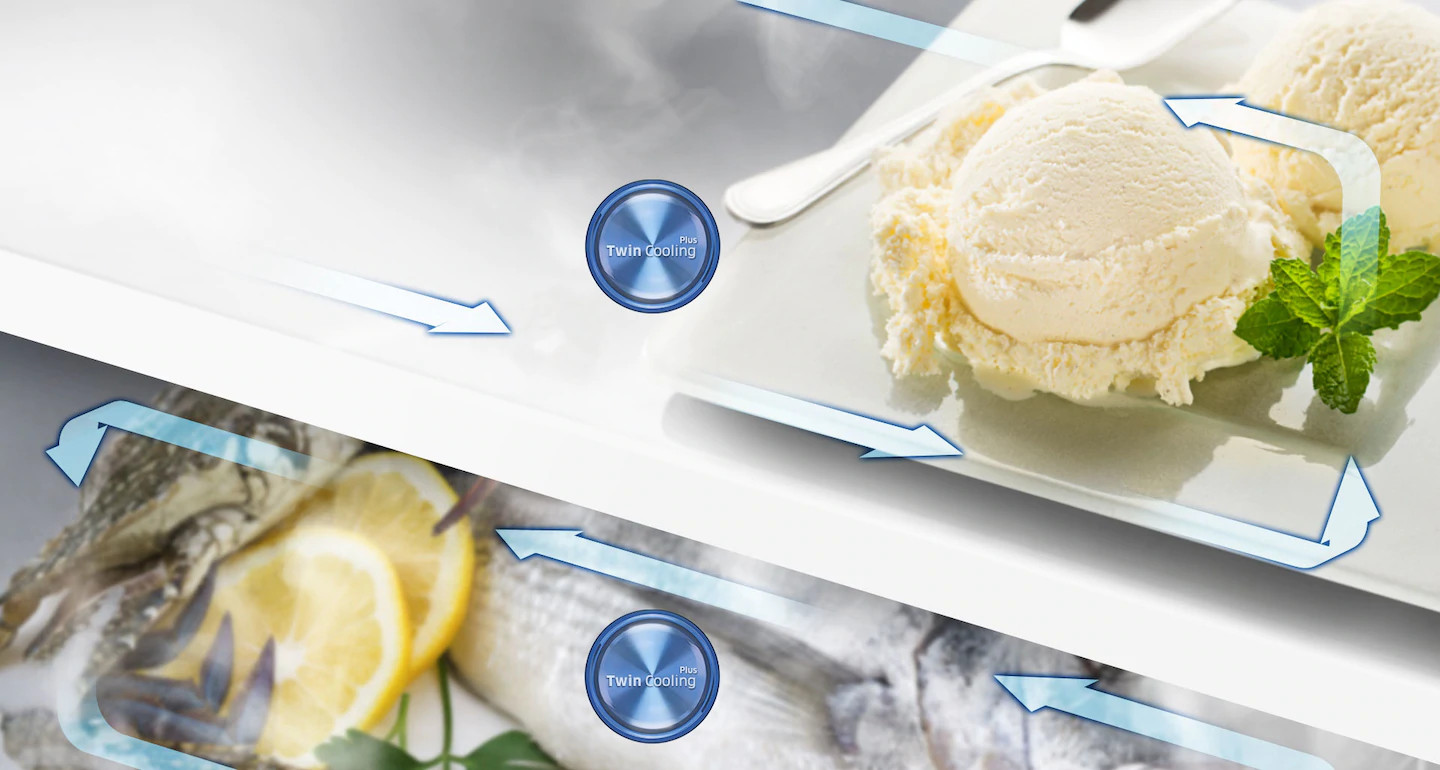 5 Conversion Modes on demand
Provides the ultimate in flexible storage. Easily convert your freezer into a fridge to keep all the fresh food you need to store for different seasons or special occasions. Or switch to off* mode to save evergy, depending on specification.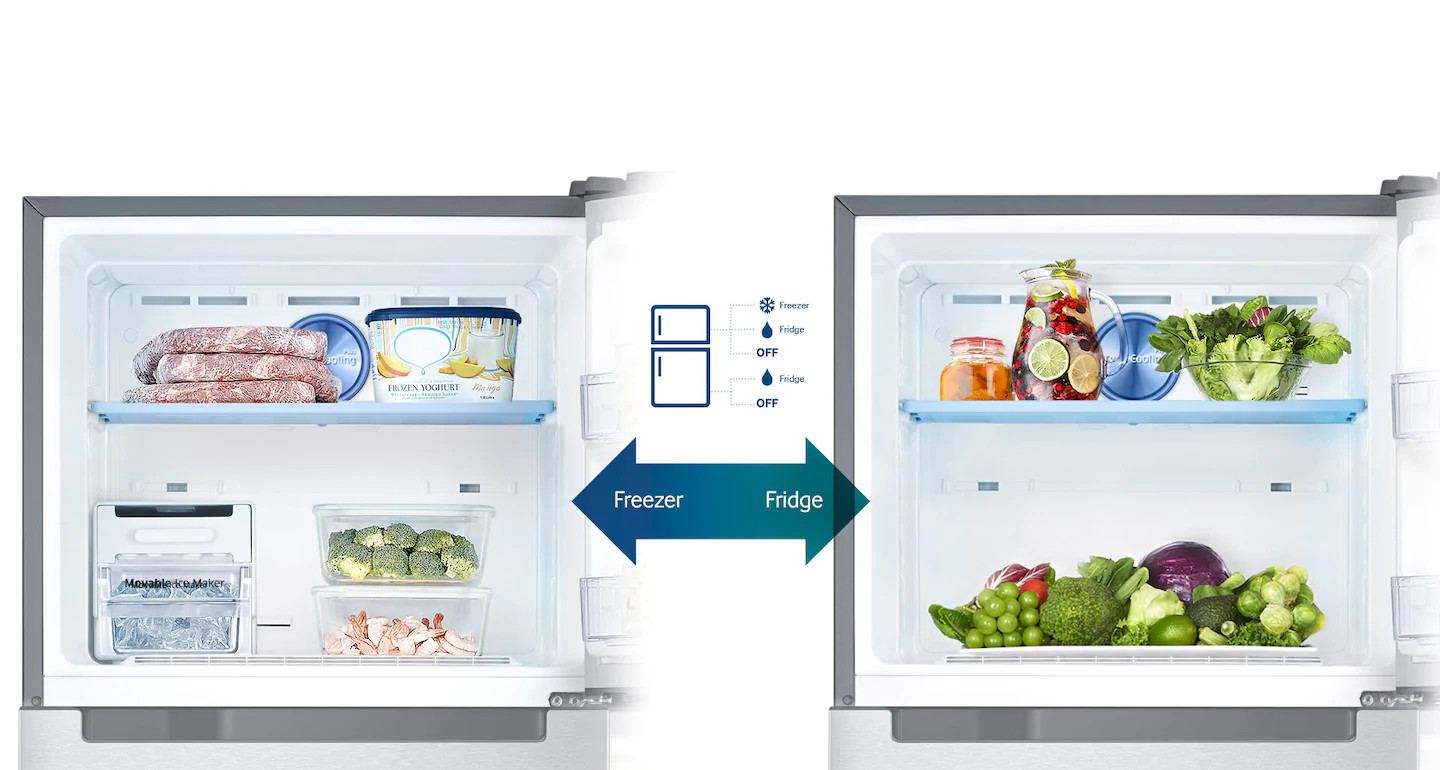 * The temperature of the compartments remains under 15? using low electricity
Works longer more quietly & uses less energy
Digital Inverter Technology automatically adjusts the compressor speed in response to cooling demand across 7 levels. It uses less energy, minimizes noise and reduces wear and tear for longer-lasting performance.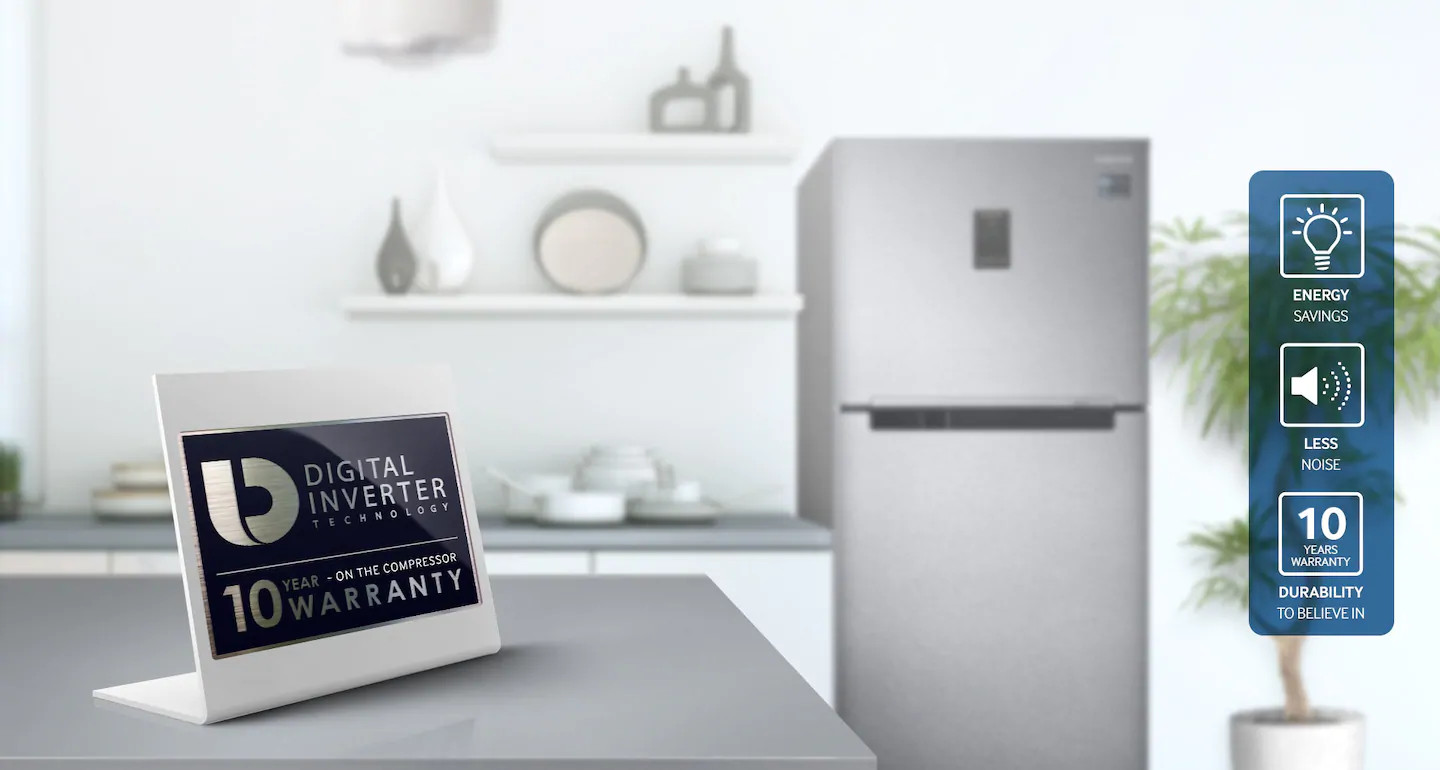 Keeps air hygienically clean and fresh
An Anti-Bacterial Protector keeps the fridge clean and hygienic. Air is passed through an Activated Carbon filter, so it is constantly sterilized and deodorized, while an anti-bacterial mesh eliminates bacteria.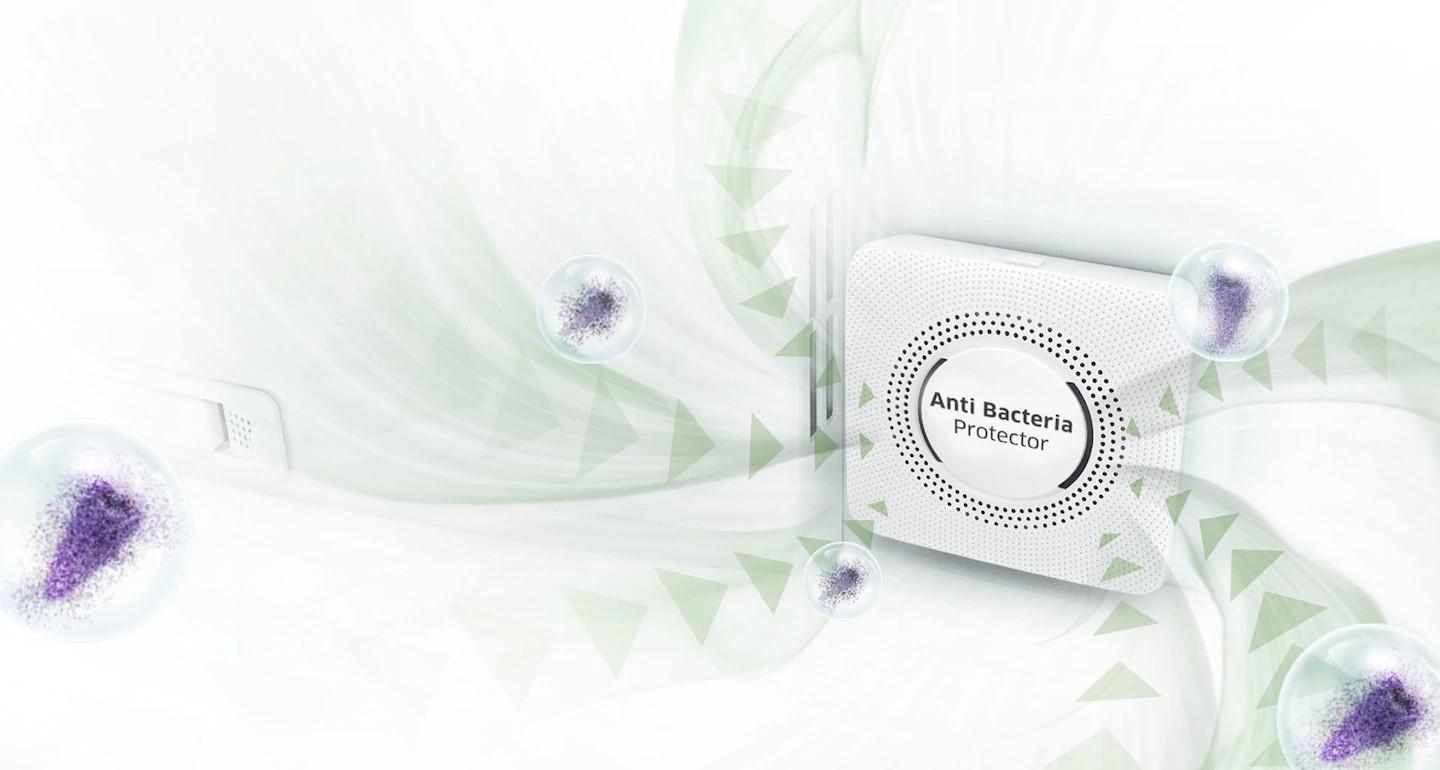 Clearly see everything inside
High efficiency LED lighting is slimmer, cooler and more power-efficient than conventional lighting. Located on the top and sides, it beautifully and brilliantly illuminates every corner, ensuring better visibility.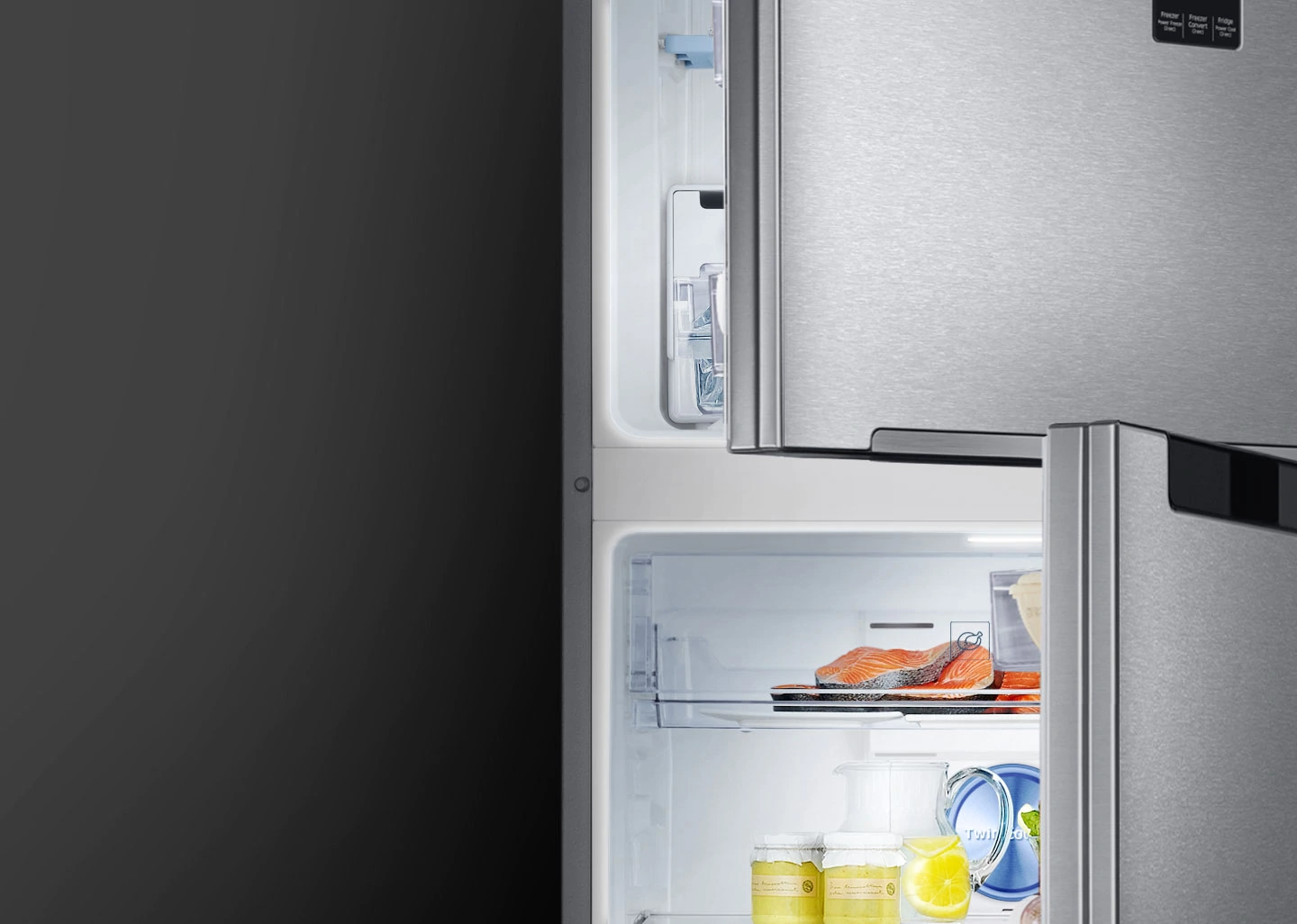 TECHNICAL SPECIFICATIONS
Capacity

Net Total (Liter) : 321L

Net for Freezer (Liter) : 72L

Net for Refrigerator(Liter) : 249L

Gross Total (Liter) : 410L

Gross for Freezer(Liter) : 79L

Gross for Refrigerator(Liter) : 251L

Physical specification

Net Width (mm) : 600 mm

Net Case Height with Hinge (mm) : 1715 mm

Net Depth with Door Handle (mm) : 672 mm

Net Depth without Door Handle (mm) : 672 mm

Net Depth without Door (mm) : 605 mm

Packing Width (mm) : 631 mm

Packing Height (mm) : 1780 mm

Packing Depth (mm) : 699 mm

Net Weight (kg) : 59.5 kg

Packing Weight (kg) : 64.5 kg

20/40/40H (Container) : 27/54/73

Cooling Feature

Twin Cooling Plus : Yes

No Frost : Yes

Multi Flow : Yes

Refrigerator Feature

Deodorizer : Yes

Number of Shelf (Total) : 3 EA

Shelf Material : Tempered Glass

Number of Vegetable & Fruit Drawer : 1 EA

Number of Door Pocket : 4 EA

Egg Container (Egg Tray) : Yes

Fresh room : Yes

Interior LED Light : LED

Multi Storage Box : Yes

Big Guards : Yes

Freezer Feature

Ice Maker : Twist

Shelf Material : Cool Pack

Number of Shelf (Total) : 1 EA

Number of Door Pocket : 2 EA

General Feature

Refrigerant : R-600a

Compressor : Digital Inverter Compressor

Exterior Feature

Door Handle : Recess

ColourEZ : Luxe Brown

Water Dispenser : No

Performance

Energy Efficiency Class : A+

Energy

Energy Star Rating : 3 Star
DIMENSIONS & WEIGHT
HEIGHT : 171.5 cm

WIDTH : 60.0 cm

DEPTH : 67.2 cm (WITH HANDLE)

WEIGHT : 59.5 kg
Customer comments
| Author/Date | Rating | Comment |
| --- | --- | --- |