KEY FEATURES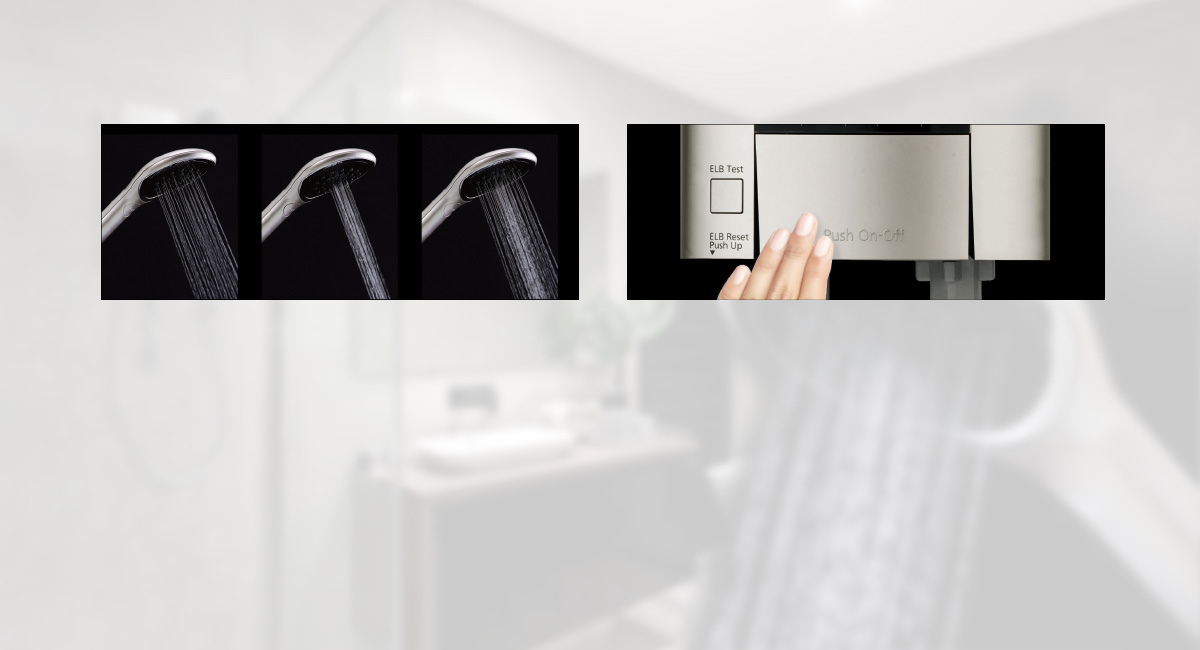 Easy Switching Shower
3-Way Shower Selector

The temperature sensor is built into the main unit lets you maintain a constant shower temperature. You don't need to worry about the temperature changing while you shower, so you can enjoy showering in comfort.
Easy and Safety Push
One Push ON/OFF Switch

A large, easy-to-press ON/OFF switch on the main unit. The large button can be pressed even while showering with your eyes closed. One push lets you turn off the water and electricity. It's a quicker, more convenient way to turn off the water.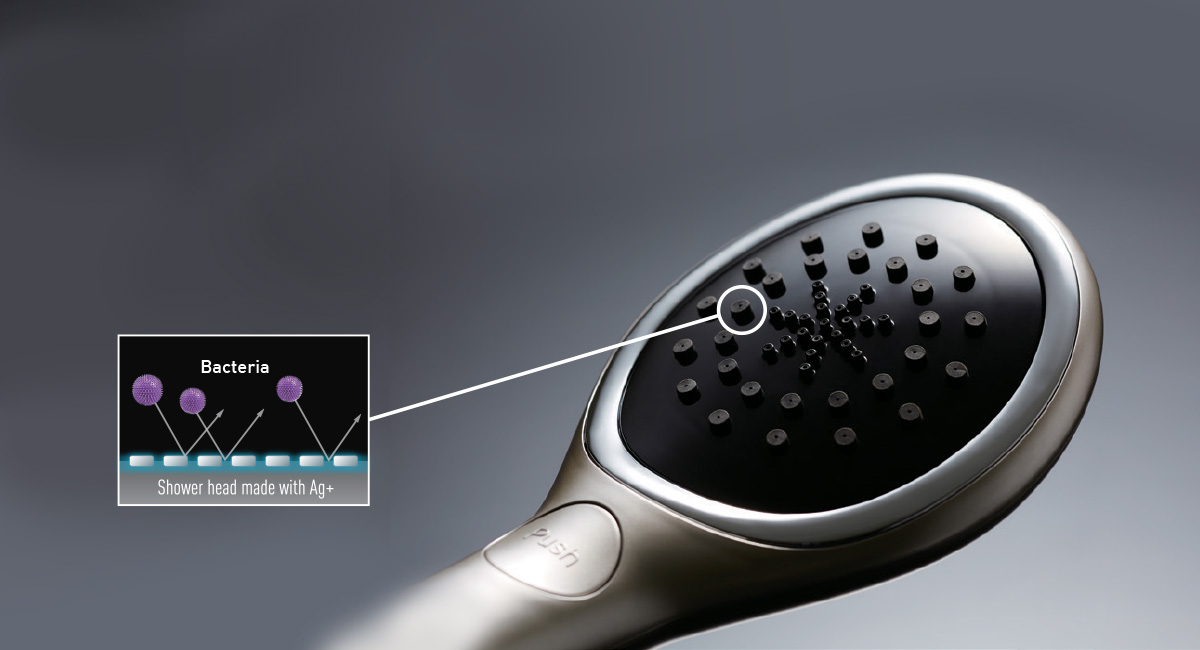 Maintaining Cleanliness
Ag+ Crystal-Antibacterial Shower Head

The antibacterial material containing Ag+ (silver) prevents mold generation. It prevents mold in the shower head, which often occurs in the humid environment of the bathroom, so the shower head remains constantly clean.
9 Safety Points
1. Insulated Structure
- Comply with IEC 60529 for protection provided by enclosure against access to hazardous parts with a finger and foreign objects
- Prevent electrical shock

2. Water Splash Proof Case Cover
- Comply with IEC 60529 (IP25) for protection
- The joint between the front plate and back plate has a water-resistant design
- Prevent fire / electrical shock

3. Non Flammable Material Compliance
- UL-94-V0 Classification Material
- Self extinguish, non-combustible material for external casing (Front Plate/Back Plate)
- Prevent Fire

4. One Push ON/OFF Switch / Main Switch ON/OFF
- Switch off both main power line and water supply line directly
- Prevent burning and electric shock
5. Manual Reset Thermostat
- Cut off power supply in the event of component failure resulting in continuous heating
- Prevent fire

6. Durable Copper Heater Unit•1 / Reinforced Polyamide Heater Unit•2
- Self extinguish, non-combustible material for container
- Heat Resistant
- Prevent fire

7. Auto Thermal Cut-Out (55°C)
- Cut off power supply in the event of water temperature exceeds hazards limit
- Prevent from burns (first-degree burn)

8. Built-in Earth Leakage Breaker (ELB)
- Mechanical Type, Double Pole Switch
- Double safety as it cuts off both neutral and live line completely if electricity leakage occurs
- Power supply cuts off automatically when unit has current leakage
- Prevent electric shock

9. Water Flow Sensor
- Cut off power supply if the water flow is too low that leads to water temperature from overheating
- Prevent over-heating
SPECIFICATIONS
Power supply

240 V, 50Hz

Power consumption

3.6 kW

Water Pressure (kgf / cm²)

Max

3.87 kgf / cm²

Min

0.1 kgf / cm²

Water Pressure (kPa)

Max

380 kPa

Min

9.8 kPa

Jet Pump

No

Power Selection

Electric Power Control

Power Stop System

One Push Stop System

Water Stop System

One Push Stop System

Body

Color

Crystal White

Dimension (H x W x D) mm

380 x 200 x 89

Shower Head

Color

Crystal White

Design

Oval

Spray Type

3-Way

Shower Plate

Ag+ Anti Bacteria

Body Weight (Net)

Kg

1.7

e-CYCLE

No

e-HYBRID

No

Large LCD Display

No

9 Safety Device

Push On-Off Switch

Yes

Built-in ELB

Yes

Heater Unit

Copper

Auto Thermal Cut Off

55°C

Manual Reset Thermostat

Yes

Water Flow Sensor

Yes

Water Splash Proof

IP25

Structure

Insulated

Material

Non Flammable Material Compliance
Customer comments
| Author/Date | Rating | Comment |
| --- | --- | --- |