KEY FEATURES
LED Ceiling Lighting
LED Ceiling Fan provides you greater space with the lighting incorporated into the fan. LED is used due to its long lifespan and also simply because it is energy saving.

Brightness
Brightness: 50lx / Luminous flux: 450lm / 8W LED light: 60W Incandescent lamp Same Brightness at Lower Energy Consumption

Colour
Cool Daylight colour for general use

Light Evenness
LED Cover has diffusion material that produces even light distribution

Hassle-free – No Bulb Replacement
With a long lifespan of LED light, there is no need to constantly change your lightbulb – and reduce waste.

85% Energy Saving*
*LED Light compared to incandescent bulb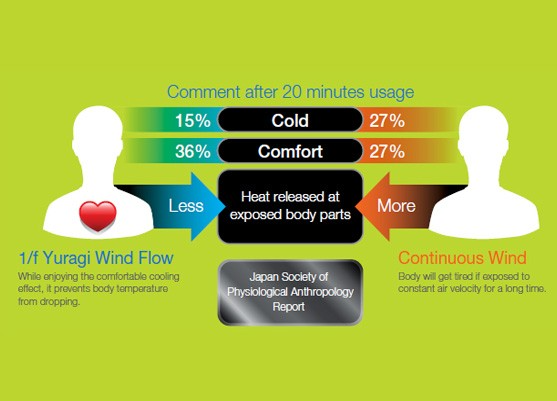 Comfortable - 1/f Yuragi* (Natural Breeze)
These fans are equipped with 1/f Yuragi function which is a fluctuating pattern to generate a gentle breeze. By this sophisticated formula, in varying air velocity and controlling wind force, these new ceiling fans gives you a peaceful and comfortable feeling.

Current function : rhythm breeze
This regulator pattern decreases the body temperature after a period of time. Thereafter, you may feel anxious and uncomfortable when the wind velocity changes.

New Function : 1/f Yuragi
Incorporated with this human-concerned technology, this kind of rhythm maintains your external body temperature by giving you a feeling of natural wind when there is a change of wind veloci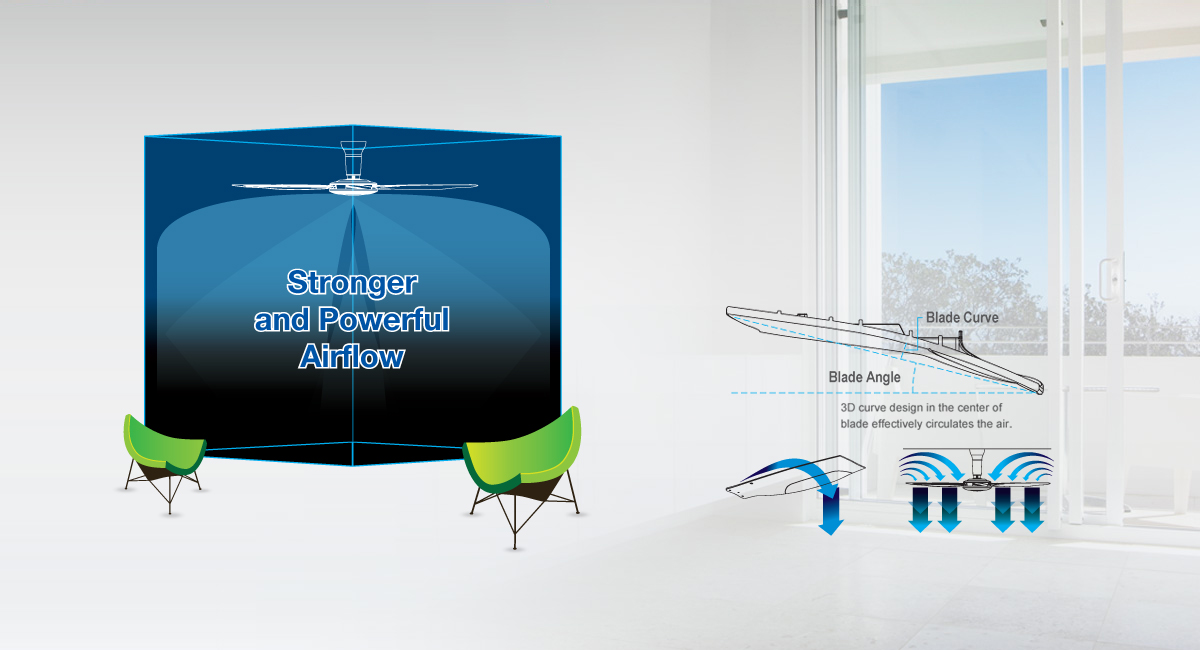 Excellent - 3D Blade (Powerful Airflow)
With the exclusive and unique 3D blade design, it provides a smooth and strong air flow while maintaining operating noise in low level.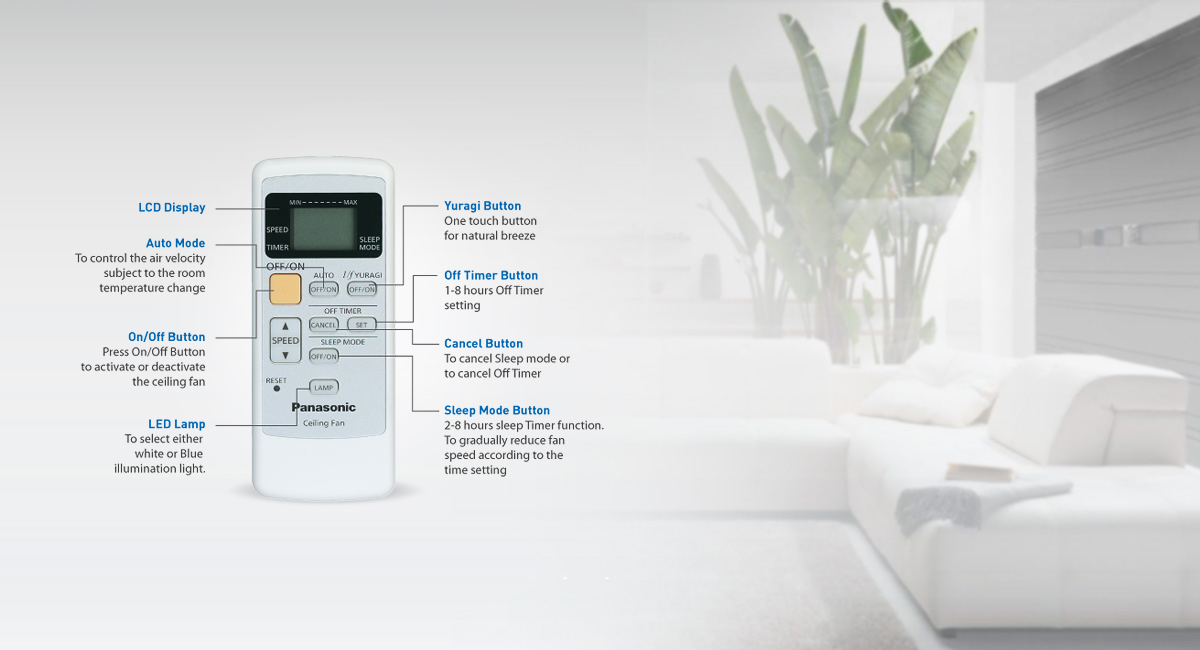 Convenient - LCD Remote Controller
All functions can be operated simply using the LCD remote controller. With clear speed selection (5 speed), timer indication and mode selection display at the LCD panel, it provides great convenience and ease for you to operate.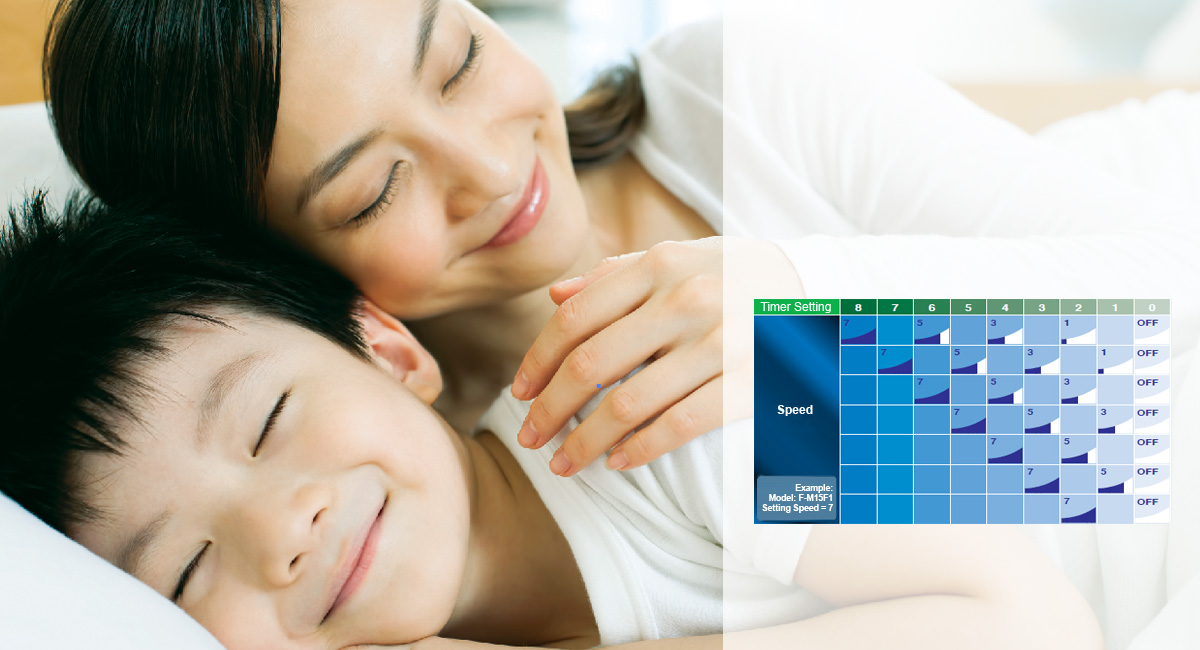 Caring - Sleep Mode
These fan are equipped with Sleep Mode, by which fan speed and timer will gradually reduce until the fan is off. This function not only creates an optimal sleeping environment but also enhances energy saving as well.

* Note:
Sleep mode is disabled at speed 1 and 1 hour setting.
Operation patter will be different subject to different model and setting, please refer to the operation instruction for details.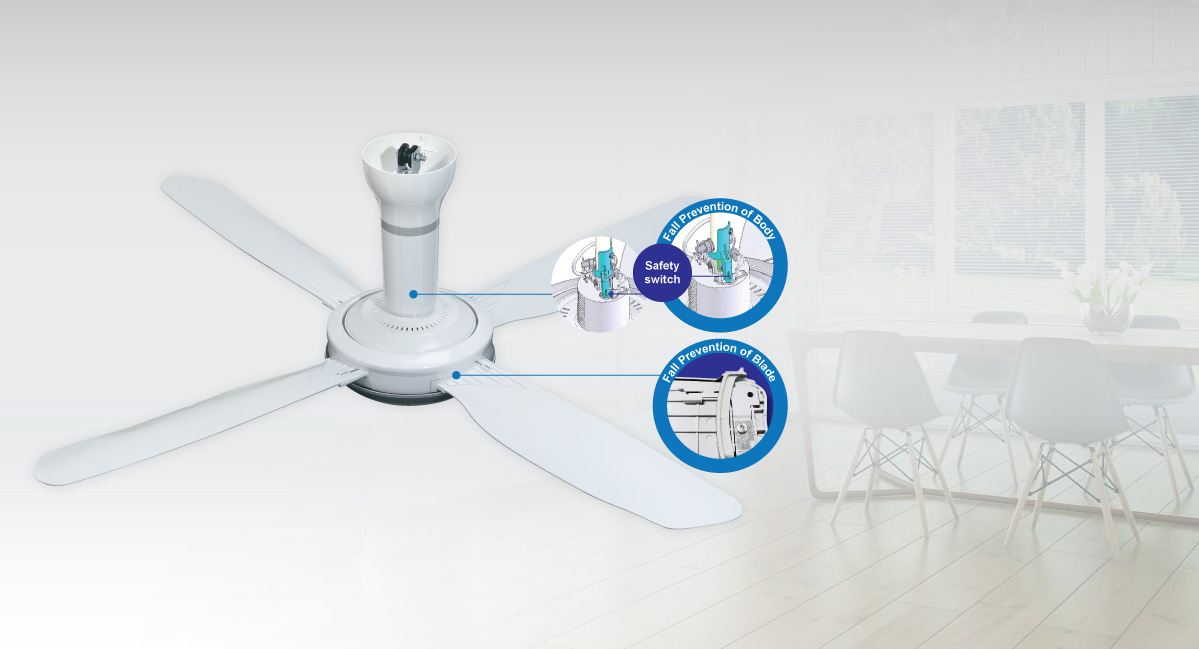 Reliable - Multi-Level Safety Protection
Thermal Safety Fuse
Against fire hazard, prevents electric shocks and protects motor from current surge.

Current Fuse
Prevent current leakage or abnormal current.

Safety wire
Safety wire secures the fan motor to the ceiling hook to prevent detachment of the fan motor from rod.

Cut-off Safety Switch
Cut off power supply while detecting dangerous wear and tear of the shaft or bolt.

Blade Safety Plate
A fall prevention plate is installed on the blade to prevent fan blade to detach and dropping from the ceiling in case it damages.
TECHNICAL SPECIFICATIONS
General Information

Fan Size (cm)

150

Fan Speed

Low

90

High

230

Air Delivery (m3/min)

245

Power Consumption

Low

26

High

99

Motor HP

0.1

Motor Type

14 Pole Condenser

Noise Level (dB)

55

Nett Weight (kg)

8

Length from pully to PCB cover (mm)

419

Length from pully to blade (mm)

324
Customer comments
| Author/Date | Rating | Comment |
| --- | --- | --- |