KEY FEATURES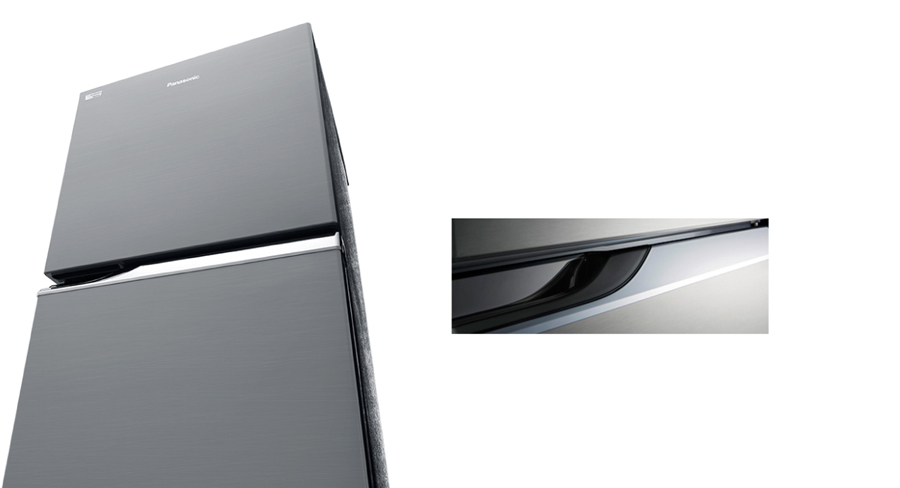 Flat door with crystal handle design
Flat door made of high-grade metallic material matches stylish, modern kitchens.
The new crystal handle provides an additional touch of beauty and luxury.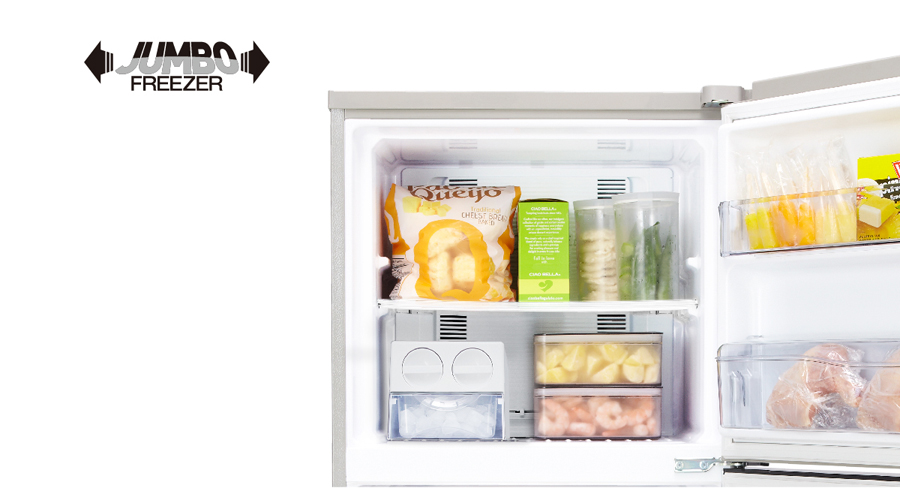 User-friendly Jumbo Freezer
Ice box is movable for more flexible storage and to provide more space when removed. The large-capacity freezer compartment is ready to store a lot of items, ideal for when you buy in bulk. Also, the separate case is convenient for neat storage.

Door pocket meat box
Featuring a cover, this is ideal for storing delicate foods and items with strong odors that you don't want to mix with other foodstuffs.
Twist ice tray / covered ice box
Just twist the tray to drop ice cubes into the box. It's that easy . A covered ice box keeps ice cubes away from odors.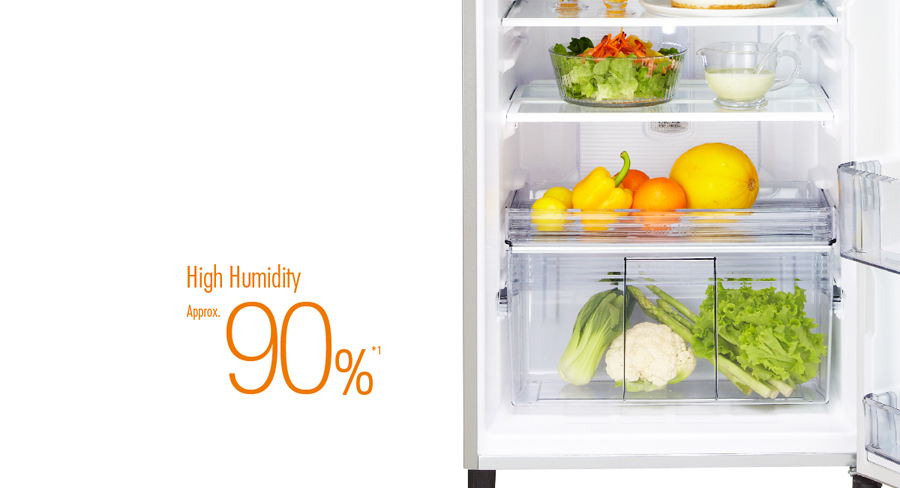 Moisture-retaining Fresh Safe vegetable case
The vegetable case stores vegetables and fruits in the optimum conditions with high humidity and constant temperature to keep them fresh and juicy longer.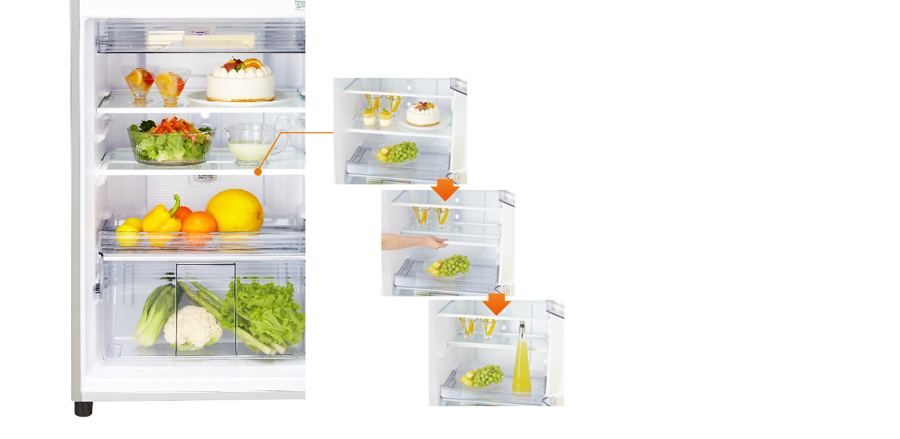 Foldable 1-2 glass shelf
The shelf can be adjusted to fit food and beverage sizes, fine-tuning storage capacity for the occasion. Adjustable shelf depth allows space to be used efficiently and without waste.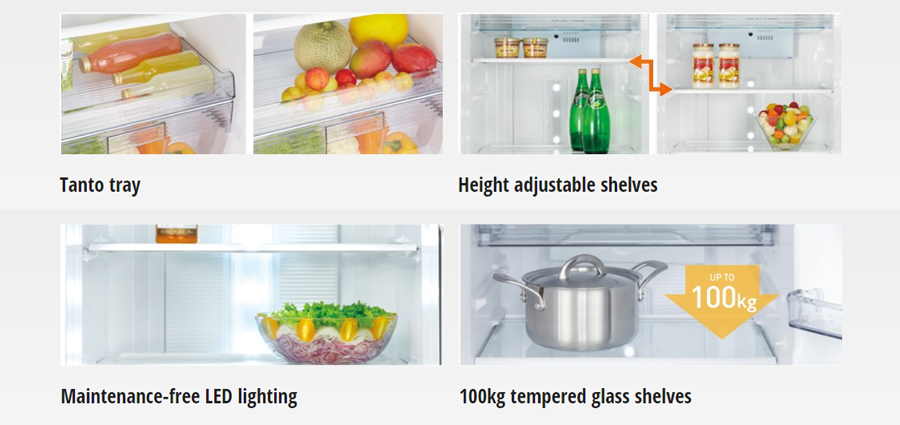 Tanto tray
The layout is designed so that specific foods can be pulled out quickly. It is also ideal for storing bottles and fruit that tend to roll around. The shape also prevents round vegetables from rolling around and falling out.
Height adjustable shelves
Shelves can be lowered or raised for more efficient storage and convenience.
Maintenance-free LED lighting
Long-life LED lighting requires little or no maintenance. With foods brightly lit for clear visibility, everything is easy to pull out and tough to forget using.
100kg tempered glass shelves
Strong and clean tempered glass shelves that can withstand loads as heavy as 100kg .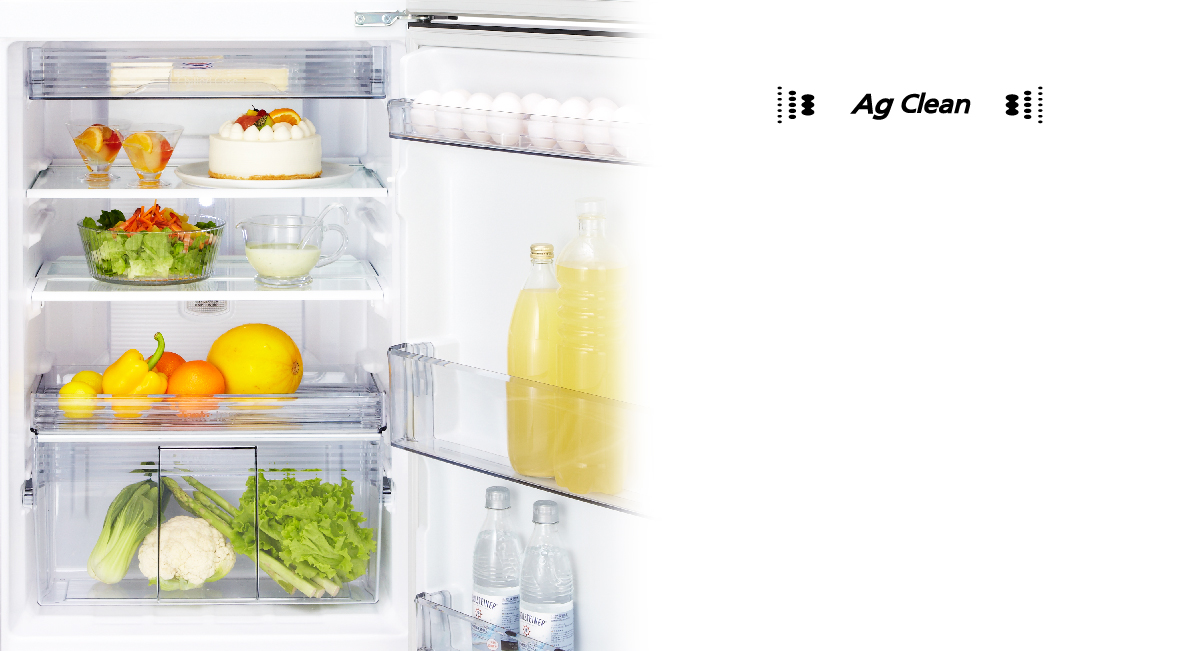 Clean air everywhere
Silver has a powerful anti-bacterial effect, deactivating 99.9%*² of mold and bacteria inside the fridge compartment. This effect is semi-permanent so there's no need to replace it. Also, an active enzyme effectively resolves unpleasant odors.
TECHNICAL SPECIFICATIONS
SPECIFICATIONS
Gross Capacity (IEC62552)
Total
262.0 L
Refrigerator Compartment ( PC )
168.0 L
Freezer Compartment ( FC )
94.0 L
Net Capacity (L)
Total
217.0 L
Fridge
148.0 L
Freezer
69.0 L
Storage Capacity (IEC62552)
Total
217.0 L
Refrigerator Compartment ( PC )
148.0 L
Freezer Compartment ( FC )
69.0 L
Product Dimensions (WxDxH)
600 x 611 x 1450 mm
Defrost Type
Electric PCB Control
Standard / Regulation
IEC62552 + IEC60335-2-24
Energy Consumption
399 kWh/yr
Energy Label
3 Star
Net Weight
45 Kg
Gross Weight
49 Kg
Voltage
220 - 240 V (Label)
Hertz
50 Hz
Number of Doors
2
Door color
Stainless
REFRIGERATOR COMPARTMENT (PC)
Vegetable Case
"Freshsafe" High humidity
Chilled Case
Yes
Free Rack (Door Shelf)
Yes
LED Room Light
Yes
Adjustable Tray
Yes
Tempered Glass Tray
Yes
1・2 Tempered Glass Tray
Yes
Tanto Tray
Yes
FREEZER COMPARTMENT (FC)
Twist Ice
Yes
Twist Ice Tray
Yes
Ice Box
Yes
Adjustable Tray in Freezer
Yes
OTHERS
ECONAVI
Yes
Top Table
Yes
Compressor
Inverter
Energy Saving
Yes
Non-Flon
HFC-134a
Cyclopentane
Yes
Ag Clean
Yes
N&S type Bio deodorizer
Yes
Ag Anti Bacteria
Yes
DIMENSIONS & WEIGHT
HEIGHT : 145.0 cm
WIDTH : 60.0 cm
DEPTH : 61.1 cm
WEIGHT : 45.0 kg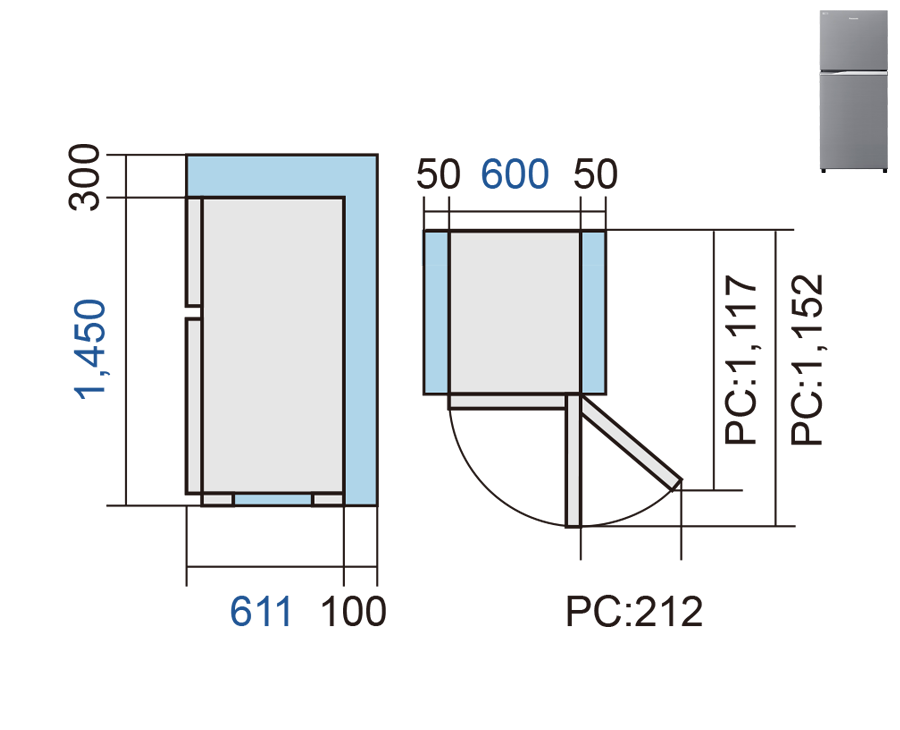 Customer comments
| Author/Date | Rating | Comment |
| --- | --- | --- |