KEY FEATURES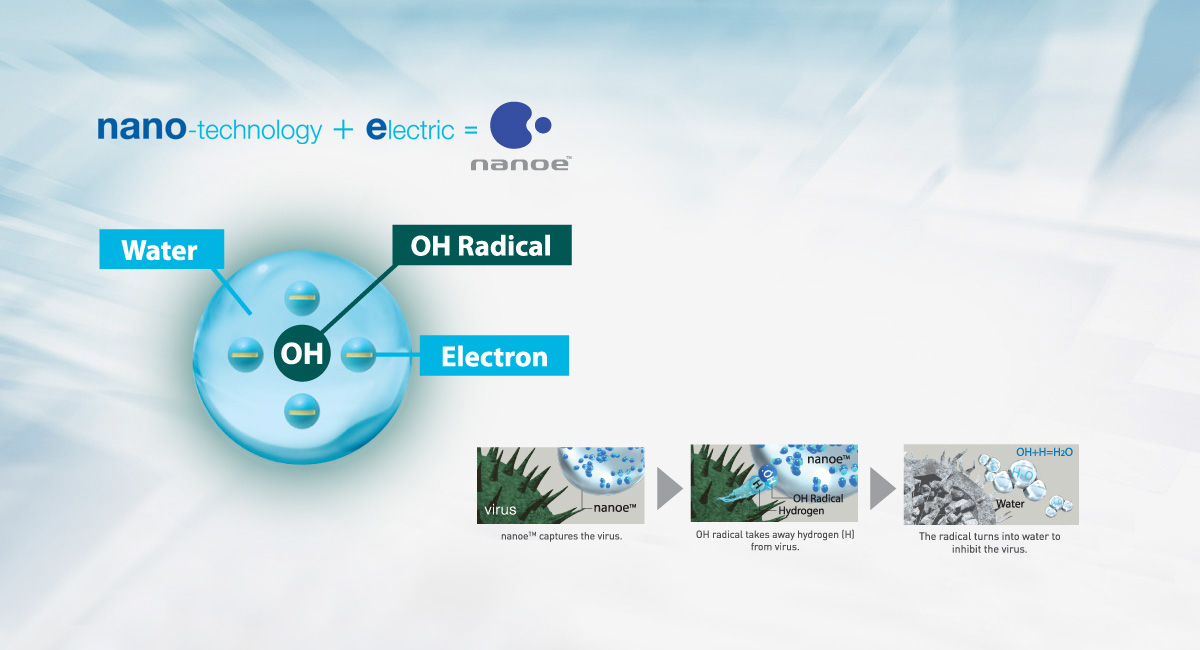 What is nanoe™?
A nanoe™ is a fine (5 to 20nm) and weak acidic water particle with a reactive substance and an electric charge.
How nanoe™ Work?
The air we breathe contains pollutants less than 2.5 micrometers in size (PM2.5). PM2.5 can be found in smoke and haze which originates from combustion activities including motor vehicles, factories, and wood burning. nanoe™ possesses the characteristics of removing hydrogen from viruses, bacteria, odours and allergens. Effectiveness of virus removal*¹ depends on the number of OH radical*2. nanoe™ device generates at a high rate of 480 billion per second, the higher the effectiveness of the anti-vital power.
*1 The figure shows the effect resulted in 10m enclosed test space for 4 hours, not at actual usage space.
*2 Based on the ESR test methodology, applicable in the air purifier launched after September 2011.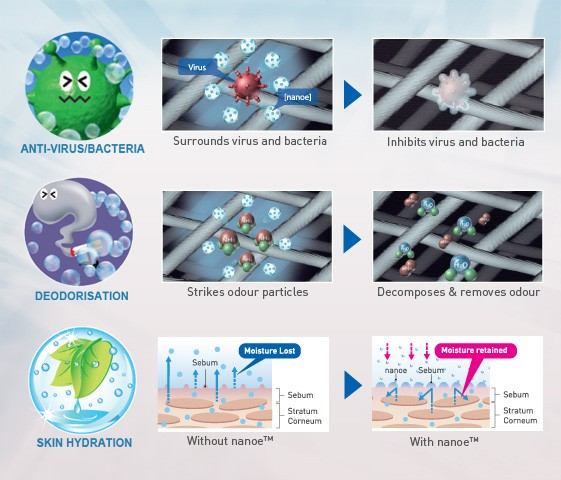 Benefits of nanoe™
ANTIVIRUS/BACTERIA
Inhibits 99.9% viruses (H1N1) and (H5N1) and 99.9% bacteria (E.Coli 0157, MRSA).

DEODORISATION
Reduces 90% of odour (tobacco smell) after 30 minutes.

SKIN HYDRATION
Help restore moisture back to the skin. nanoe™ attaches on the sebum and form membranes on the skin, so skin is hydrated that improves the keratin texture and keeps the skin fresh and moisture.

Long Life & Water-originated
6 times longer lifespan than normal ion - nanoe™ has a lifespan of 6 times longer than normal ion and it contains moisture around 1,000 times to minus ions. It comes from condensed moisture in the air. Water replenishment for the appliance is not required.

Microscopic Scale
One-billionth of the volume size of a steam particle - nanoe™ is much smaller than steam that can deeply penetrate into cloth fabrics to restrain dirt.

ABOUT PM2.5
"Particulate matter," also known as PM is made up of a number of components including extremely small particles and liquid droplets. Sized at less than 2.5 micrometers (PM2.5), these particles are said to pose health problems as they can easily enter our lungs.

SOURCES OF PM2.5
PM2.5 can be found suspended in the air, including dust, dirt, smoke and liquid droplets. These fine particles come from man-made sources such as the combustion of fossil fuels, open burning and industrial processes as well as natural ones, which include sea sprays and dust carried by strong winds.


SPECIFICATIONS
MODEL

F-GMG01A

Power

DC12V

Air Volume Adjustment

Hi, Low

Power Consumption

Hi (3W), Low (2.5W)

Air Volume

1.6m²

Cord Length

Car DC Adapter 1.5m

Product Size

Top: 85mm
Base: 66mm
Height: 150mm
(Louver open: 169mm)

Product Mass

0.38 kg
Customer comments
| Author/Date | Rating | Comment |
| --- | --- | --- |