KEY FEATURES

Alkaline Ionized Water
The alkaline ionizer produces three forms of water which is purified water, alkaline ion water and acidic water through filtration or a combination with its electrolysis process.

Micro-Filtration
Remove 99.99%* of bacteria while leaving essential minerals in the water.
* Based on test by Japanese Industrial Standard (JIS) S3201-Annex 9.

Removes 13 Substances
Purifies water by removing any hazardous chemical which might contain in water: Bromoform, 1.1.1-Trichloroethane, Dibromochloromethane, CAT (Agricultural Chemicals), Tetrachloroethylene, Chloroform, Trichloroethylene, Bromodichloromethane, Free Residual Chlorine, 2-MIB (Mold Smell), Turbidity, Soluble Lead, Total Trihalomethane.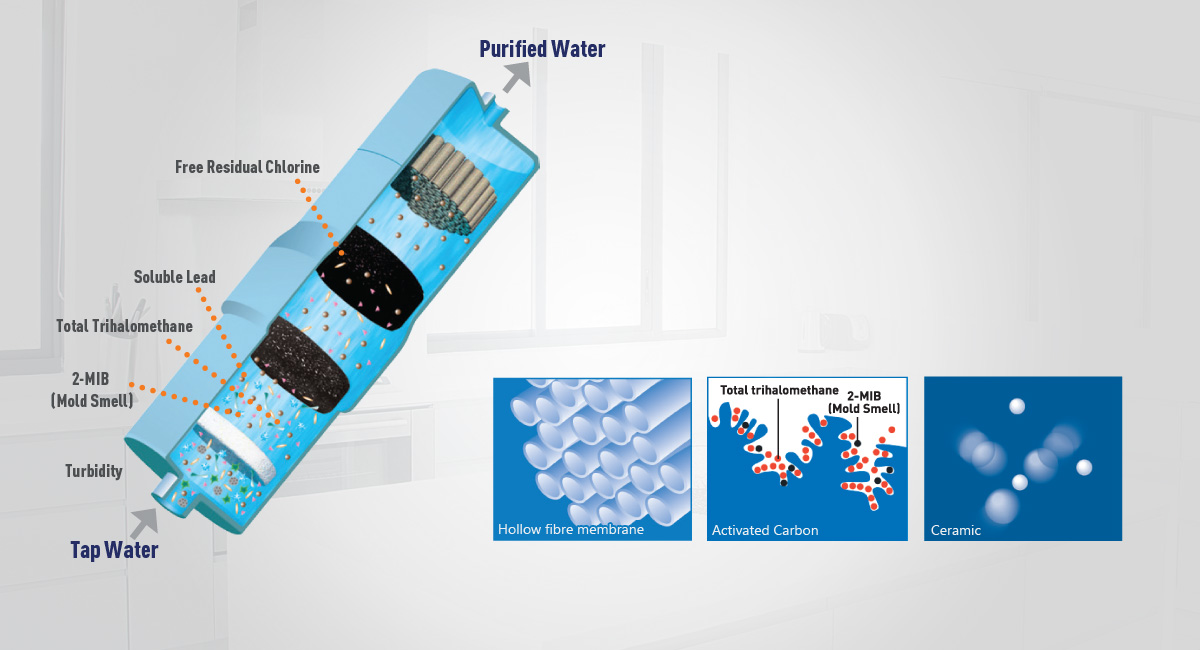 MICRO-FILTRATION SYSTEM
The advanced Micro-Filtration system is made up of four different components and stages; Non-Woven Cloth Filter, Granular Activated Carbon, Powdered Activated Carbon and Hollow Fibers. This filtration process creates a synergistic effect allowing the removal of 99.9% bacteria and cysts, leaving vital minerals in the water.
Hollow Fibre Membrane:
The hollow fibre membrane shuts out various micro particles.
Activated Carbon:
The activated carbon with large absorption area is adopted, so mold smell and total trihalomethane is removed.
Ceramic:
The ceramic removes soluble lead by absorbing the lead ions.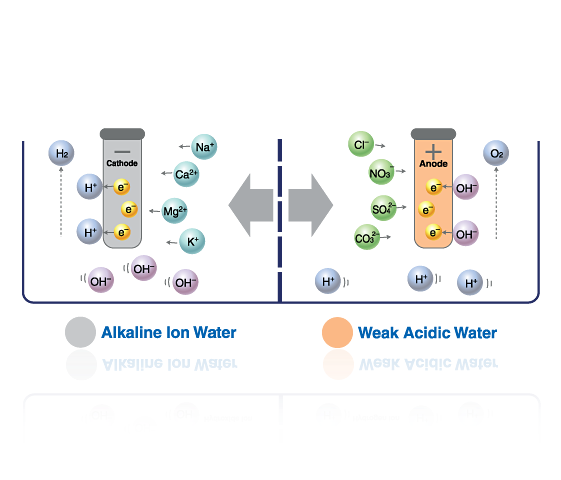 ALKALINE IONIZER MECHANISM - ELECTROLYSIS
Through the use of platinum-coated titanium electrodes, purified water is electrolysed into alkaline ion water and acidic water,attracting sodium, magnesium and calcium ions which increases the density of mineral content.

The process:
Positively-charged ions such as calcium are attached to the negative electrode. The application of electrolysis results in higher concentration to these ions.

Alkaline water:
Good for drinking and cooking purposes.

Acidic water:
Astringent water that beautifies the skin.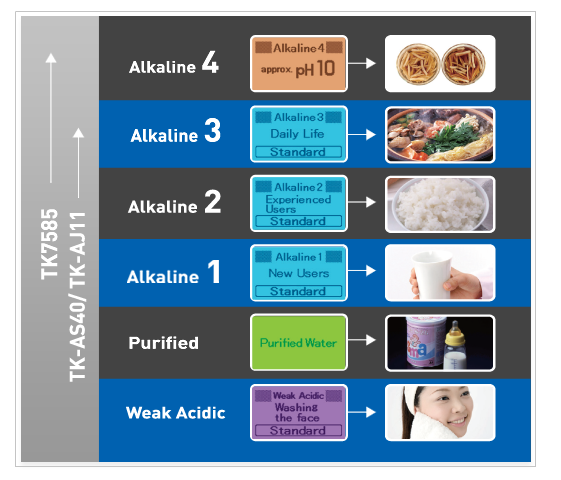 SPECIFIC pH LEVELS FOR DAILY NEEDS
Alkaline 4:
Removing astringent taste in some vegetables and boiling vegetables.

Alkaline 3:
Cooks vegetables and other ingredients quickly and without removing the flavor.

Alkaline 2:
Rapid penetration of alkaline ion water enhances taste and texture of food such as rice.

Alkaline 1:
For drinking; especially good for digestive tracts.

Purified Water:
Suitable for making baby milk and to consume medication.

Weak Acidic:
Acidic water helps to firm the skin as the human skin is also naturally weak acidic.
TECHNICAL SPECIFICATIONS
General

Dimensions (W x D x H)

200 x 123 x 318 mm

Nett Weight (Kg)

4.1

Gross Weight (Kg)

4.6

Voltage

220V~ 240V

Power Consumption

130W

Filtered Compounds

Free residual chlorine
Turbidity
Total trihalomethane
2-MIB (Mold smell)
Soluble lead
Chloroform
Bromodichloromethane
Dibromochlormethane
Bromoform
Tetrachloroethylene
Trichloroethylene
1,1,1-Trichloroethane
CAT (Agricultural chemcials)

Water Purification Capacity

12,000 litres
*Capacity may be lower depending on the water quality and usage environment.

Filter material

Non-woven fabric
Granular activated carbon
Ceramic
Powdered activated carbon
Hollow fibre membrane

Filtration flow volume

2.5 litres/min (at 100kPa water pressure)

Filter material (cartridge) replacement period

1 year / 12,000 litres
*The period may be shorter depending on the water quality and usage environment.
*The period may also be significantly less depending on the amount of water used and on its quality and pressure.

Replacement Cartridge

TK7815C1

Length of power cord

3m

Country of Origin

Japan
Customer comments
| Author/Date | Rating | Comment |
| --- | --- | --- |