KEY FEATURES
Protect Your Babyfrom Bacteria
Baby clothes get dirty easily, and even if you hand wash them it's still hard to remove invisible harmful bacteria. With a combination of UV light and Ag ions, Panasonic's Blue Ag+ technology eliminates 99.99%*1 of bacteria, and has a powerful antibacterial effect. Since it's a normal temperature water wash, there's no worry of damaging your baby's clothes.
NOTE: Blue Ag+ can be used for loads of up to 3 kg.
*1 Certified by Japan Food Research Laboratories. Test report number: 19085536001-0201
Safe & Reliable
UV-A light is safe for humans, Ag (silver) ions have been proven to be useful for hygiene purposes, and Panasonic has made it easy to replace the device. Dr. Kourai shares his expertise on the effectiveness of Blue Ag+, its safety,
and the convenience it offers mothers with daily laundry chores.
(Hiroki KOURAI, Dr., an advisor to The Society for Antibacterial and Antifungal Agents, Japan) Allergen & Stain Removal for Your Baby
Dust mites multiply easily in bedding, towels, etc. and trigger allergies with unpleasant symptoms especially for babies with sensitive skin. StainMaster+ 60/90°C*3 eliminates not only dust mites but also bacteria and allergens for your peace of mind. In addition, it removes oily stains and dirt at 40°C, the temperature at which sebum starts to dissolve.
*1 This product has been endorsed by Allergy UK with third-party testing results. *2 Escherichia coli ATCC29922 & Staphylococcus aureus ATCC25923 up to 99.9% [Testing Laboratories] Institute of Biotechnology (Hanoi) [Report Issue Date] 23/Oct/2019 Operating condition: Allergy 60°C *3 You can set water temperature with the Temp button. Easy Daily Washing for You
The ActiveFoam System creates fine, high-density foam before the wash cycle starts to maximize washing performance for cleaner results. Since detergent is turned into foam before washing, less undissolved detergent becomes attached to clothes.Let's make every day's wash easy and extra clean.
* The level of foaming depends on conditions such as load size, degree of soiling, detergent type, and water pressure. However, there is no change in washing performance. Fast, Clean Wash in Just 38 min.
Fast washing in just 38 minutes with fine, high-density foam.
Active Speed Wash washes clothes in less time, leaving you more quality time to spend with your baby.
* Half load, Active Speed course Stylish, Minimalist Design
The stylish body has a minimalist design with simple straight and circular lines. Its rounded form features gentle arcs and a simple round door ring.
1. Big, Easy-to-see Center Display
2. Luxury Chrome Plated Door
3. Round Form with Aesthetic Arc
* Photo shows the NA-V10FX1 model. Auto Tub Care Cleansthe Tub with Every Wash
Water vigorously pours into the tub as it rotates at a higher speed than during normal rinsing to wash the tub. This prevents the accumulation of detergent residue, which suppresses the growth of mold and bacteria that cause foul odor.
TECHNICAL SPECIFICATIONS
Loading Capacity (Wash)
9 kg
Basic Specification
Spin Speed (max.)
1,400 rpm
Dimensions (W x D x H)
596 x 600 x 845 mm
Weight
75 kg
Voltage / Frequency
220 - 240 V / 50 Hz
Drum Opening Size
360 mm
Control Panel Type
LED Display
Body Color
SUS Silver look(no hairline)
Wash Features
ActiveFoam System
Yes
Active Speed Wash
Yes
3D Sensor Wash
Yes
Blue Ag+
Yes(up to. 3 kg)
StainMaster+
Yes
ECONAVI
Laundry load sensor
Water temperature sensor
Laundry material sensor
Inverter
Yes
Convenient Features
Detergent Case/ Turbo Mixer
Yes
Child Lock
Yes
Auto Power Off
Yes
Auto Restart
Yes
Alpha Drum
Yes
Guidance Function
Cycle end buzzer
Delay Start (Time Delay)
Yes (24 hours)
Drain Pump
Yes
Programs
Number of Programs
14
Normal
Yes
Daily Wash
Yes
Synthetic
Yes
Delicates
Yes
Bedding
Yes
Cotton
Yes
Tub Clean
Yes
Active Speed 38
Yes
Rapid 15
Yes
Soak
Yes
Intensive
-
StainMaster+
Allergy
Yes
Mud
Yes
Oily Sauce
Yes
Collar & Sleeve
Yes
DIMENSIONS & WEIGHT
HEIGHT : 84.5 cm
WIDTH : 59.6 cm
DEPTH : 60.0 cm
WEIGHT : 75.0 kg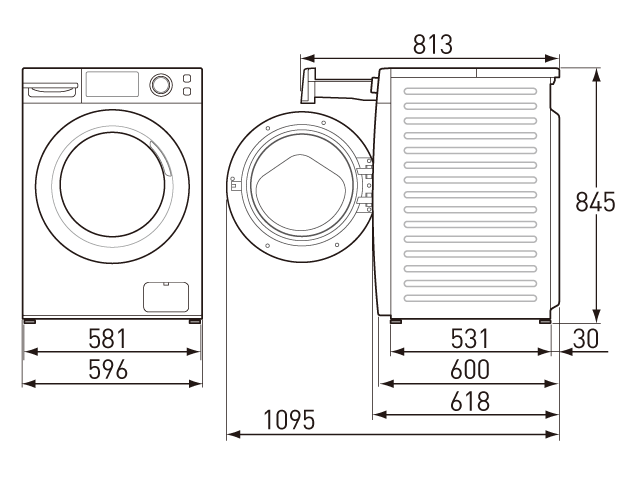 Customer comments
| Author/Date | Rating | Comment |
| --- | --- | --- |