KEY FEATURES Ideal match for any kitchen interior
This refined full-flat refrigerator features a seamless edge design that provides a sophisticated glass-look appearance making it an ideal match for any built-in kitchen. Stylish linear appearance
Compared to conventional models with gently sloping edges, this model features exceptionally beautiful seamless edges providing an appearance that blends smoothly with any modern kitchen interior. 24/7 intelligentenergy savings
3 kinds of ECONAVI sensors detect conditions of use, and a microprocessor analyzes them. Using the results of this analysis, the INVERTER compressor adjusts the rotation frequency of the motor to optimize cooling performance and save energy.
*1 Data prepared by Panasonic. ECONAVI operates only when the temperature setting is [MED] for both the freezer and fridge compartments.
*2 Data prepared by Panasonic. Dedicated storage for foods with strong odors
Designed for storing meat, fish and other strong-smelling items, the Ag Meat Case helps preventing the spread of odors for even more hygienic storage. Controls humidity to keep vegetables fresh
The airtight structure of the Fresh Safe vegetable case prevents moisture from escaping, and cold air isn't blown directly onto vegetables. There's also a manual humidity controller that lets you adjust the humidity to match the types and quantity of items stored.
* Data prepared by Panasonic. Enjoy well chilled foods & drinks
Slightly cooler than the approx. 4ºC of a regular fridge compartment, the Extra Cool Zone lets you cool items at approx. 2ºC. This is ideal
when you want to drink something that's well chilled, or when you want to cool something quickly. Clean air everywhere
Ag Clean keeps air clean throughout the entire refrigerator. The Ag filter deactivates 99.9%* of mold and bacteria, while an active enzyme resolves unpleasant odors.
* Certified by Boken Quality Evaluation Institute.
Test report number: No. 20215058561-1
TECHNICAL SPECIFICATIONS
SPECIFICATIONS
Capacity (IEC 62552 : 2015)
Total
610 L
Refrigerator Compartment (PC)
399.0 L
Freezer Compartment (FC)
159.0 L
Vegetable Compartment (VC)
48.0 L (Water Volume)
Product Dimensions (WxDxH)
805.0 x 788.5 x 1846.5 mm
Defrost Type
Automatic Defrost
Standard / Regulation
IEC + SIRIM
Energy Consumption
377 kWh/Year
Energy Level
5 Star
Net Weight
84 Kg
Gross Weight
93 Kg
Voltage
220-240 V
Hertz
50 Hz
Number of Doors
2
Door Color
Stainless Color
REFRIGERATOR COMPARTMENT (PC)
Crisper (Vegetable Case)
Yes
Extra Cool Zone
Yes
Free Rack (Door Shelf)
Yes
Egg Tray
Yes
LED Room Light
Yes
Adjustable Tray
Yes
FREEZER COMPARTMENT (FC)
Twist Ice Tray
Yes
Ice Box
Yes
Freezer Case (Ag Meat Box)
Yes
Free Rack (Door Shelf)
Yes
Glass Tray (Tempered Glass)
Yes
OTHERS
ECONAVI
Yes
Control Panel
Inside refrigerator compartment
Front Grill (Cover Leg)
Yes
Compressor
Inverter
Quick freezing
Yes
Refrigerant
R600a
Urethane Insulation Cyclopentane
Yes
Door Alarm
Yes
Fresh & Clean
Yes
Ag clean (Anti Bacterial & Deodorizer)
Yes
Fresh Safe
Yes
DIMENSIONS & WEIGHT
HEIGHT : 184.65 cm
WIDTH : 80.5 cm
DEPTH : 78. cm
WEIGHT : 72.0 kg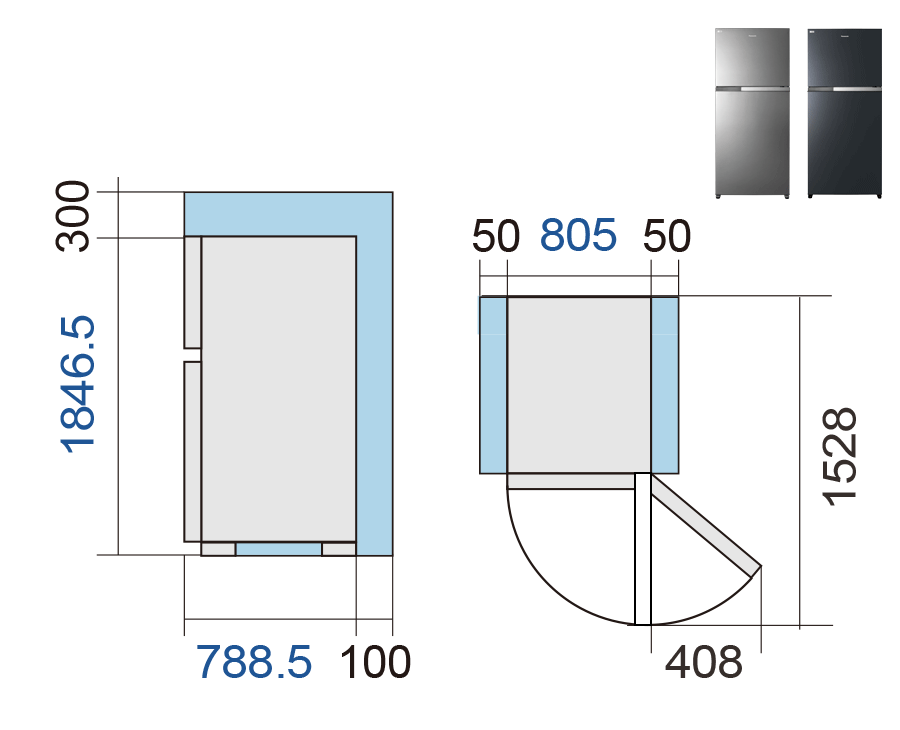 Customer comments
| Author/Date | Rating | Comment |
| --- | --- | --- |