KEY FEATURES
Premium Flat Refrigerator with Bottom Freezer Convenience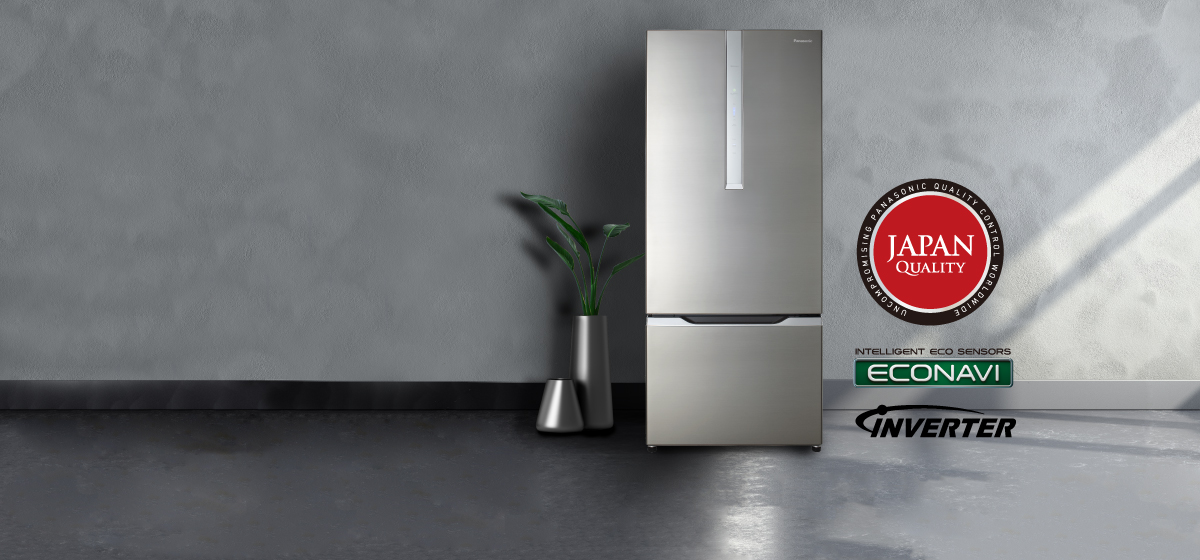 Full-flat,
Sophisticated Design
The simple, full-flat door have no frames, bumps, or depressions to get in the way of the aesthetically pleasing design. Also stylish electrostatic touch control panel design adds a beautiful accent.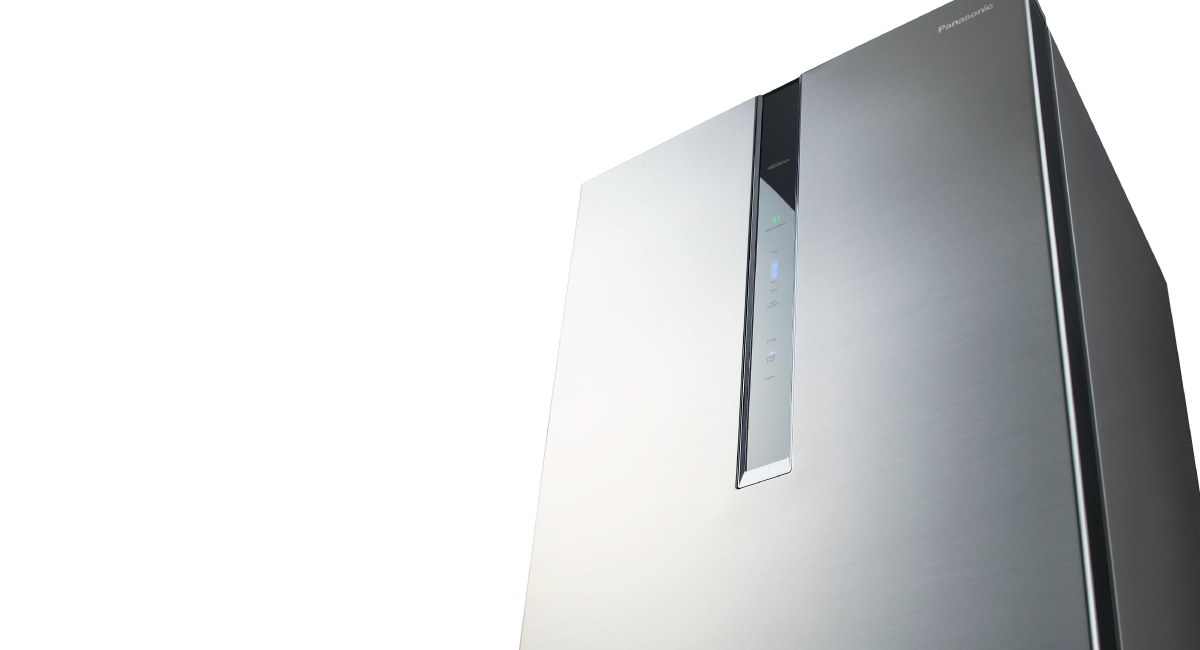 Experience More Freshness than Ever!
Prime Fresh freezing freezes food to approx. -3 Celcius, so only the surface of items is lightly frozen.
Food frozen in this way never hardens and even raw foods stay at their best.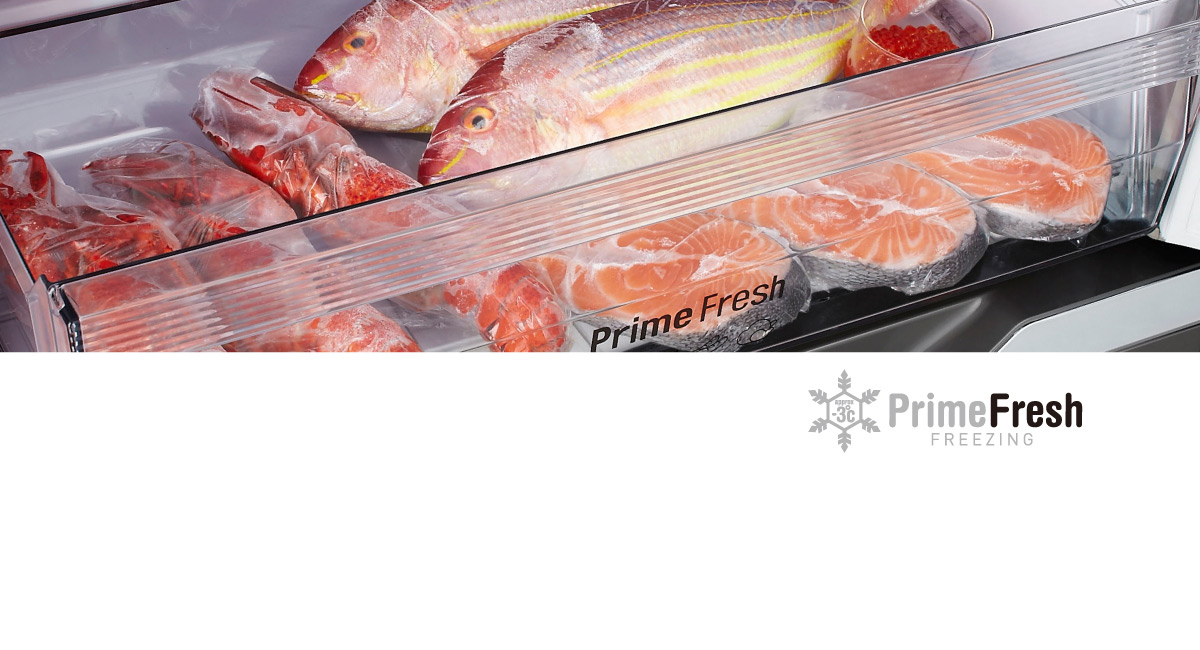 3 C Prime Fresh freezing
is This Convenient!
1. Cooking without Defrosting
Since only the surface of food is soft frozen, you can cut it easily without defrosting.
2. Flavor Lasts Longer
It can keep food in a near-raw state, maintaining its delicious flavor and texture.
3. Keeps Nutrition
There is hardly any drip as you don' t need to defrost, so there's minimal loss of nutrients and umami flavor.
4. Less Odor
Helps prevent odors from spreading to other foods in the fridge compartment.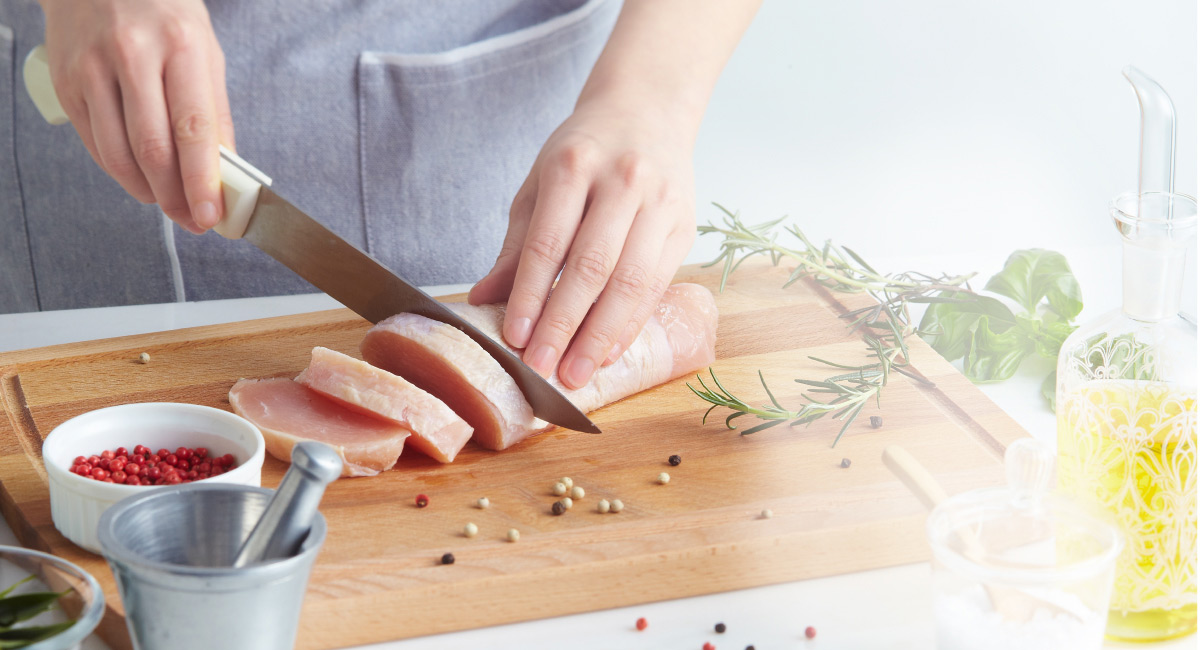 New Style of Refrigerator with Freezer at the Bottom
The freezer, where heavy items tend to accumulate, is located at the bottom, while the often-used fridge is on top.
This new style of refrigerator makes it easier to see items, and easier to put them in and take them out.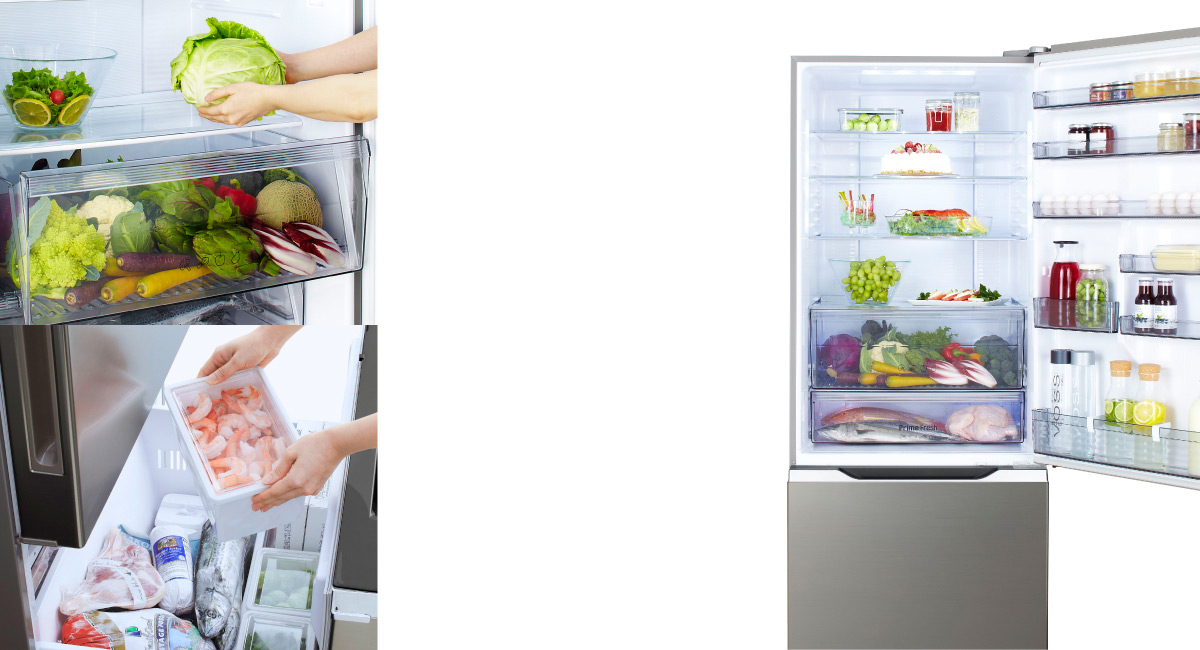 Easy Access
Drawer-type Freezer
The drawer-type bottom freezer offers smooth, easy access. Also, looking down on items makes it easier than ever to find just what you want. As well as enabling neat, divided storage, the separate cases make it harder for odors to spread for more hygienic storage.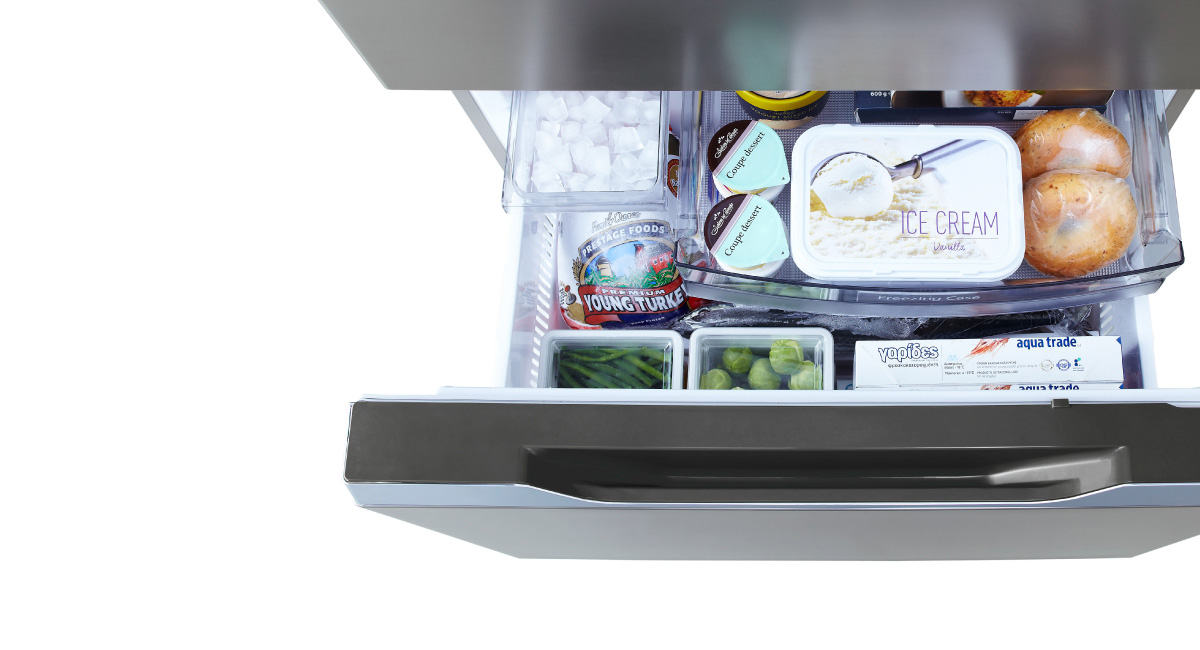 Moisture-retaining
Fresh safe Vegetable Case
The vegetable case stores vegetables and fruits in the optimum conditions with high humidity and constant temperature to keep them fresh and juicy for a longer period of time.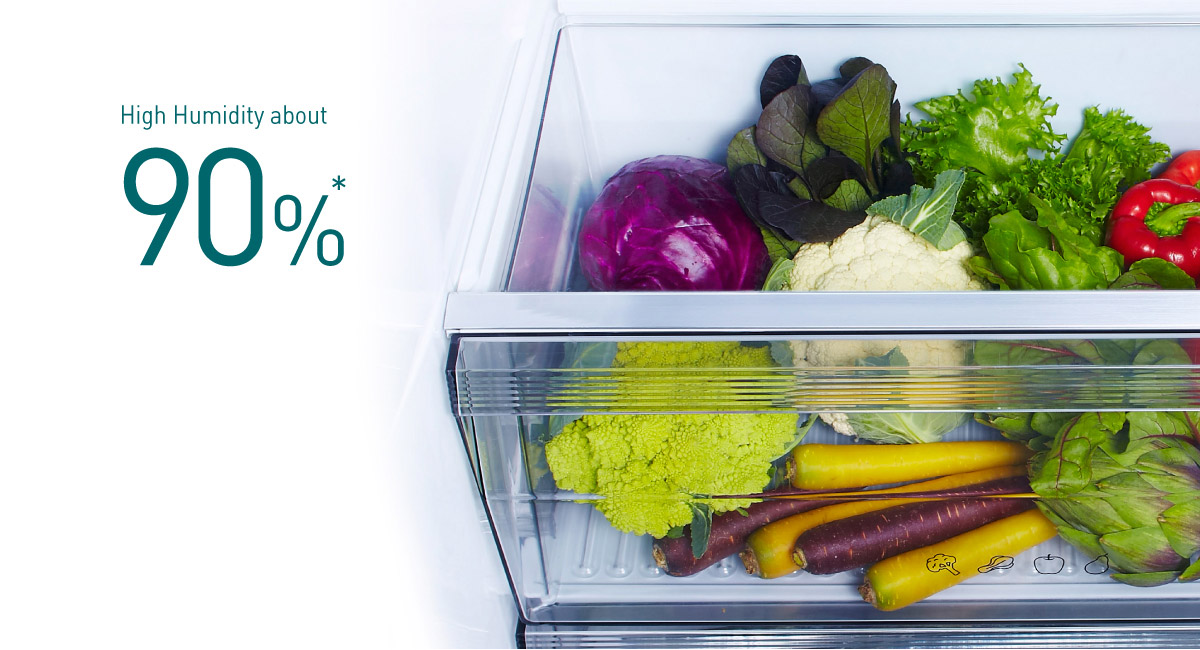 Hygienic Storage with
Anti-bacterial and
Deodorizing Effects
Silver has a powerful anti-bacterial effect, inactivating 99%* of mold and bacteria inside the refrigerator. This effect is semi-permanent so there's no need to replace it. Also, an active enzyme effectively resolves unpleasant fish and vegetable odors.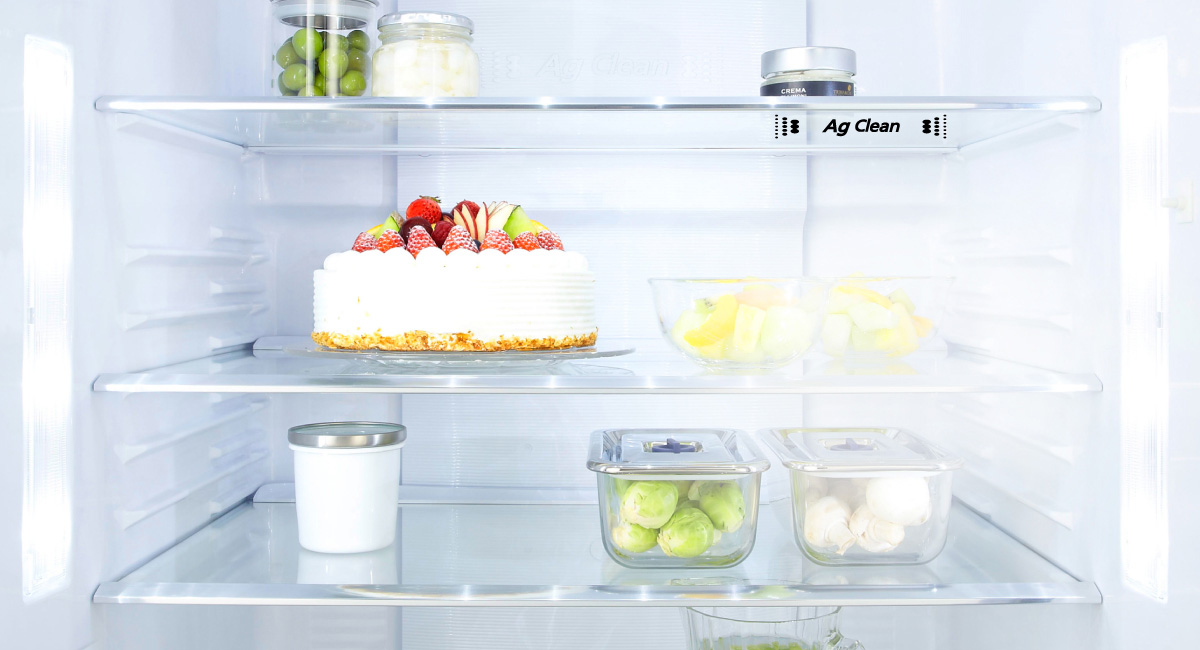 Surround Cooling Airflow
Cold air from the rear panel is blown upwards and to the sides to surround stored items for gentle cooling.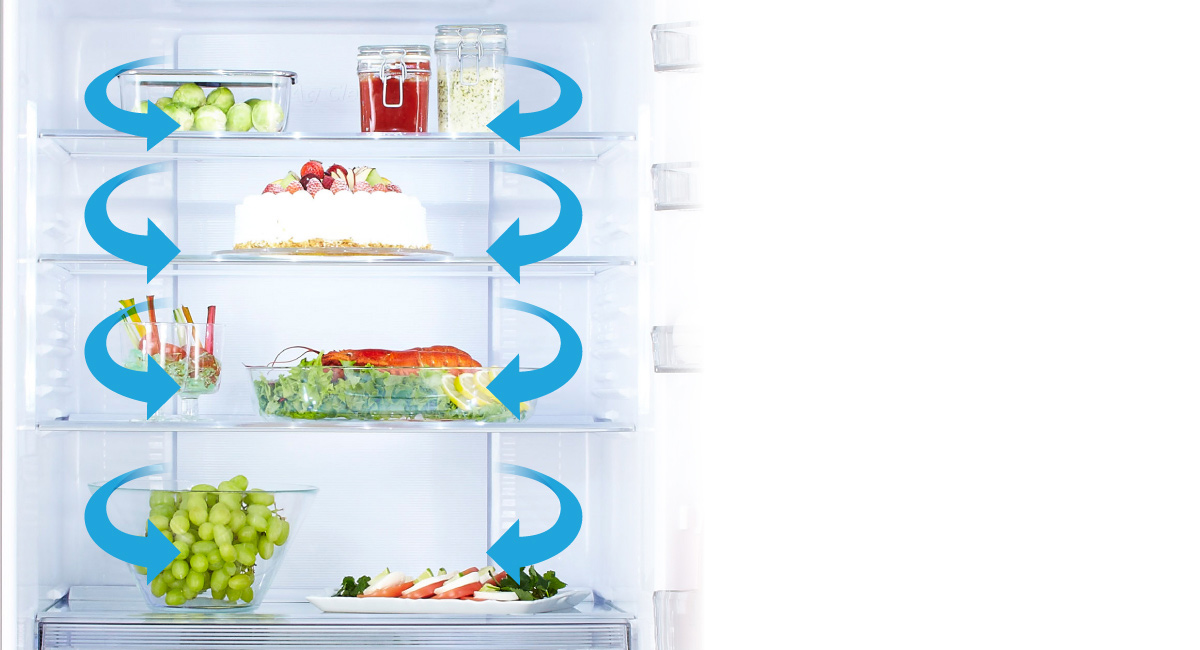 ECONAVI Gets Results by Adjusting to Your Lifestyle
The ECONAVI refrigerator monitors the level of lighting and temperature in the room, when and how often the fridge doors are opened, and the fridge's internal temperature. It analyzes and responds to this information to maintain ideal cooling and avoid wasting energy.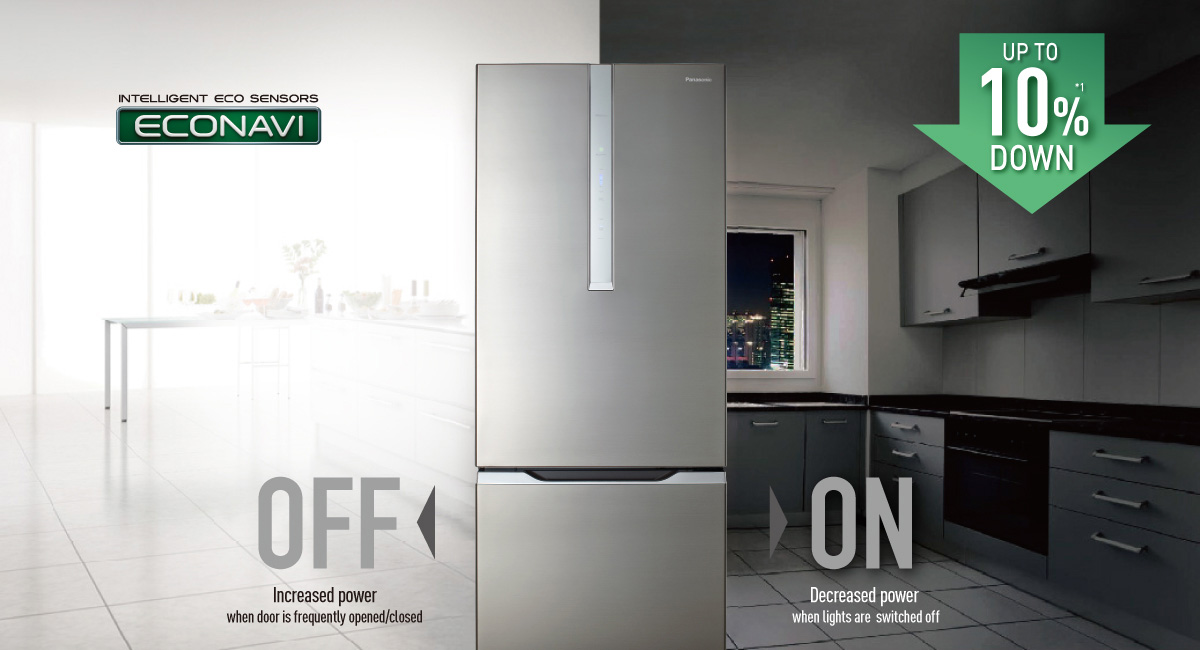 More Advanced Cooling with Intelligent Inverter Control
A refrigerator is always on, so it uses more electricity than any other household appliance.
But there's no need to worry with a smart inverter refrigerator. It varies power to suit the situation – more power during the day when it's often opened and closed, and less power during the night when it's hardly used. The result is extremely efficient operation for dramatic energy saving, less noise and quick, powerful cooling.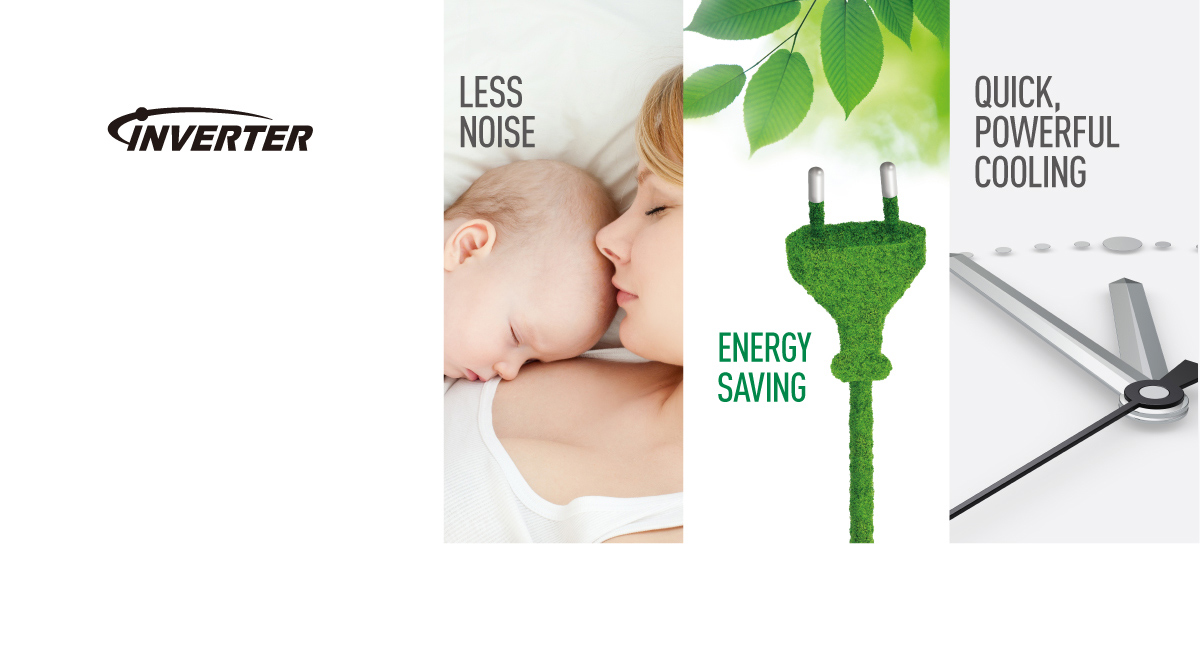 Advanced Japanese Technologies That Truly Make Life Better
In the pursuit of innovation and convenience, we continue to uphold quality completely. The origins of our product development can be found in this commitment, and it is part of Japan's manufacturing DNA that has been passed down in an unbroken line for generations. Based on the stringent quality standards that have been cultivated in Japan, we are now delivering Panasonic products that have been developed and manufactured at our global locations.
Panasonic's refrigerator compressors are one example of this dedication to quality. Manufactured in-house, they are exceptionally durable and carry a 12-year warranty. Our long tradition of strict quality control guarantees a minimum of 12 years reliable operation. You can depend on your Panasonic refrigerator, day in, day out.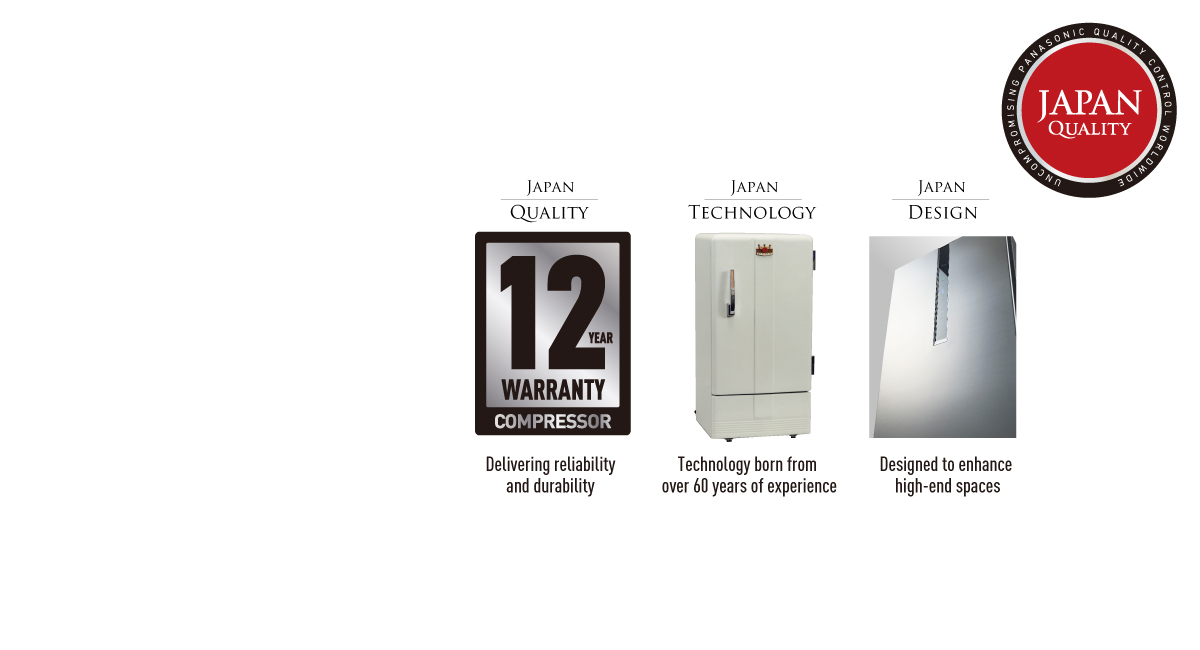 TECHNICAL SPECIFICATIONS
SPECIFICATIONS
Gross Capacity (IEC 62552)
Total
602 L
Refrigerator Compartment (PC)
449 L
Freezer Compartment (FC)
153 L
Vegetable compartment (VC)
46.5 L ( Water Volume)
Net Capacity (L)
Total
504 L
Fridge
405 L
Freezer
99 L
Product Dimension (W x D x H)
775 x 741 x 1846 mm
Defrost Type
Automatic Defrost
Standard / Regulation
SIRIM
Energy Consumption
502 kWh/yr
Energy Level
3 Star
Net Weight
85 Kg
Gross Weight
94 Kg
Voltage
220 - 240 V
Hertz
50 Hz
Number of Doors
2
Body Color
Stainless Color
REFRIGERATOR COMPARTMENT (PC)
Tray Material
Glass Tray
Crisper (Vegetable Case)
Yes
Bottom Case
Prime Freshfreezing Case
Egg Tray
Yes
LED Light
Yes
Adjustable Tray
Yes
Adjustable Door Rack
Yes
FREEZER COMPARTMENT (FC)
Drawer Freezer Door
Yes
Twist Ice Tray
Yes
Ice Box
Yes
Freezer Case Top
Yes
Freezer Case Bottom
Yes
Quick Ice Making
Yes
OTHERS
ECONAVI
Yes
Door Control Panel
Touch Screen
Compressor
Inverter
Quick Freezing
Yes
Refrigerant
R600a
Urethane Insulation Cyclopentane
Yes
Door Alarm
Yes (PC,FC)
Fresh&Clean
Yes
Ag Clean (Anti Bacteria & Deodorizer)
Yes
Fresh Safe
Yes
DIMENSIONS & WEIGHT
HEIGHT : 184.6 cm
WIDTH : 77.5 cm
DEPTH : 74.1 cm
WEIGHT : 85.0 kg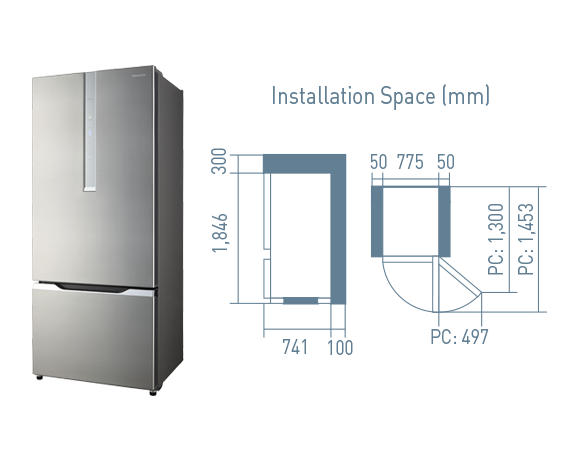 Customer comments
| Author/Date | Rating | Comment |
| --- | --- | --- |