KEY FEATURES Elegant 4-door design with full-flat glass
The 4-door refrigerator has a beautiful & elegant glass design with a blue cosmic feel that complements your high end lifestyle. Gracefully curved handles, and simple, unitary glass panels with no frames to get in the way add a further touch of refinement. -3ºC soft freezing. No defrosting.
Prime Fresh Freezing keeps meat and fish fresh for 7 days*. Unlike regular freezing, -3°C soft freezing doesn't damage cells, so nutrients and flavor last longer. In addition, at -3°C, items can be cooked without defrosting and they're easy to cut, peel and season for extra cooking convenience.
* Data prepared by Panasonic. The effect differs depending on operating conditions, and the type, condition and amount of food stored. Soft freezing at approx. -3°C
Prime Fresh Freezing makes food soft frozen at approx. -3°C, the temperature at which foods just start to freeze.
*¹ In the case of sardines. The degree of freezing differs slightly depending on the type of food Keeps freshness & flavor longer*
Prime Fresh Freezing soft freezes food at approx.-3˚C to prevent deterioration and unpleasant odors caused by oxidation and microbial degradation.
* Data by Panasonic; test confirmed by Techno-Sciences Co., Ltd. Preparation: Wrapped sardine in normal tray; stored for 7 days. Ambient temperature: 25ºC, Mode: Prime Fresh (medium); chilled in Prime Fresh switchable room with aluminium plate. Result: Initial K value of sardine 11.3%. On day 7, K value of chilled sardine 33.7%; Prime Fresh sardine 17.7%. K value: better freshness with lower K value. Result may vary depend on product features & operation, food condition. Result not extends to the best-by or expiration date of fish. "7 Days Freshness": Food kept up to 7 days with Prime Fresh. Keeps nutrients
When frozen meat is defrosted, drip that contains nutrients and "umami " (savory) flavor components is released.
With Prime Fresh Freezing, because stored foods aren't completely frozen, no drip is released, so nutrients and flavor are retained Convenient cooking without defrosting
With -3°C soft freezing, meat and fish can be sliced easily and neatly. You can also easily scoop out just the amount of softly frozen soups and sauces you need. And flavors penetrate faster for more delicious results when food is marinated at approx. -3°C. Two-layer vegetable case
Using both the upper and lower vegetable cases lets you store a lot of vegetables and fruits. You can use the upper case for soft delicate vegetables such as tomatoes and the lower case for large or leafy vegetables. Separating items in this way enables neat and organized storage.
* IEC 62552 Gross Capacity Controls humidity to keep vegetables fresh
The airtight structure of the Fresh Safe vegetable case prevents moisture from escaping, and cold air isn't blown directly onto vegetables. There's also a manual humidity controller that lets you adjust the humidity to match the types and quantity of items stored.
* Data prepared by Panasonic. Clean air everywhere
Ag Clean keeps air clean throughout the entire refrigerator. The Ag filter deactivates 99.9%* of mold and bacteria, while an active enzyme resolves unpleasant odors.
* Certified by Boken Quality Evaluation Institute.
Test report number: No. 20215058561-1 24/7 intelligentenergy savings
3 kinds of ECONAVI sensors detect conditions of use, and a microprocessor analyzes them. Using the results of this analysis, the INVERTER compressor adjusts the rotation frequency of the motor to optimize cooling performance and save energy.
*¹ Data prepared by Panasonic. ECONAVI operates only when the temperature setting is [MED] for both the freezer and fridge compartments.
*² Data prepared by Panasonic.
TECHNICAL SPECIFICATIONS
SPECIFICATIONS
Gross Capacity (IEC 62552: 2015)
Total
601 L
Refrigerator Compartment (PC)
394.0 L
Freezer Compartment (FC)
156.0 L
Vegetable compartment (VC)
50.0 L
Product Dimensions (WxDxH)
805 x 790 x 1846 mm
Defrost Type
Automatic Defrost
Standard / Regulation
SIRIM
Energy Consumption
-
Energy Level
-
Net Weight
98 Kg
Gross Weight
107 Kg
Voltage
220 - 240 V
Hertz
50 Hz
Number of Doors
4
Door Color
Black
REFRIGERATOR COMPARTMENT (PC)
Tray Material
Glass Tray
Crisper (Vegetable Case)
Yes
2nd Crisper
Yes
Prime Fresh Case
Yes
Egg Tray
Yes
LED Room Light
Yes
Adjustable Tray
Yes
FREEZER COMPARTMENT (FC)
Twist ice Tray
Yes
FC tray
Glass Tray
Ice Box
Yes
Freezer Case (Ag meat box)
Yes
OTHERS
ECONAVI
Yes
Control Panel
Inner (Button)
Cover leg
Yes
Compressor
Inverter
Quick Freezing
Yes
Refrigerant
R600a
Urethane Insulation Cyclopentane
Yes
Door Alarm
Yes (PC,FC)
Fresh&Clean
Yes
Ag clean (Anti Bacterial & Deodorizer)
Yes
Humidity Care
Yes
Fresh Safe
Yes
DIMENSIONS & WEIGHT
HEIGHT : 184.6 cm
WIDTH : 80.5 cm
DEPTH : 79.0 cm
WEIGHT : 98.0 kg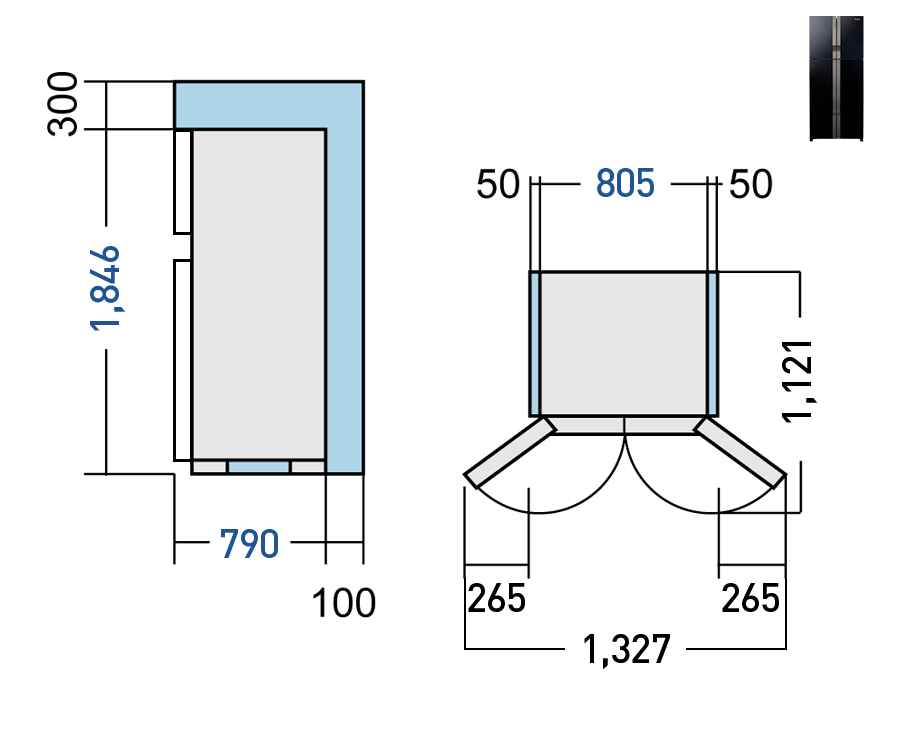 Customer comments
| Author/Date | Rating | Comment |
| --- | --- | --- |