KEY FEATURES Saves energy while keeping food fresh
The Smart Cooling System in Panasonic refrigerators uses three advanced technologies to maintain optimum operation at all times. It keeps food fresh with fine 24-hour temperature control while reducing energy consumption. Saving energy without doing anything*
ECONAVI detects conditions of use and responds to this information to maintain ideal cooling and avoid wasting energy.
*1 Panasonic in-house data.
*2 ECONAVI operates only when the temperature setting is [MED] for both the freezer and fridge compartments. More advanced cooling
INVERTER refrigerator varies power to suit the situation – more power during the day when it' s often opened and closed, and less power during the night when it' s hardly used. The result is extremely efficient operation for dramatic energy saving, less noise and quick, powerful cooling.
* Panasonic in-house data.
Foldable 1-2 glass shelf
The shelf can be adjusted to fit food and beverage sizes, fine-tuning storage capacity for the occasion. Adjustable shelf depth allows space to be used efficiently and without waste. Adjustable shelves
You can adjust the height of the shelves for more efficient storage and convenience. 150kg tempered glass
The strong tempered glass shelves can withstand loads of up to 150kg, so you can put in stew pots, large bottles and other heavy items as they are.
Ag Meat Case
Designed for storing meat, fish and other strong-smelling items, the Ag Meat Case helps preventing
the spread of odors for even more hygienic storage. Enjoy well chilled foods & drinks
Slightly cooler than the approx. 4°C of a regular fridge compartment, the Extra Cool Zone lets you cool items to approx. 2°C.
This is ideal when you want to drink something that's well chilled, or when you want to cool something quickly. Moisture-retainingFresh Safe vegetable case
The vegetable case stores vegetables and fruits in the optimum conditions with high humidity and constant temperature to keep them fresh and juicy for 7 days. Clean air everywhere
Ag Clean in BL series models not only covers the fridge, but also the freezer. Ag filter deactivates 99.9%* of mold and bacteria, while an active enzyme resolves unpleasant odors.
* Certified by Boken Quality Evaluation Institute.
Test report number: No. 20215058561-1 Modern & stylish, flat design
Features a stylish design with an elegant handle. The seamless design with smooth surfaces from corner to corner offers a beautiful appearance. This simple and stylish flat design matches to any kind of kitchen. Reliable Japanese quality
Our mission is to furnish refrigerators that are easy to use, tough to break, and which provide long and loyal use.
Toward that end, we are uncompromising in our quality control testing of the technologies that we have cultivated over more than six decades.
TECHNICAL SPECIFICATIONS
SPECIFICATIONS
Gross Capacity (IEC 62552:2016 (IEC 62552: 2015))
Total
392 L
Refrigerator Compartment (PC)
278.0 L
Freezer Compartment (FC)
114.0 L
Storage Capacity (IEC 62552:2016 (IEC 62552: 2015))
Refrigerator Compartment (PC)
344 L
Freezer Compartment (FC)
260.0 L
Vegetable compartment (VC)
84.0 L
Product Dimensions (WxDxH)
650 x 656 x 1785 mm
Defrost Type
Electric PCB Control
Standard / Regulation
MS IEC 62552:2016 (IEC Published 2015) / MS IEC 60335-2-24: 2002 (IEC Published 2002)
Energy Consumption
421 kWh/yr
Energy Level
4 Star
Net Weight
58 Kg
Gross Weight
64 Kg
Voltage
220-240 V
Hertz
50 Hz
Number of Doors
2
Door Color
Stainless Color
REFRIGERATOR COMPARTMENT (PC)
Vegetable Case
Yes
Cover Cool Zone
Yes
Door Shelf
Yes
Egg Tray
Yes
1-2 Tempered Glass Tray
Yes
LED Room Light
Yes
Adjustable Tray
Yes
Tempered Glass Tray
Yes
FREEZER COMPARTMENT (FC)
Twist Ice Tray
Yes
Twin Ice Tray
Yes
Ice Box
Yes
Freezer Case (Ag meat box)
Yes
Shelf FC
Yes
OTHERS
ECONAVI
Yes
Control panel
Inside refrigerator compartment
Top Table
Yes
Compressor
Inverter
Freezer control
Yes
Quick freezing
Yes
Energy Saving
Yes
Refrigerant
HFC-134a
Urethane Insulation Cyclopentane
Yes
Fresh & Clean
Yes
Ag Anti Bacteria
Yes
DIMENSIONS & WEIGHT
HEIGHT : 178.5 cm
WIDTH : 65.0 cm
DEPTH : 65.6 cm
WEIGHT : 58.0 kg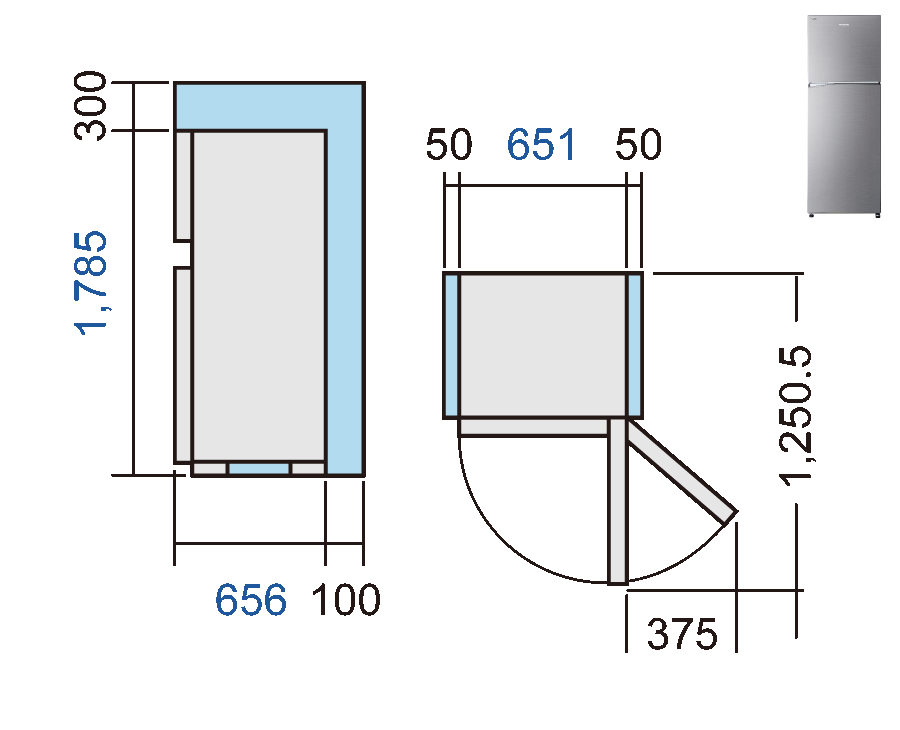 Customer comments
| Author/Date | Rating | Comment |
| --- | --- | --- |