KEY FEATURES Intensive Multi-stains Removal
Removes multiple stains effortlessly by Dual Power Cascade and hot wash. No more pre-care and hand wash for even stubborn stains. Extra hygiene with bacteria elimination. Dual Power Cascade for More Powerful Water Flow
The advanced inverter motor control creates a more powerful water flow called Dual Power Cascade. This improves the foam water penetration effect and enhances washing performance for more efficient dirt removal. Active Wave Pulsator for Powerful Scrub Wash Effect
Active Wave Pulsator with 8 wings creates powerful vertical water flow in the tub to repeatedly move clothes up and down for a scrub wash effect that removes stubborn hard stains. 40˚C Wash Removes Oily Stains
StainMaster+ uses hot water to remove oily stains and sebum on sleeves and collars, which is hard to remove with cold water. 60˚C Wash for Bacteria* Elimination
Washes clothes with 60°C water to eliminate invisible bacteria attached to fabrics.
* Staphylococcus aureus subsp.aureus (NBRC 12732) up to 99.99%, Escherichia Coli (NBRC 3972) up to 99.99% [Testing Laboratories] Japan Food Research Laboratories [Report Issue Date] 10th/Jun/2016 [Issue No.] 16033827001-0201,16033827001-0401 Lifts Stains Away with Fine Foam
The ActiveFoam System creates fine, high-density foam before the washing cycle starts. Fine foam lifts, separates and removes dirt from deep in fibers.
* The level of foaming depends on conditions such as load size, degree of soiling, detergent type and water pressure. However, there is no change in washing performance. 3-step Foam Generation
1. Turbo Mixer dissolves detergent for effective wash
2. Foam generation by fin rotation
3. Dual cascade ensure foam penetrates into clothes Intelligent Power Control Technology
By precise and variable control of rotation speed, inverter realizes superior washing performance for excellent washing. And efficient and smooth rotation minimize energy loss and noise.
Superior Benefits by Inverter
1. Improved Washing Performance: New Dual Power Cascade for bigger and stronger water flow
2. Tangle Care: Gentle washing reduces tangling with less water. After spinning, the pulsator rotates slowly to untangle clothes.
3. Energy Saving: 22% lower energy consumption than non-inverter models thanks to precise motor rotation.
4. Quiet Operation: 9% noise reduction to only 48dB with smooth motor rotation. Effortless Daily Washing,Even for Large Loads
Based on an ergonomic design, the control panel on Panasonic's Easy Wide Opening washing machine has been moved to the rear. It's now extremely easy to operate and more comfortable to use even in large-capacity models.
* Photo shows the NA-FS16V7 Easy to Load / Unload
Wider Tub Opening
Wide opening makes it easy to load/unload even large items. Easy to Reach
Lower Front Height
It's easy to reach the bottom of the tub and take out washed items, even if you aren't tall. Easy to Read / Easy to Operate
Rear Control Panel
The control panel is at the rear so the buttons can be easily read and operated without looking down. Saves Energy and Time Automatically
ECONAVI detects water temperature, wash load amount, laundry material and automatically adjusts operation to save energy, water, and time by eliminating waste. Laundry Load Sensor
When the load is small, the water level is reduced to save water.
The optimum water volume is selected each time to avoid waste. Water Temperature Sensor
ECONAVI detects the temperature to judge how easily the detergent will dissolve and selects the optimum washing time.
TECHNICAL SPECIFICATIONS
BASIC SPECIFICATION
Capacity
14 kg
Dimensions (W x D x H)
640 x 679 x 1120 mm
Net weight
50 kg
Voltage / Frequency
220-240 V / 50 Hz
Control Panel Type
Insert (Electric static touch panel)
LED color
Blue
ECONAVI (Cloth load & Water temp.)
Yes
Inverter
Yes (Mirror seal)
Color (Body)
SUS (PCM)
MAIN PROGRAMS
Number of Programs
11 (Direct Touch Button)
Normal
Yes
Speedy
Yes
Delicate
Yes
Baby Care
Yes
Water Save
Yes
Comforter
Yes
Soak
Yes
Tub Hygiene
Yes
SPECIAL PROGRAM
Stain Master Plus
yes
1Collar/Sleeve, 2Oily, 3Bacteria elimination: red
4Sweat, 5Mud, 6Soya/Sauce: blue
Tangle Care
Yes
Air Dry (90 min.)
Yes
OTHER FUNCTIONS
Auto Power Off
Yes
Auto Re-start
Yes
Digital Indicator
Yes (2 digits Big size)
Delay Start
Yes (2-24hours)
Remaining Time Indication
Yes
Child Lock (With LED)
Yes (amber)
Button sound
Melody sound
SAZANAMI Drum
Yes
Big Lint Filter
Yes (Big casette 1)
Motor Type
Belt drive
MANUAL SETTING
Process setting button
Yes
Washing Time
Yes (3/6/9/12min.)
No. of Rinse
Yes (1/2/3/Refill)
Spinning Time
Yes (1/3/5/7min.)
Water Level setting
Yes (10 levels / 4 LED)
WASH FEATURES
ActiveFoam System
Yes
Dual Power Cascade
Yes (2pcs)
Dancing Water Flow
Yes
Aqua Spin Rinse
Yes
DIMENSIONS & WEIGHT
HEIGHT : 112.0 cm
WIDTH : 64.0 cm
DEPTH : 67.9 cm
WEIGHT : 50.0 kg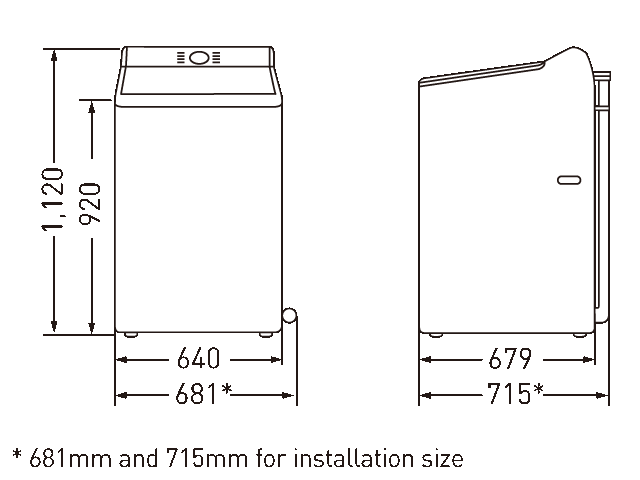 Customer comments
| Author/Date | Rating | Comment |
| --- | --- | --- |