KEY FEATURES Lifts Stains Away Fast with Fine Foam
Fast washing in just 49 min with fine, high-density foam.
Panasonic's ActiveFoam System delivers optimum washing performance even in a shorter time. It gives you more time for the important things in life.
* At half load. Active Speed course. The level of foaming depends on conditions such as load size, degree of soiling, detergent type,
and water pressure. However, there is no change in washing performance. Superior Fast Wash
Active Speed Wash realizes speedy wash and superb wash result.
Highly concentrated foam penetrates deep into fabrics and wraps around stubborn stains to lift off dirt.
This is how stains are washed away cleanly and quickly with the ActiveFoam System. Benefits of ActiveFoam System
1. Clean results
A rich foam is created to maximize surfactant performance for powerful washing.
2. Fast Penetration
Fine & dense foam makes easier to penetrate clothes to quickly remove dirt.
3. Less undissolved detergent
Detergent is turned into foam before washing, so less undissolved detergent becomes attached to clothes. 99.99%* Allergen & Bacteria Elimination for Delicate Skin
Washes clothes with 60˚C/90˚C water to keep laundry extra hygienic by removing bacteria and common household allergens that irritate sensitive skin. Also prevents bad odors.
* Endorsed by Allergy UK with third-party testing results. Certification by Allergy UK
The effect has been certified by Allergy UK, a British medical charity dedicated to helping people with their allergies.
* Model: NA-S106X1/S106G1/120VX6/129VX6/128VX6/ 120VG6/129VG6/128VG6 Programme: Hygiene (60˚C) Reduction allergen: House dust mite, Live house dust mite and pollen.
* These products has been endorsed by Allergy UK with third-party testing results. Energy & Water Saving with Advanced Technology
ECONAVI detects water temperature, wash load amount, laundry material and automatically adjusts operation to save energy, water, and time by eliminating waste. Automatic Eco-friendly Operation
ECONAVI's three intelligent sensors automatically detect conditions of your laundry to provide optimum electricity-saving, water-saving and time-saving operation. Advanced Washing with INVERTER
The INVERTER changes tub rotation smoothly to ensure efficient, quiet operation. Stylish Design
LED control panel is not only easy to read and operate, but also stylish.
Sophisticated look to enhance your living space.
Wrinkle Care Drying
The drum is wider and bigger, making it easier for clothes to spread inside the drum during drying for a finish with less wrinkles. Drum Light
It's bright inside the drum, so laundry is easy to see. Versatile Washing Courses (some of the courses are as indicated below)
Cotton / Cotton Eco For daily items of cotton,linen and cotton blends, Cotton Eco is a power and water saving course.
Soak
For heavily-soiled clothes.
Wool
Washes gently hand washable and machine washable wool and wool blend clothes.
Dry Only
Dries items with hot air for a soft, fluffy finish.
Synthetic
Washes chemical fibres gently.
Mixed
For blended fabrics, e.g. cotton, linen, and synthetic fibres.
Shirts
For shirts and women's blouses.
Hygiene
Washes infants' clothing, tablecloths and sheets.
Delicates
For underwear and machine washable silk clothes. Gentler than the Wool programme.
Bedding
For large items such as blankets, curtains and bedspreads.
Rapid 15 / Quick 30
15 min / 30 min. washing courses. For wash lightly soiled items.
Tub Clean
Cleaning the drum.
TECHNICAL SPECIFICATIONS
CAPACITY
Washing Capacity
10 kg
Drying Capacity
6 kg
BASIC SPECIFICATION
Spin Speed (max.)
1200 rpm
Dimensions (W x D x H)
596 x 560 x 845 mm
Net Weight
68 kg
Voltage / Frequency
220-240 V / 50 Hz
Control Panel Type
Dialer
3D Sensor
Yes
Drying
Yes
WASH FEATURES
ActiveFoam System
Yes
Active Speed Wash
Yes
Hygiene
Yes
ECONAVI
Yes
Inverter
Yes
DRY FEATURES
Drying Type
Condenser Drying
Temperature
Approx. 100°C
Water Consumption
Yes (Cooling water is used during drying)
MAIN PROGRAMS
Number of Programs
16
Cotton
Yes (Wash & Dry)
Cotton Eco
Yes (Wash & Dry)
Synthetic
Yes
Delicates
Yes
Soak
Yes (Wash & Dry)
Mixed
Yes (Wash & Dry)
Bedding
Yes
ECONAVI
Yes
Active Speed
Yes
Quick 30
Yes
Rapid 15
Yes
Hygiene
Yes (Wash & Dry)
Tub Clean
Yes (Wash & Dry)
Dry Only
Yes (Dry only)
DIMENSIONS & WEIGHT
HEIGHT : 84.5 cm
WIDTH : 59.6 cm
DEPTH : 56.0 cm
WEIGHT : 68.0 kg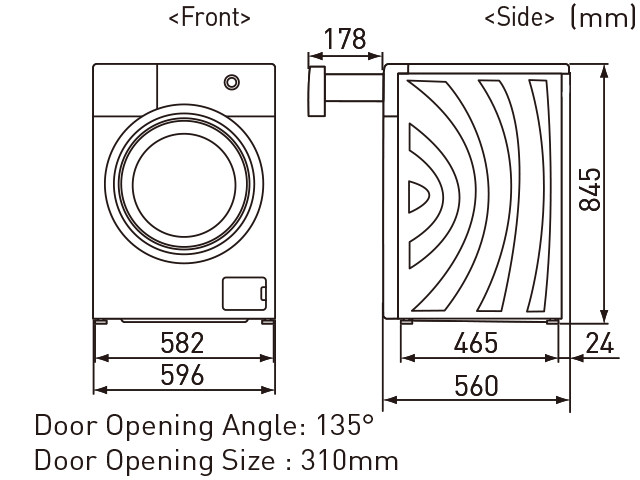 Customer comments
| Author/Date | Rating | Comment |
| --- | --- | --- |