KEY FEATURES No More Pre-care
StainMaster easily removes stubborn stains such as mud and sweat at the push of a button. A powerful scrub wash effect rubs clothes to effectively remove dirt from fibers. Now you can enjoy cleaner results without the need for pre-care or hand wash. Recommended for stains from: 1. School Uniform 2. Soiled items/ outfits
* This course can be used for loads of up to 5 kg. (For NA-F160A6/F150A6/F135A6/F125A6. Up to 4 kg of F110A6/F100A6)
* Images are for illustrative purposes only. Active Wave Pulsator*1 for Powerful Scrub Wash Effect
Active Wave Pulsator with 8 wings creates powerful vertical water flow in the tub to repeatedly move clothes up and down for a scrub wash effect that removes stubborn stains.
*1 Applies to NA-F160A6/F150A6/F135A6/F125A6. NA-F110A6/F100A6 have a Big Beat Flapper.
* Images are for illustrative purposes only. Lifts Stains Away with Fine Foam
The ActiveFoam System creates fine, high-density foam before the washing cycle starts. Fine foam lifts, separates and removes dirt from deep in fibers.
*The level of foaming depends on conditions such as load size, degree of soiling, detergent type, and water pressure. However, there is no change in washing performance.
* Image is for illustrative purposes only. Benefits of ActiveFoam System
1. Clean results
A rich foam is created to maximize surfactant performance for powerful washing
2. Fast Penetration
Fine & dense foam makes easier to penetrate clothes to quickly remove dirt.
3. Less undissolved detergent
Detergent is turned into foam before washing, so less undissolved detergent becomes attached to clothes. How the ActiveFoam System Works
Step1: Fine, creamy, highly concentrated foam is generated by fins rotating of the pulsator.
Step2: Foam penetrates into clothes quickly by foam cascades.
Step3: Foam is circulated and regenerated repeatedly by 6 ring showers*1 and then penetrates deeply into clothes.
* The level of foaming depends on conditions of use. However, a satisfactory level of washing performance is maintained.
* Images are for illustrative purposes only.
*1 NA-F110A6/F100A6 models have 3 rings shower. Higher Rinsing Performance
Rinses with extra water to enhance the rinsing effect and minimize detergent residue with no capacity limitation.
* Images are for illustrative purposes only. Easier Daily Wash
The control panel on Panasonic's Easy Wide Opening washing machine has been moved to the rear. It's now extremely easy to operate even in large-capacity models. Easy to Load / Unload
Wider Tub Opening : Wide opening makes it easy to load/unload even large items.
*Measurement shows the NA-F160A6, F150A6 model.
Easy to Reach
Lower Front Height : It's easy to reach the bottom of the tub items.
*Photo shows the NA-FS16V7 model. Easy to Read & Operate
Rear Control Panel : The buttons can be easily read without looking down.
*Photo shows the NA-FS16V7 model.
TECHNICAL SPECIFICATIONS
LOADING CAPACITY
10.0kg
BASIC SPECIFICATION
Dimensions (W x D x H)
600 x 652 x 1,034 mm
Weight (Net)
38 kg
Voltage / Frequency
240V / 50Hz
Control Panel Type
Sticker Sheet
LED color
Amber
Digital Display
Yes
Lid Type
Tempered Glass (No print)
Color (Body)
Light Grey
WASH FEATURES
ActiveFoam System
Yes
Stain Master
Yes(Sweat/Mud)
Hot Wash (40℃, 60℃)
-
Pulsator
Big Beat Flapper
Dancing Water Flow
Yes
Aqua Spin Rinse
Yes
ECONAVI (Load & Water Temp.)
-
Inverter
-
Water Level Settings
10 levels
CONVENIENT FEATURES
Easy Wide Opening
Yes
Soft Closing
-
Tempered Glass Lid
Yes
Child Lock (with LED)
Yes
Auto Restart
Yes
Low Water Pressure
Yes *1
Wider Voltage Operation
Yes *2
Auto Power Off
Yes
Delay Start
2-24hrs
Remaining Time Indication
Yes
SAZANAMI Drum
Yes
Big Cassette Lint Filter
Yes
Water supply hose(1),External drain water hose (1), Bottom cover (1) /Screw (1),Water tap adaptor (1)
Yes
MAIN PROGRAMS
Number of Programs
9
Normal
Yes
Speedy
Yes
Delicate
Yes
Comforter / Blanket
Blanket
Water Save
Yes
Tub Hygiene
Yes
Power Rinse
Yes
Sweat (StainMaster)
Yes
Mud (StainMaster)
Yes
SPECIAL PROGRAMS
Air Dry (90 min.)
Yes
Preset
Yes
Notes
*1 The machine can be operated even with water pressure as low as 0.01/Mpa. 0.01 Mpa is the water pressure obtained from a wat
*2 Operation is guaranteed with voltage fluctuation of +-12%, but not performance.
DIMENSIONS & WEIGHT
HEIGHT : 103.4 cm
WIDTH : 60.0 cm
DEPTH : 65.2 cm
WEIGHT : 38.0 kg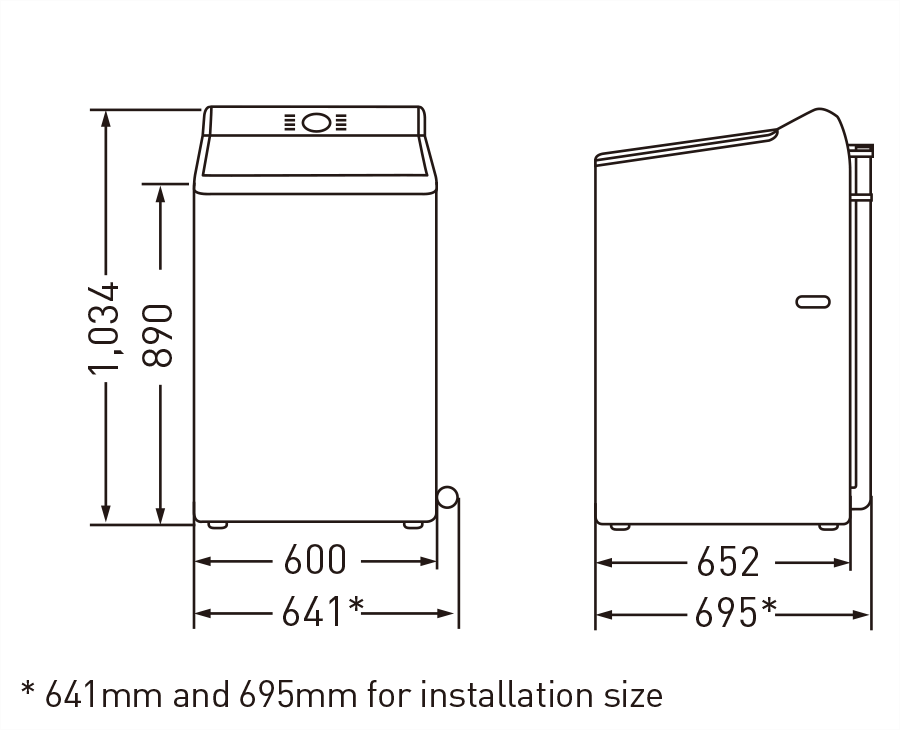 Customer comments
| Author/Date | Rating | Comment |
| --- | --- | --- |